The Ferrari GT Collection
A collection of timeless icons born from the spirit of racing
The Ferrari GT Collection pays homage to the brands search for perfection – from Enzo Ferrari's first car – the Auto Avio Costruzioni 815 of 1940, to the pinnacle of innovation of today's hypercars. Brought together into a stunning collection of 1:43 scale die-cast models, each beautiful model is a true collectible where every detail is of the highest quality. Presented in a luxury, premium quality display box, the Ferrari GT Collection exudes the elegance of the cars from the Prancing Horse.
A luxury collection of iconic models from the Ferrari brand
The complete collection includes 48 different Ferrari die-cast models presented in sets of 4 in luxury presentation boxes. Each set is accompanied by a glossy brochure with a stunning photo of the real-life counterparts detailing the all-important specification and performance stats of each model. These exquisitely detailed die-cast replicas are fully approved by Ferrari and come with a Certificate of Authenticity and a silver-coloured name label.
Specification
Scale: 1:43
Material: Die-cast
Plinth Length: 150mm (6")
Plinth width: 75mm (3")
Box Length: 405mm (16")
Box Width: 258mm (10 1/4")
Box Height: 90mm (3 1/2")
Each Pack Contains
Four Ferrari GT models
Each model on a display plinth with protective acrylic cover
Collector's guide
Certificate of authenticity
Identification label for each box
Premium-quality luxury storage box which can also be used for an impressive display
There are 48 cars in the collection which are available to buy as 12 individual Packs
(there is no commitment to purchase further packs).
A Beautifully Engineered Collection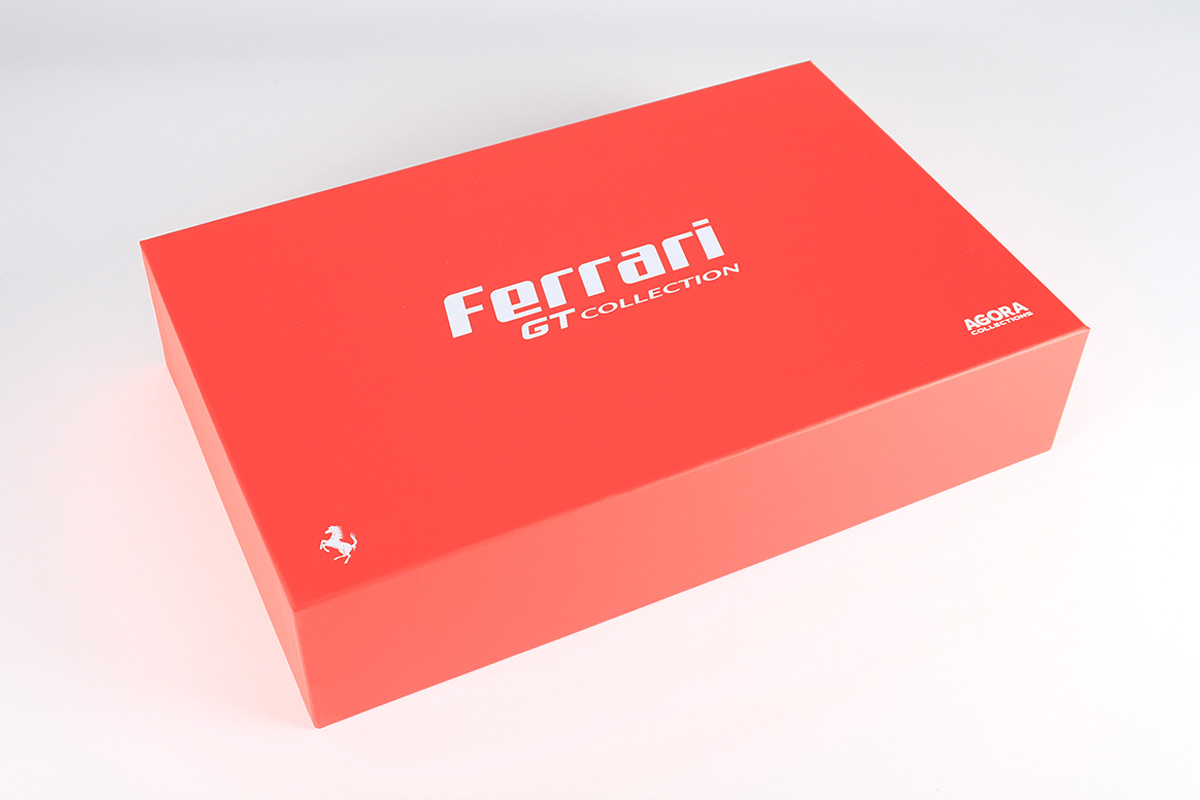 PREMIUM BOXES
All the cars come in high-quality designer boxes, suitable for storing, stacking and displaying!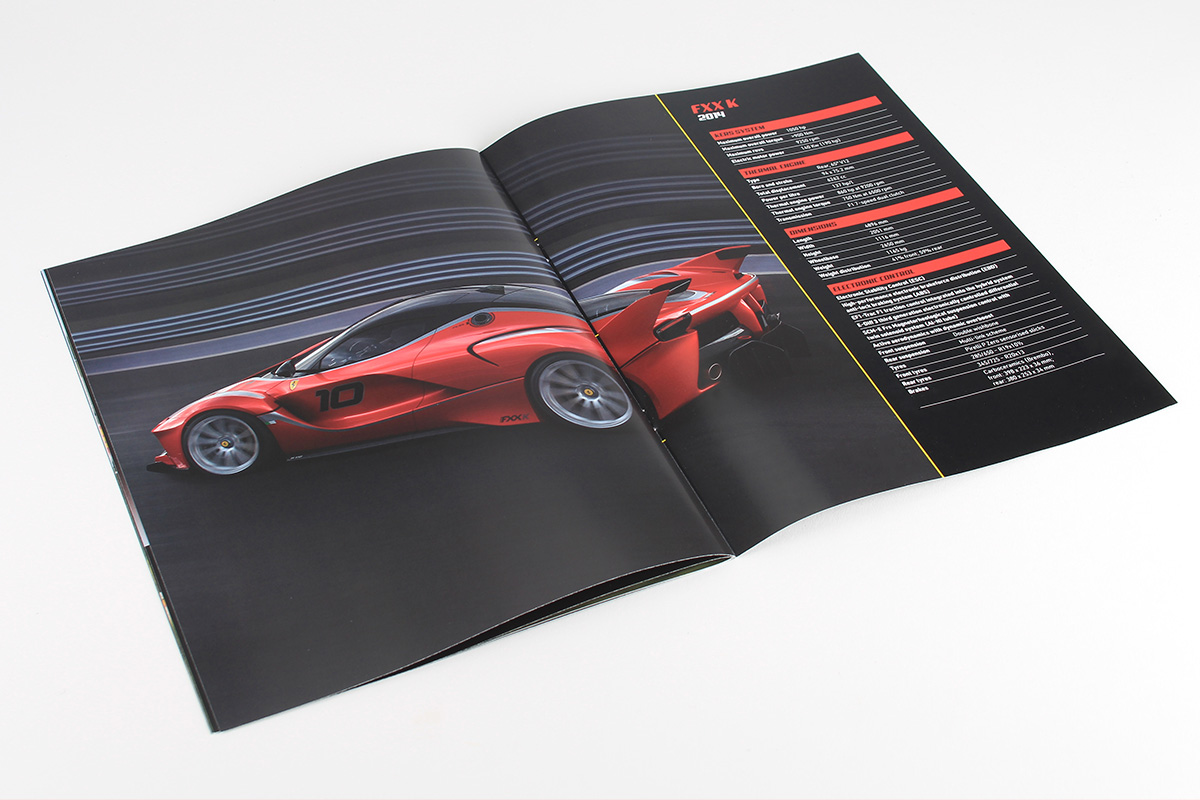 COLLECTOR'S GUIDE
Inside each box is a glossy brochure detailing the specifications of each real-life Ferrari GT in your collection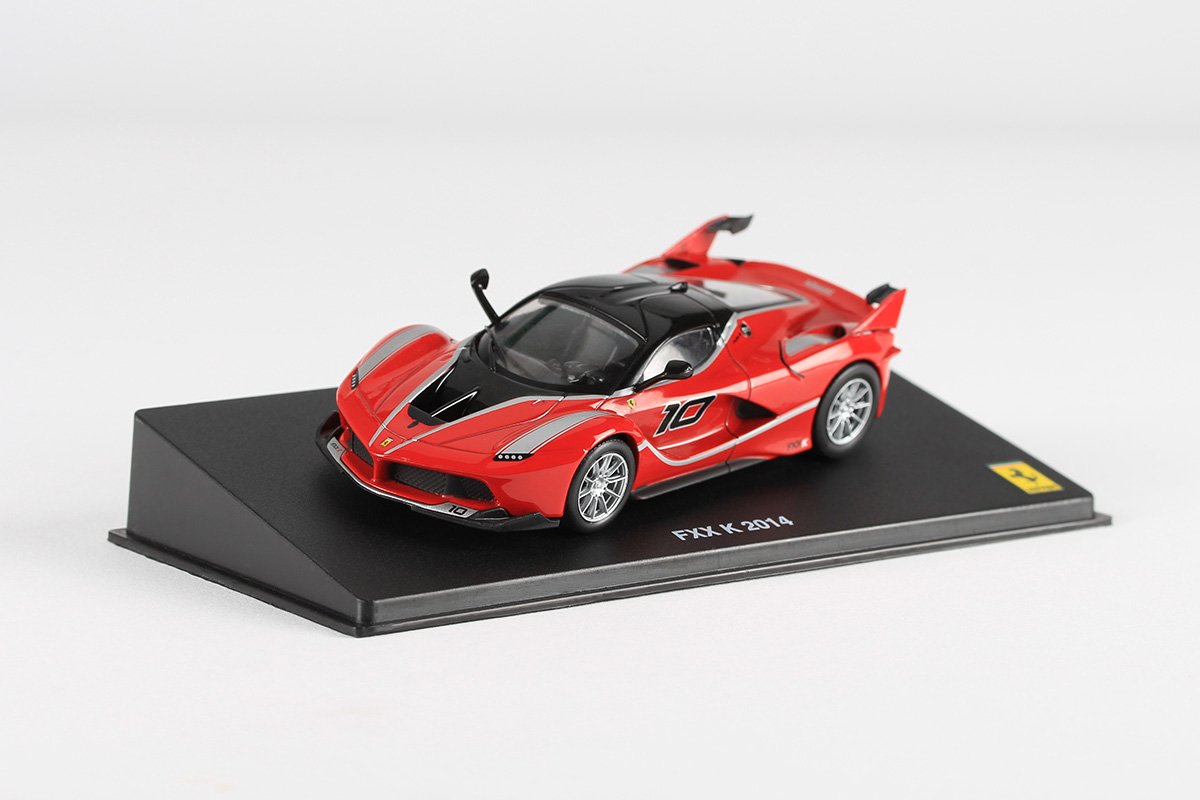 DISPLAY PLINTH
Each of your Ferrari GTs comes on a plinth with its name (car is removable).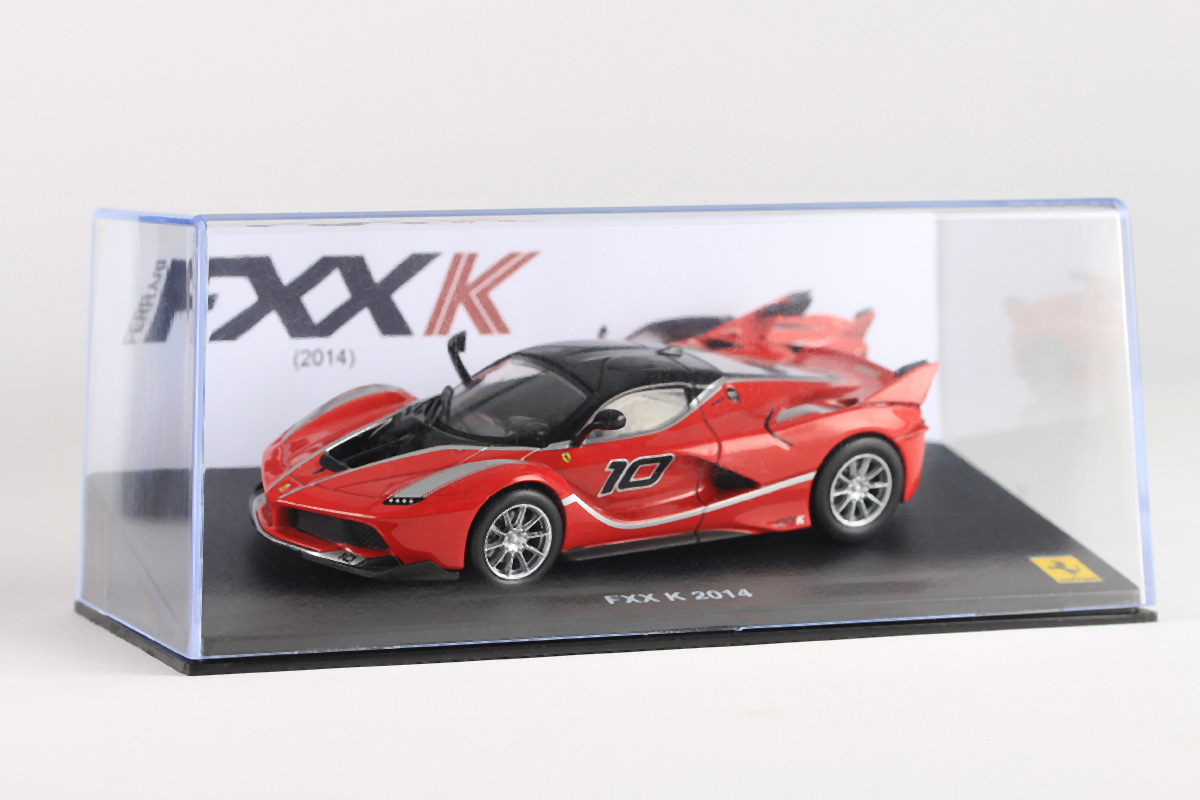 PROTECTIVE CASES
Each model has a protective acrylic case with an individually designed backing card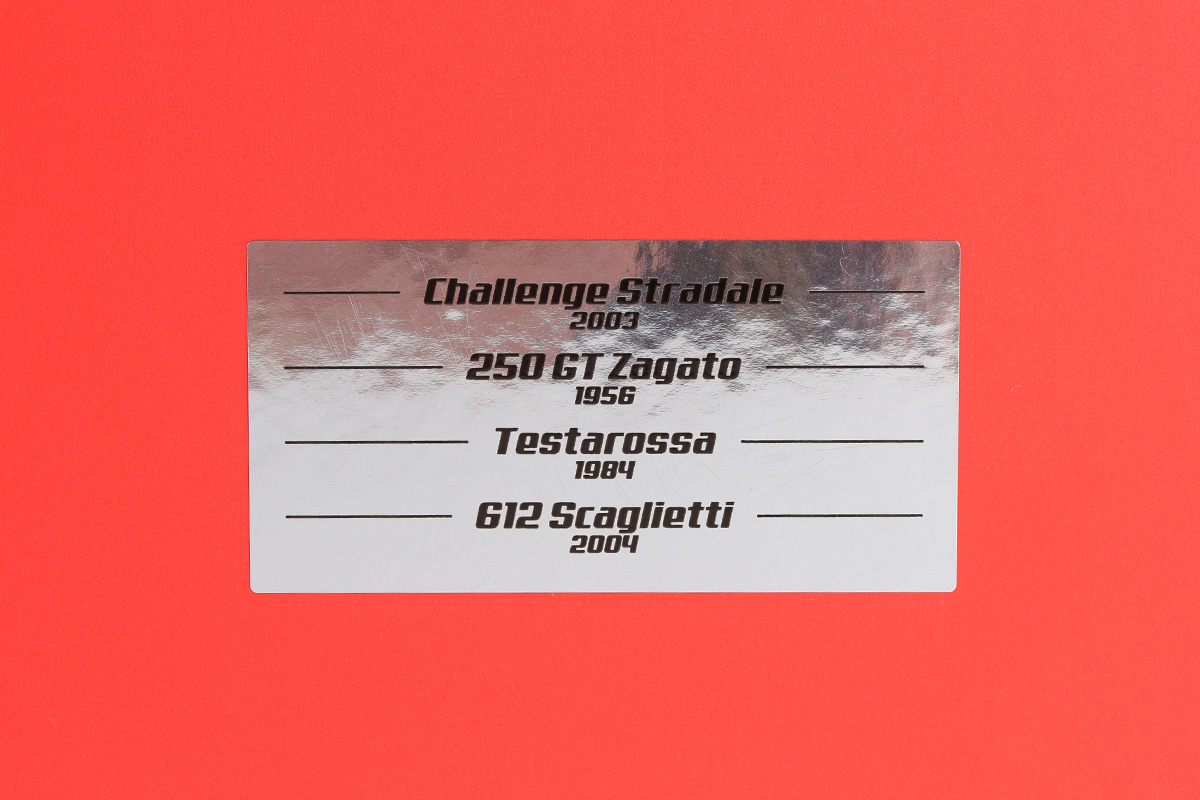 NAME LABELS
The label of contents comes separately allowing you to add it to the part of the box that suits your needs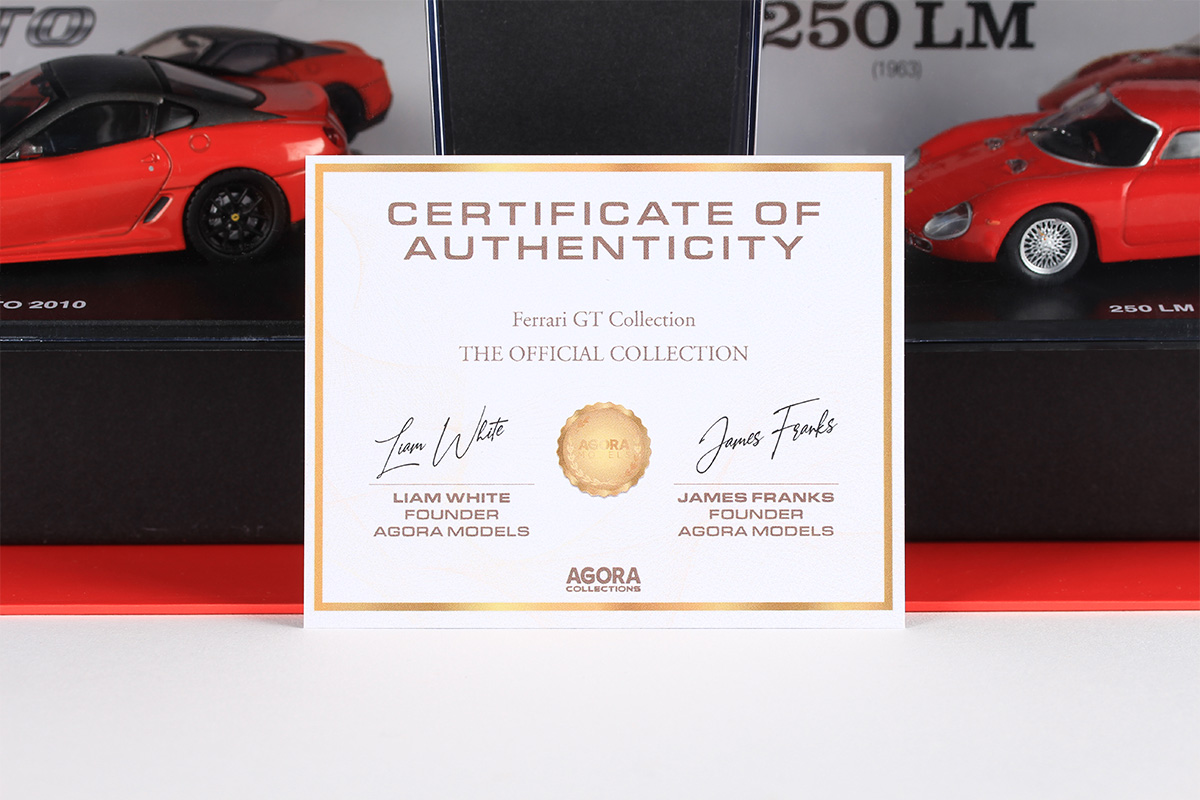 CERTIFICATE
Every box contains a Certificate of Authenticity
Select your Pack...
Each Pack is sold seperately and includes 4 Ferrari models on plinths with cases, collector's guide, certificate and label.
Each Pack is $79.99.
Select your Pack below:
(S&H cost per pack: USA $9.99; Canada & Mexico $19.99)
Your order will be in US$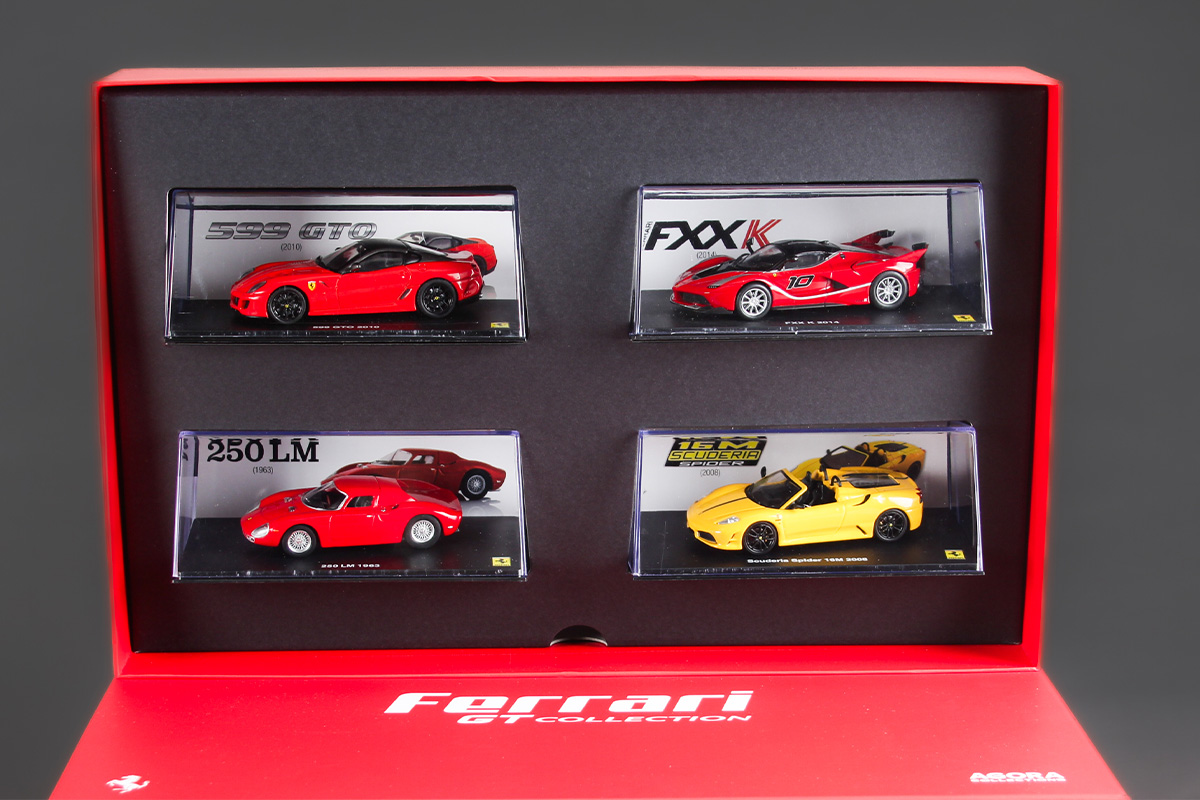 Pack 1
599 GTO 2010 | Scuderia Spider 16M 2008 | 250 LM 1963 | FXX K 2014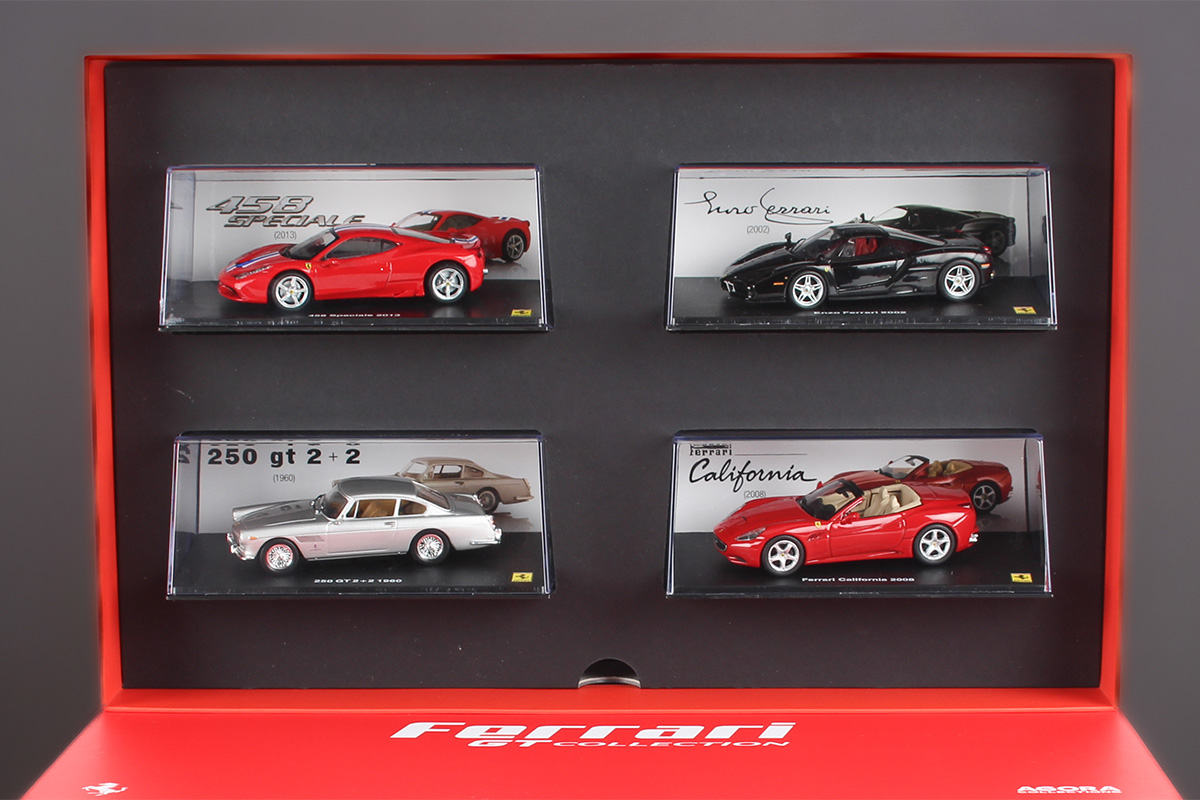 Pack 2
Enzo Ferrari 2002 | Ferrari California 2008 | 458 Speciale 2013 | 250 GT 2+2 1960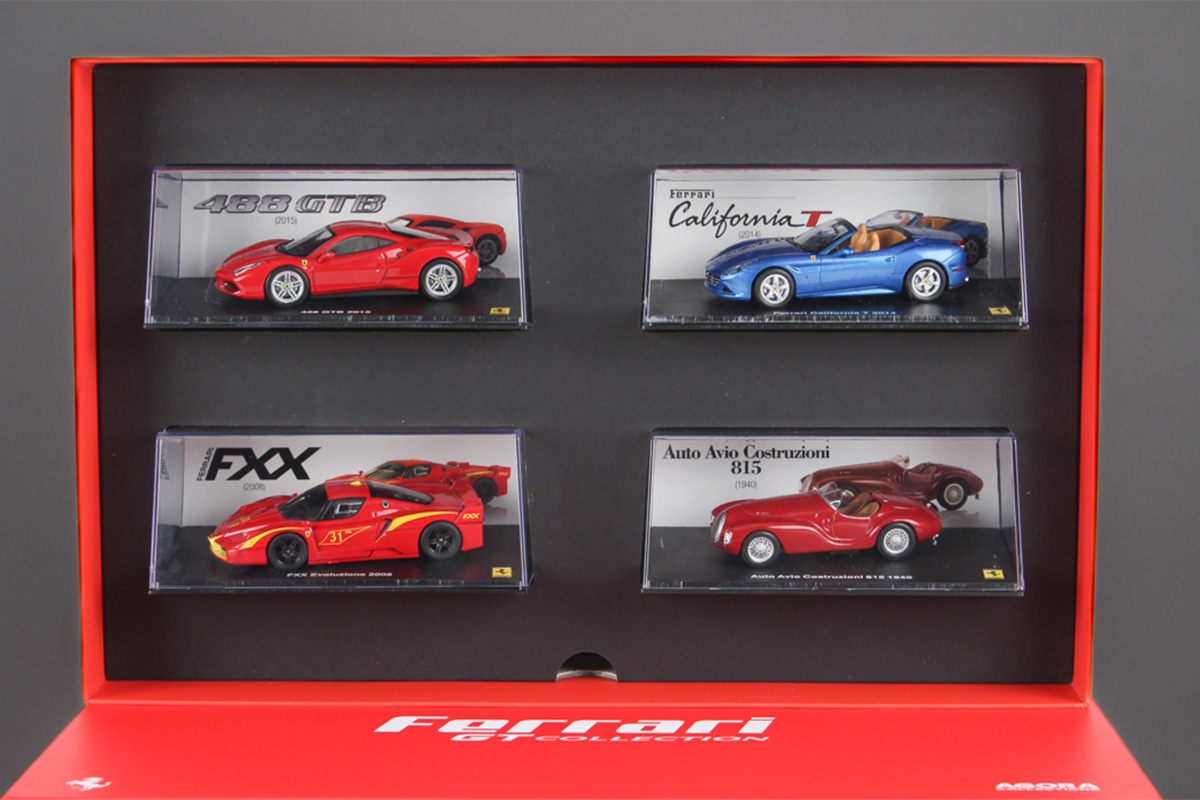 PACK 3
Auto Avio Costruzioni 815 1940 | Ferrari California T 2014 | FXX Evoluzione 2008 | 488 GTB 2015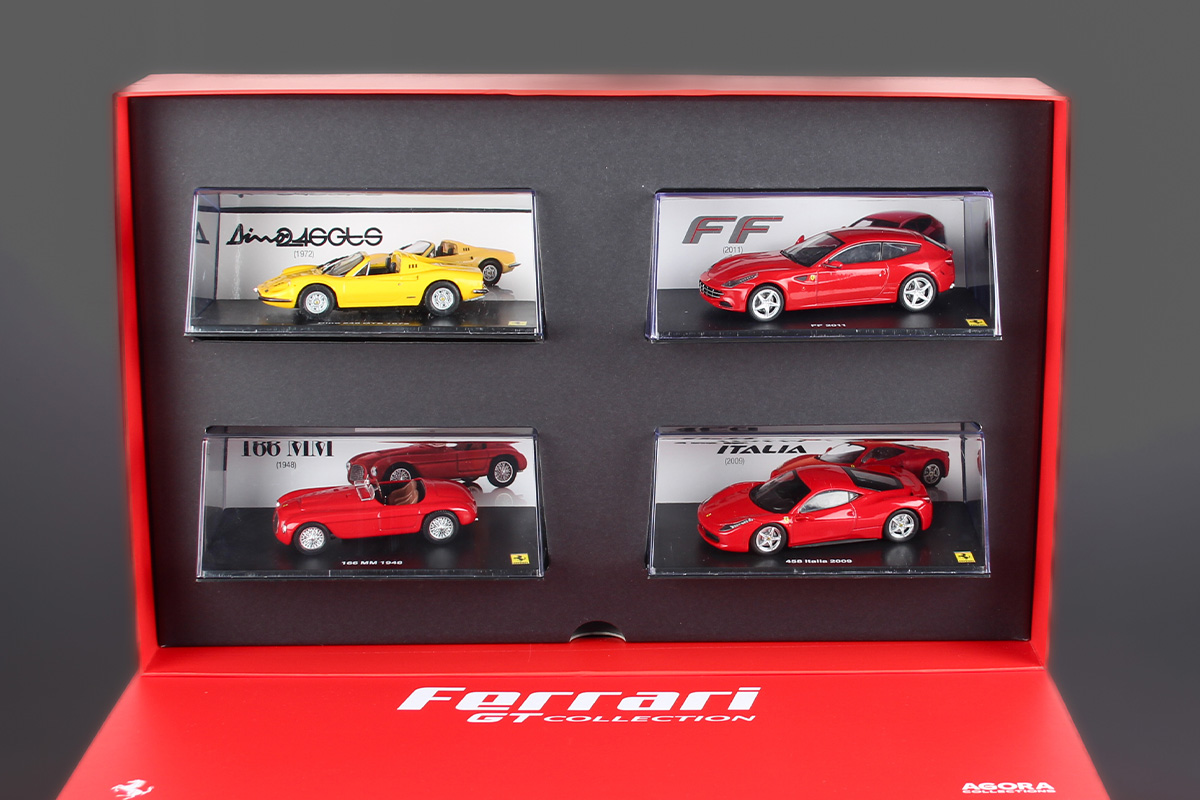 Pack 4
Dino 246 GTS 1972 | FF 2011 | 166 MM 1948 | 458 Italia 2009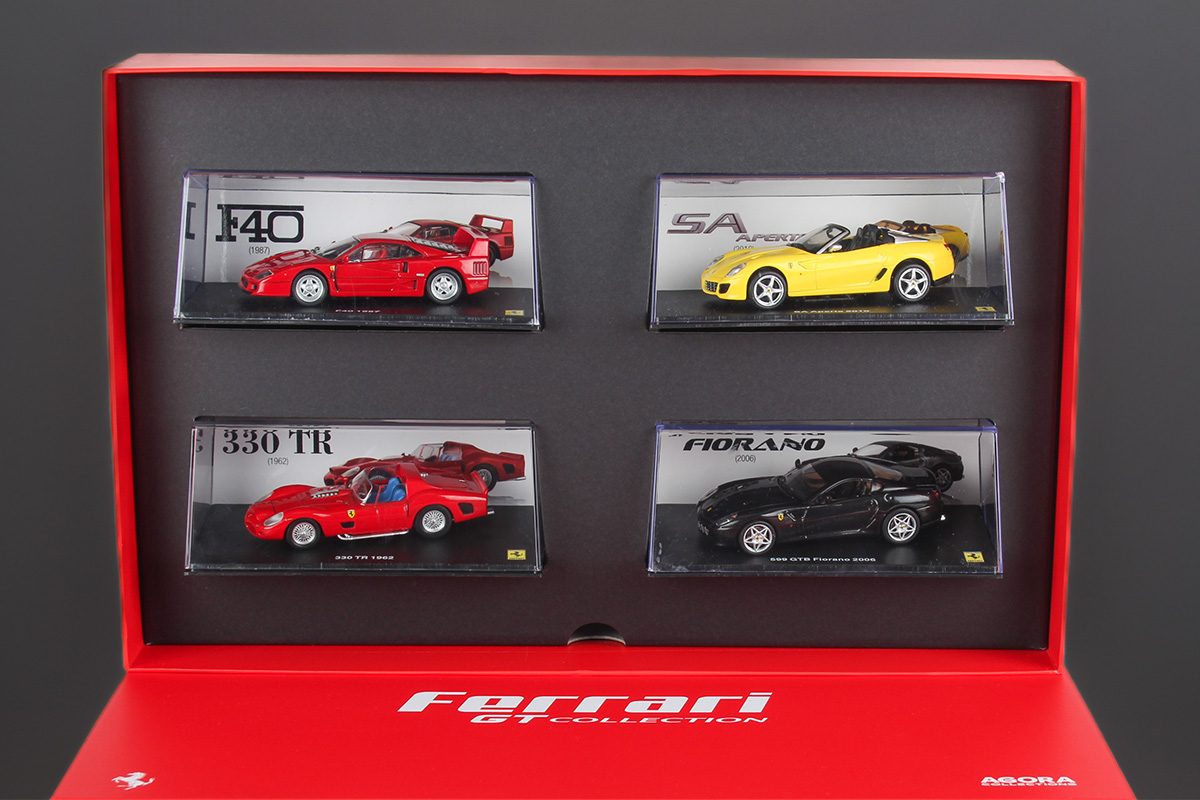 Pack 5
F40 1987 | SA Aperta 2010 | 330 TR 1962 | 599 GTB Fiorano 2006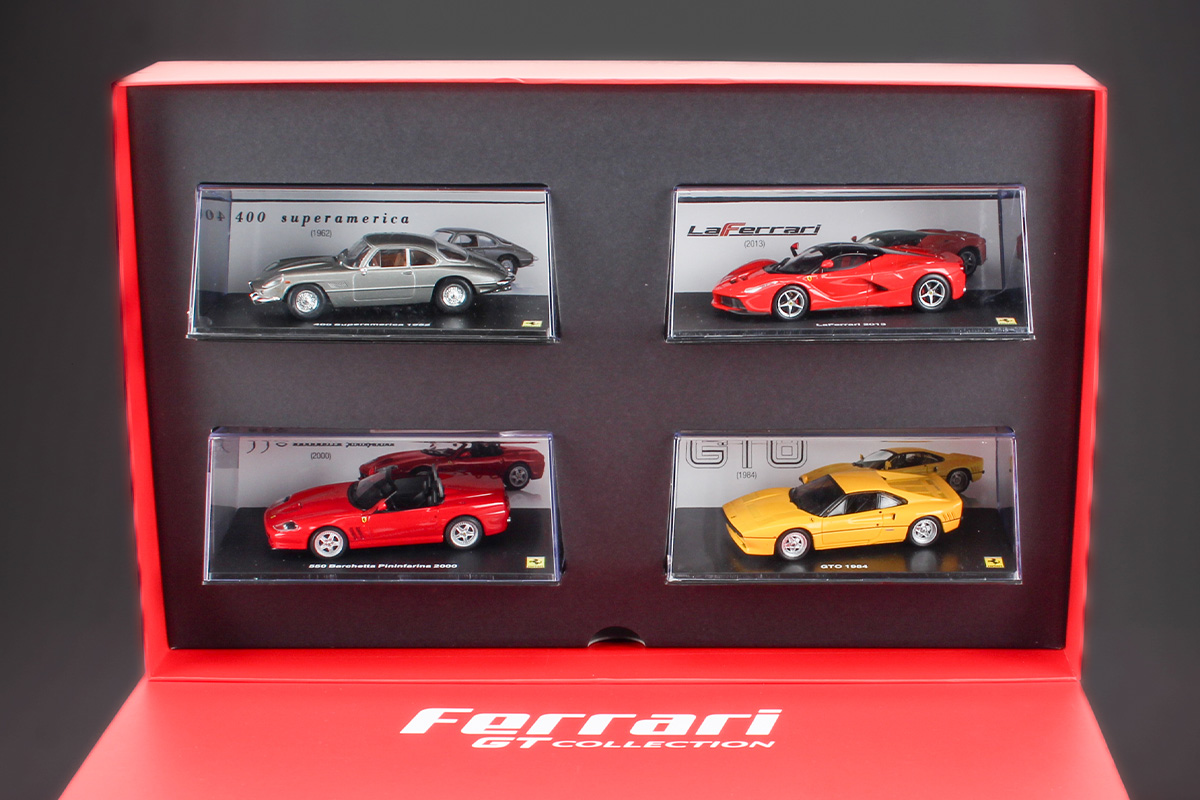 Pack 6
400 Superamerica 1962 | LaFerrari 2013 | 550 Barchetta Pininfarina 2000 | GTO 1984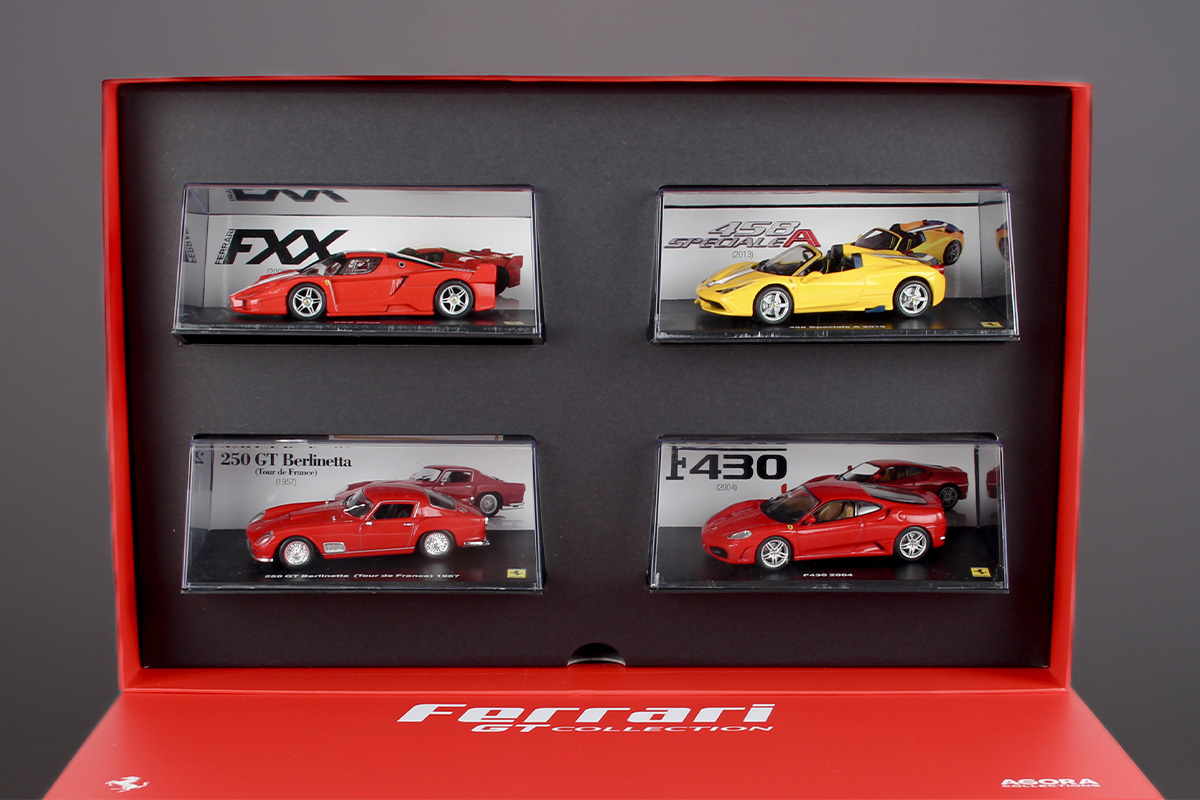 Pack 7
FXX 2005 | 458 Speciale A 2013 | 250 GT Berlinetta (TdF) 1957 | F430 2004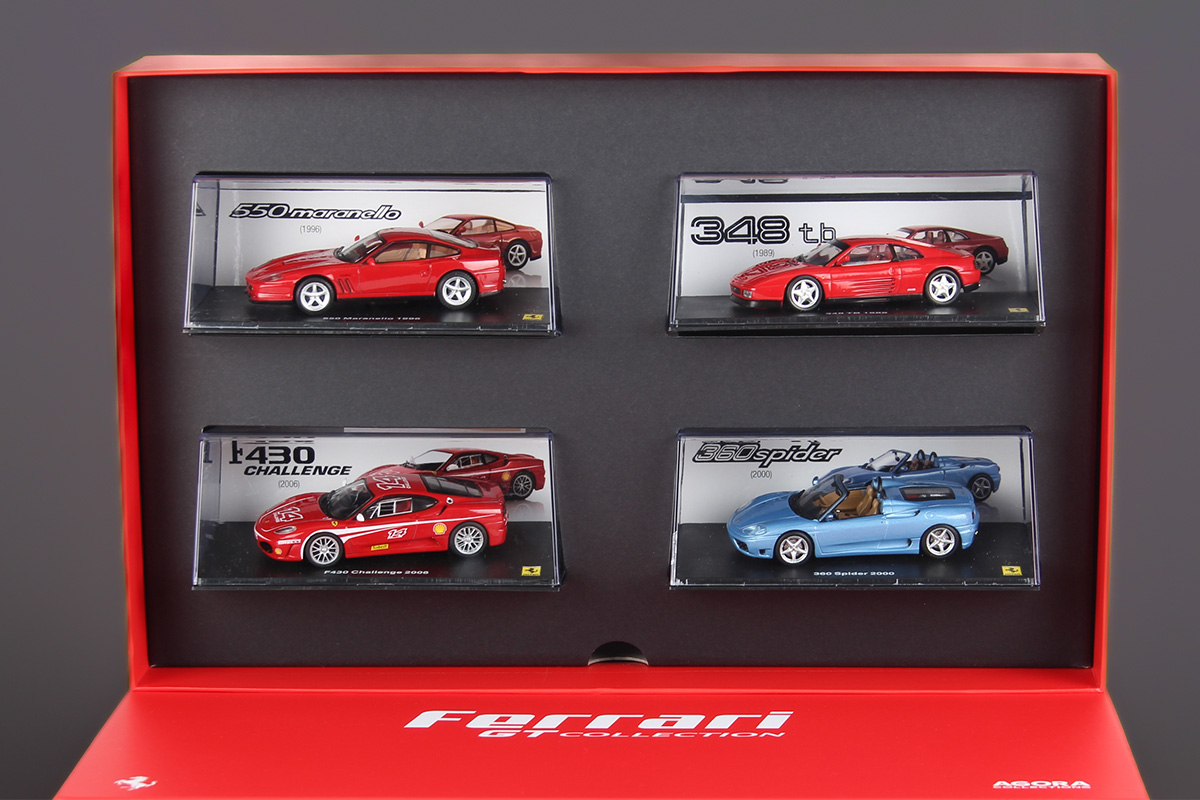 Pack 8
550 Maranello 1996 | 348 TB 1989 | F430 Challenge 2006 | 360 Spider 2000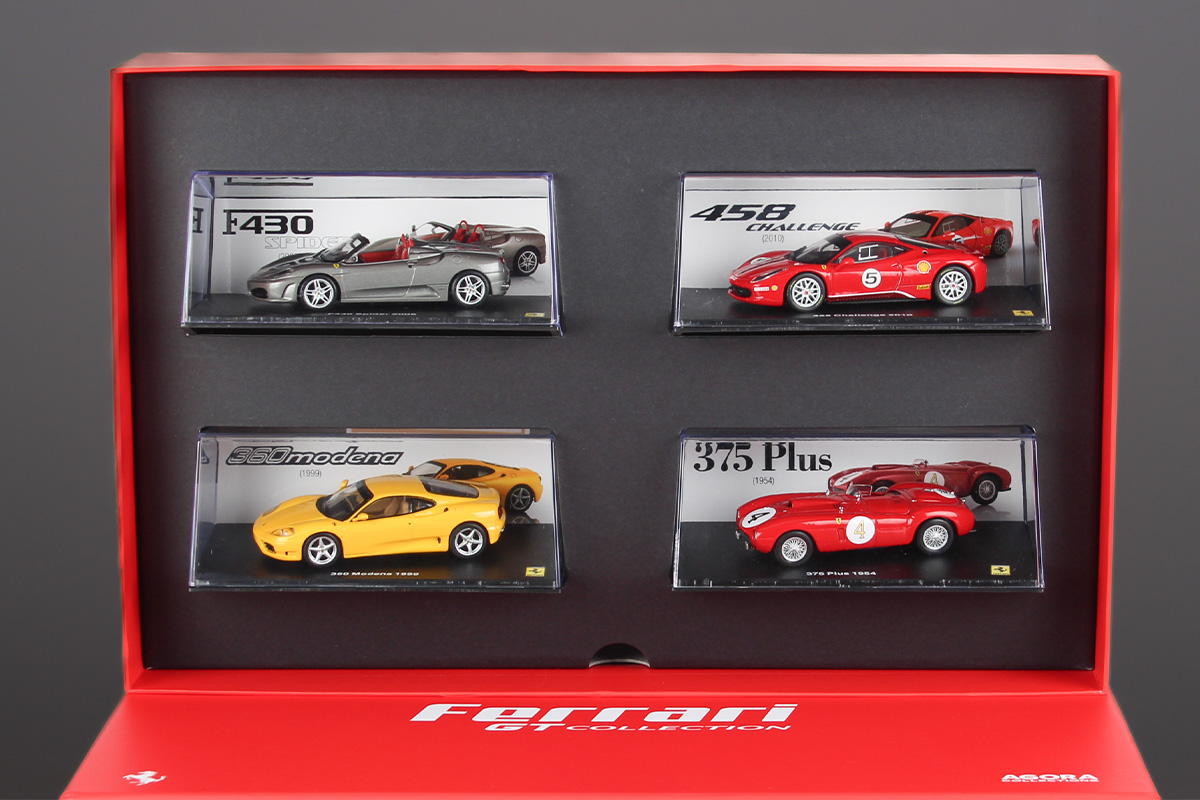 Pack 9
F430 Spider 2005 | 458 Challenge 2010 | 360 Modena 1999 | 375 Plus 1954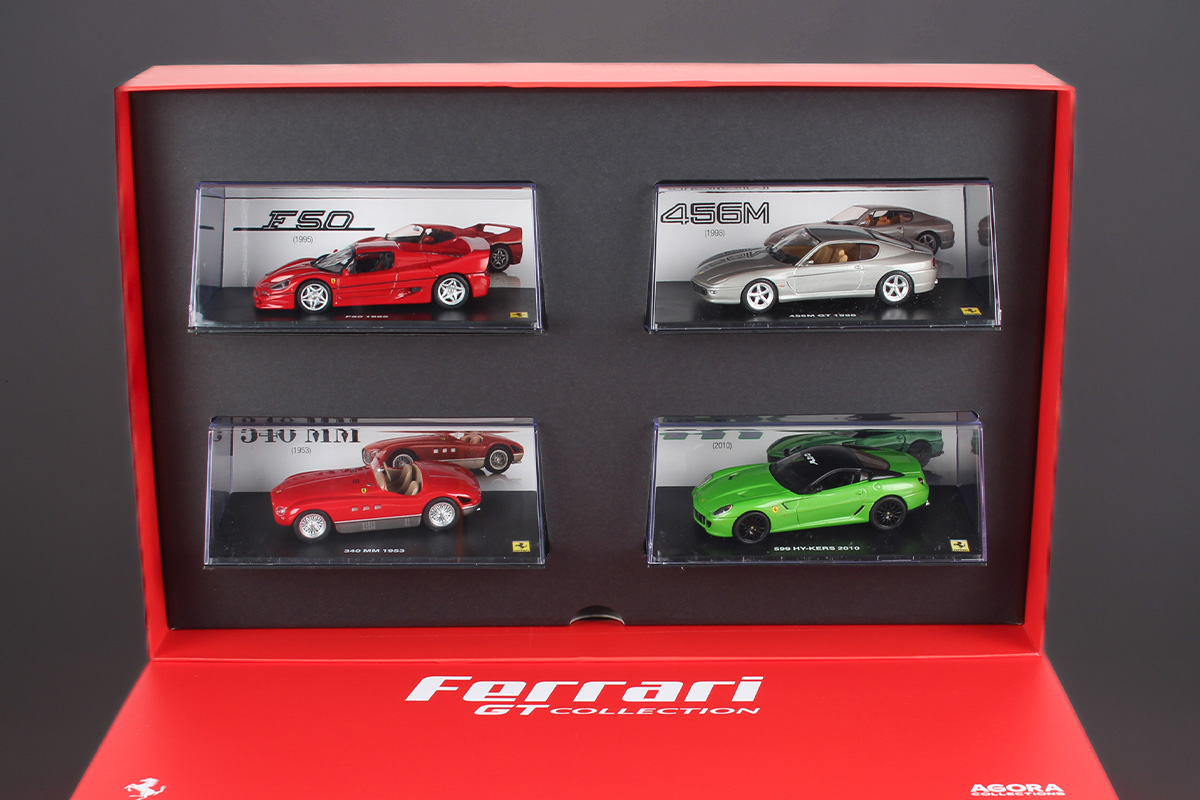 Pack 10
F50 1995 | 456M GT 1998 | 340 MM 1953 | 599 HY-KERS 2010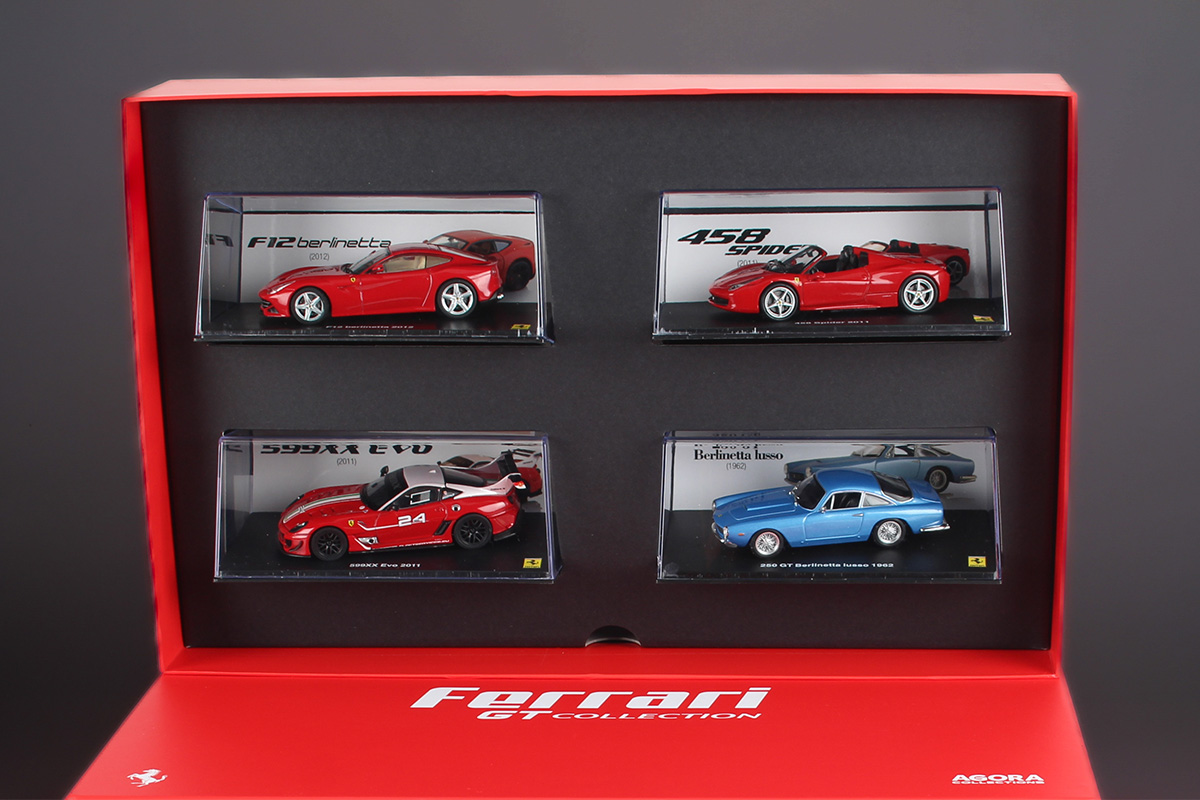 Pack 11
F12 berlinetta 2012 | 458 Spider 2011 | 599XX Evo 2011 | 250 GT Berlinetta lusso 1962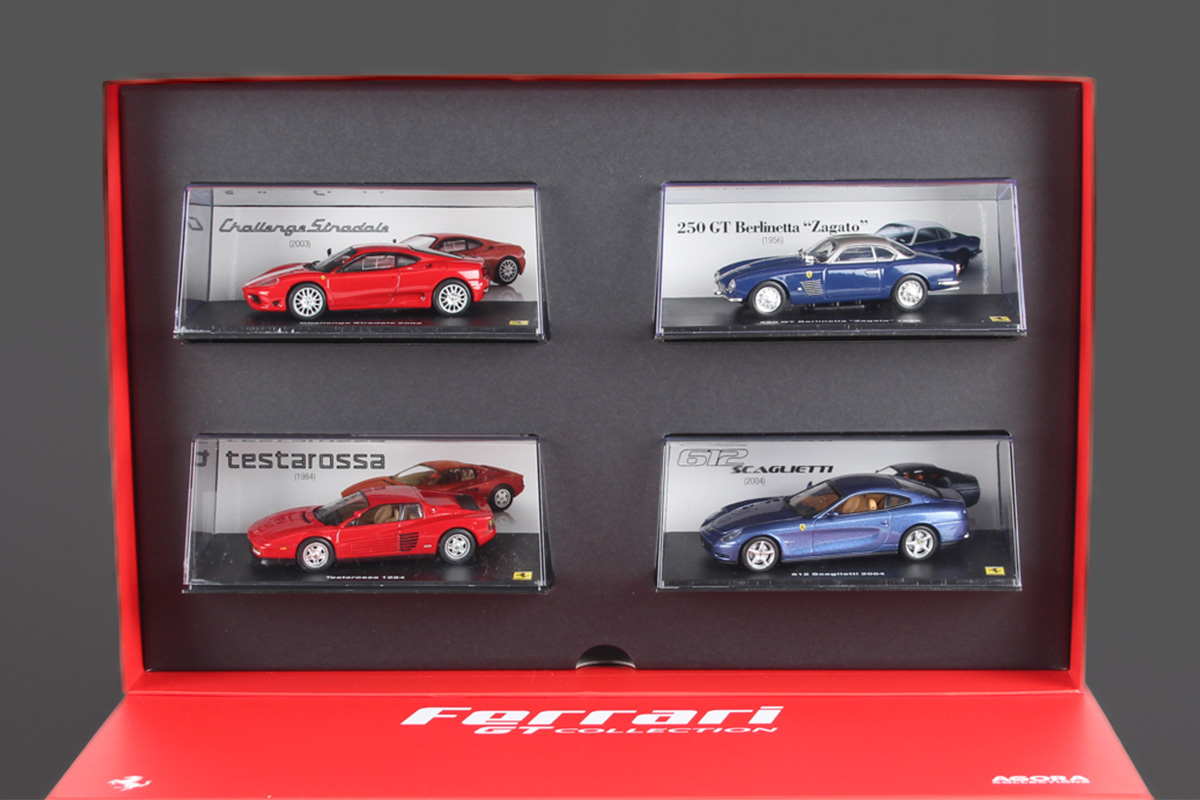 Pack 12
Challenge Stradale 2003 | 250 GT Berlinetta "Zagato" 1956 | Testarossa 1984 | 612 Scaglietti 2004