Gulf Oil liveried Porsche 917KH from the film Le Mans is one of the most legendary racing cars of all time, but which particular chassis is Steve McQueen's 917 ?
---
Throughout the 1960s, Steve McQueen established himself as the ultra-cool male film star, capturing the audiences' attention and filling theatres with his ice-cool persona.
McQueen would eventually set up his own production company – Solar Productions – and set out to craft the ultimate racing movie under the working title "24 Hours of Le Mans". Having been granted permission to film the 1970 Le Mans competition, the crew set up cameras along the course. Solar Productions also entered a Porsche 908 into the race, with cameras attached to capture on-track footage. Using what they had recorded from the competition coupled with additional footage shot after the race, the film was a combination of real-race and choreographed stunt-driver shots to bring McQueen's vision to life.
The 1971 film Le Mans shows Michael Delaney's (Steve McQueen) Gulf Oil 917 claiming victory over Erich Stahler's (Siegfried Rauch) Ferrari 512, a plotline that did not convince Ferrari to loan any cars for filming. Besides McQueen himself, the stars of the film were the three Porsche 917KH in Gulf Oil livery. Due to most track scenes being a mixture of real-race and production footage, there are several 917 chassis attributed to the film.
This makes it difficult to identify which Porsche 917 was "Steve McQueen's 917". Luckily, there has been much research into the history of the various chassis by fans of the 917 and the film to help with finding an answer.
For the 1970 24 Hours of Le Mans race, a total of eight Porsche 917s were entered. Of those eight, chassis 917-017/004, 917-016 and 917-026 participated in Gulf Oil blue and orange livery. 917-017/004 was driven by Jo Siffert and Brian Redman as No. 20, but an over-revved engine destroyed the crankcase at 1:30am resulting in a DNF. 917-016 was driven by Pedro Rodriguez and Leo Kinnunen as No. 21, also getting a DNF due to engine failure on lap 22. 917-026 was driven by David Hobbs and Mike Hailwood as No. 22 but spun out on lap 49 during heavy rainfall.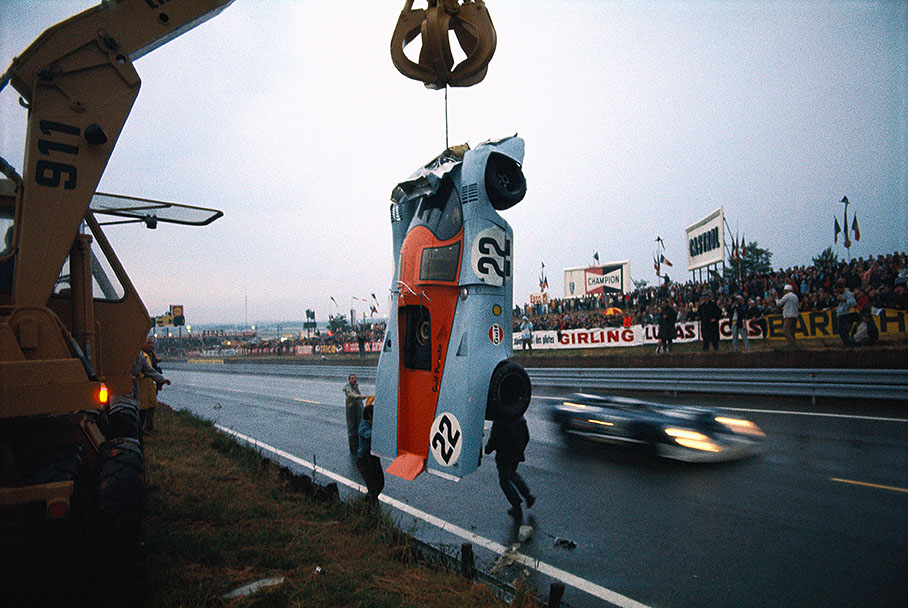 All three of these cars feature in the film, having been filmed by Solar Productions' on-track camera. In fact, the picture above of No. 22 being lifted from the track shows the Porsche 908 camera car passing by!
Since none of the three Gulf Oil cars made it to the end of the race, the footage Solar Productions had of them was limited. None of the Gulf Oil chassis cars were used in the filming post-race. Instead, three different chassis were loaned to Solar Productions and repainted in matching livery: 917-013, 917-022 and 917-024-2.
John Wyer Automotive Engineering loaned Solar Productions 917-013, which was painted in No. 21 livery and driven by racing driver David Piper. During filming, the car was crashed and destroyed. One of the tyes blew, causing the car to crash into the barriers at both sides of the track, breaking into two halves before coming to rest in a ditch. The crash caused a deep cut in David Piper's leg, which became infected after brake fluid and other debris got into the cut; as a result, the leg was amputated below the knee. At the end credits for the film, he received special thanks "for his sacrifice".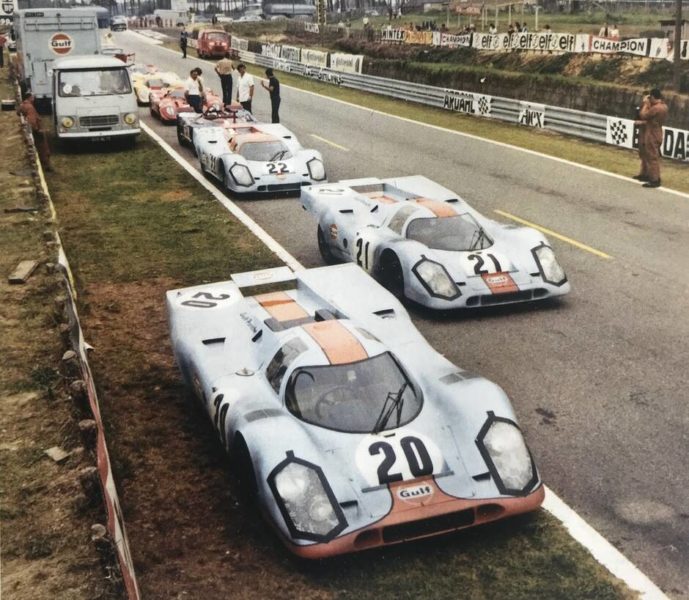 David Piper and Steve McQueen on location for filming of Le Mans (1971). Picture credit: Unknown
Source: IMDB.com
917-024-2 was used in the No. 22 livery and loaned for filming by racing driver Jo Siffert, along with several other cars. In the film, No. 22 races to victory aided by Michael Delaney's driving in No. 21. After filming, Siffert drove the car to his birthday celebration on July 7, 1971. Sadly, 917-024-2 later led the funeral procession upon Jo Siffert's untimely and unfortunate death on October 24, 1971. The car was eventually sold to a private collector, before disappearing for nearly 30 years. In 2001, 917-024-2 resurfaced after being discovered in a shed in the French countryside. Following a full restoration, the Porsche 917KH was sold at auction in California for a record-breaking $14,080,000 on August 18, 2017.
Chassis 917-022 was purchased from Porsche by Steve McQueen's production company. Originally, McQueen had planned to enter this car in the 1970 24 Hours of Le Mans race as No. 26, but due to the risk involved his entry was vetoed by those invested in the production. 917-022 was sprayed in the livery of No. 20, the car which Michael Delaney (Steve McQueen) starts the race driving. Part way through the film, No. 20 crashes and is taken out of the race, though in reality this scene was filmed with a Lola T-70 chassis made to look like a 917!
With 917-022 no longer needed as No. 20 for the film, it is believed to have been repainted in the livery of No. 21 following the crash with David Piper. Fittingly, Steve McQueen as Michael Delaney takes over driving of No. 21 towards the end of the film, meaning he continued to drive the car he owned. When looking for "Steve McQueen's 917", chassis 917-022 is the one.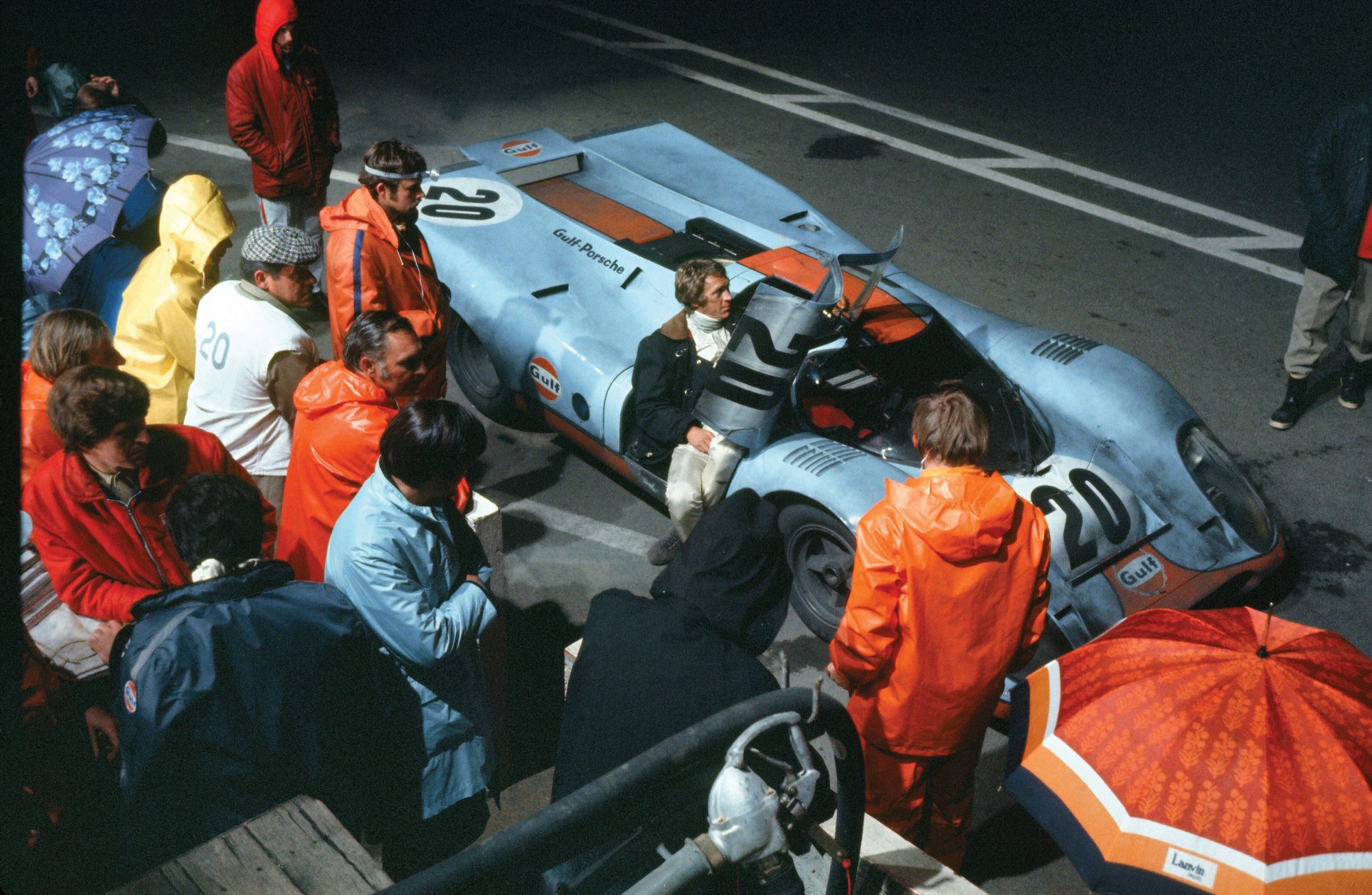 In June of 1971, with an estimated budget of $7.6 million and another $2 million spent on promotion, Le Mans was released. Behind the scenes, the film had cost McQueen even more: his marriage, his production company, and many friendships. The film failed to earn back its cost, having gone close to $1.6 million over-budget, and McQueen didn't attend the premiere.
Despite this, Le Mans became a cult film over time. McQueen had wanted to make more of a documentary than a traditional Hollywood blockbuster; with its meticulous attention on the race and the cars, rather than the drivers and drama, Le Mans is one of the most exciting and realistic racing movies ever made – the ultimate racing movie.

For more information on the Porsche 917s featured in Le Mans, take a look at Gianni Cabiglio's article on Flatsixes.com:
Le Mans 24 vs. Le Mans the Movie: The Real Porsche 917