"My name is Carrol Shelby

and performance is my business."
When Goodyear asked Shelby to perform a high-speed and highly-publicised test of their new Thunderbolt tires, the result was the record-breaking 1967 Shelby GT500 Super Snake. Fitted with a racing-spec 427cu V8 engine from the Ford GT40 Mk II, a "bundle of snakes" exhaust system and three blue, Le Mans-style racing stripes, the '67 GT500 Super Snake is a one-of-a-kind Shelby Mustang.
Specifications & Features
Your exquisitely detailed 1967 Shelby GT500 Super Snake
In January 2019, the 1967 Shelby GT500 Super Snake sold for $2,200,000 breaking its own record as the most expensive Mustang ever sold. At the time, it was the fastest street-legal production car. Now you have the opportunity to build and own this extraordinary performance car.
Specification
Scale: 1:8
Weight: 8.4 kg
Material: Body and chassis made from zamak metal, seat material is soft PVC – faithful to the original Ford Mustang seats. Inside finishing is made with 'flocking printing' imitating soft surface
Length: 595 mm (23.4")
Width: 232 mm (9.1")
Height: 175 mm (6.9")
Number of parts: 408
Features
Functioning headlamps and taillights
Hear the engine when accelerator is pushed
Pushing the brake pedal activates brake lights
Steering wheel operates front wheels
Opening doors, hood and trunk
Genuine horn sound
Color matched to original Dupont paint codes
Folding rear seats to extend the trunk
Replica of the Goodyear Thunderbolt tires
Shelby Speedway tires with 5-spoke rims (available separately, click here)
It's all in the detail
Outstanding detail at 1:8 scale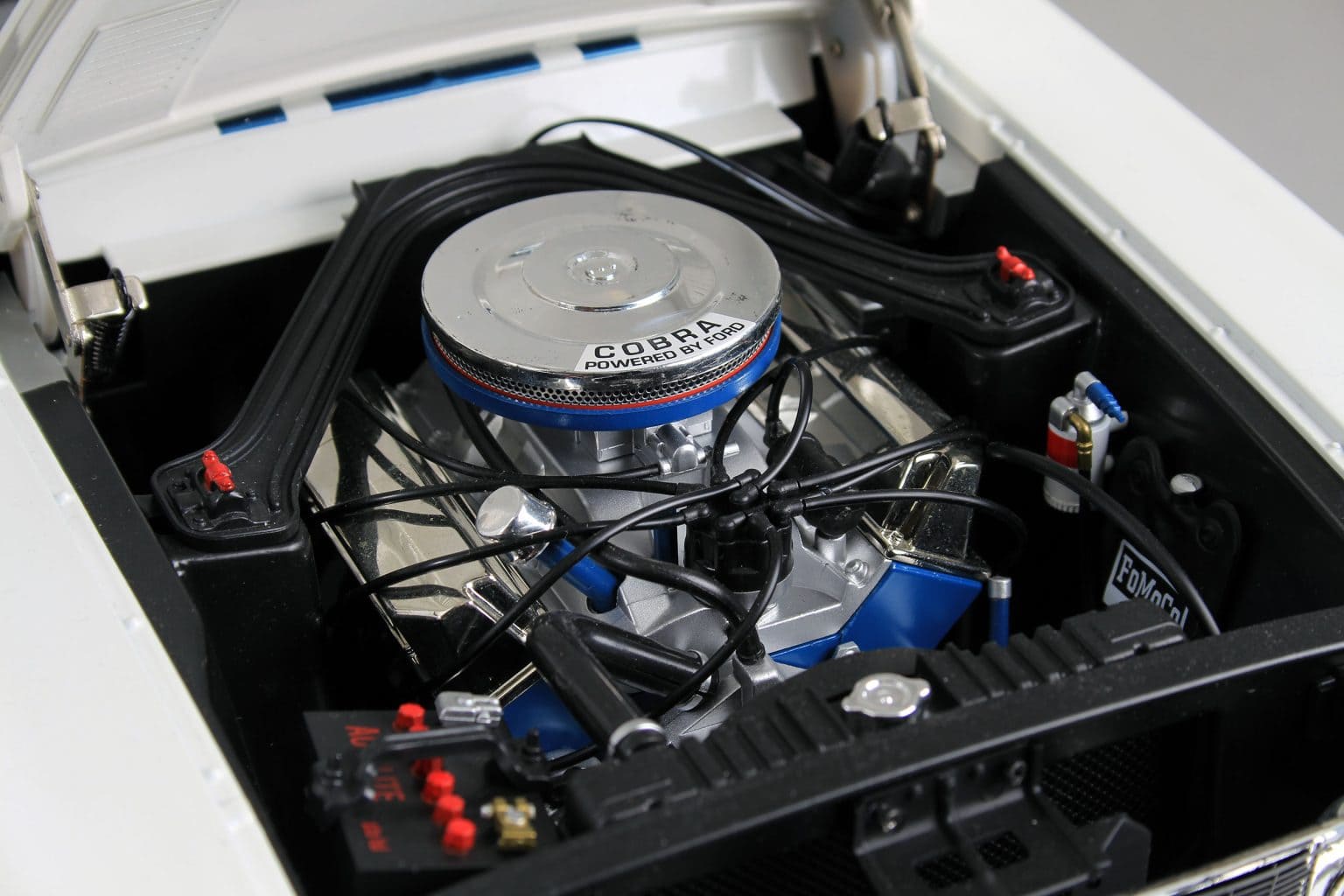 AUTHENTIC ENGINE
Hood opens to reveal the realistic Ford Big-Block FE 427 engine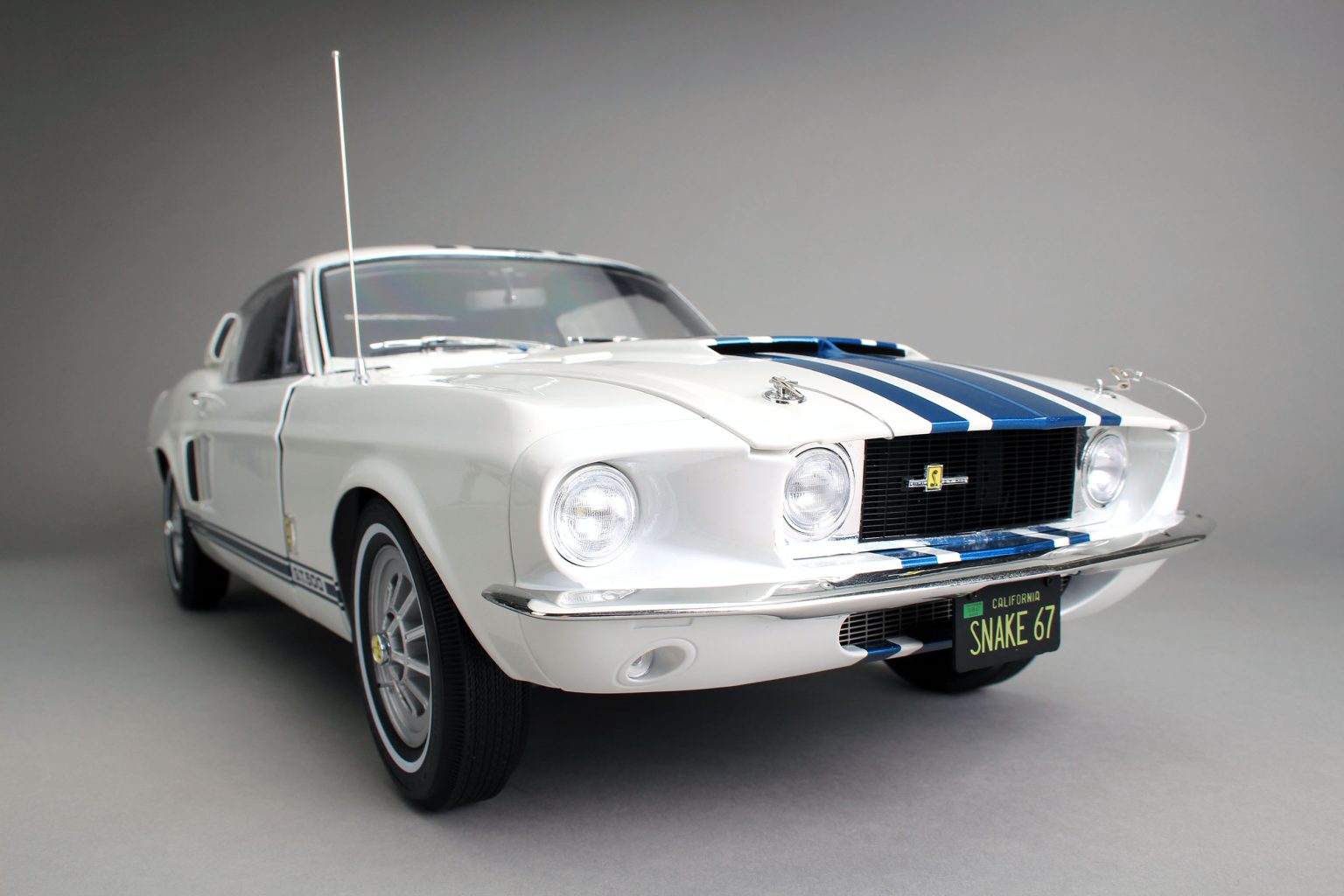 DIE-CAST METAL PARTS
Made from high-quality materials including die-cast metal, photo-etched and ABS parts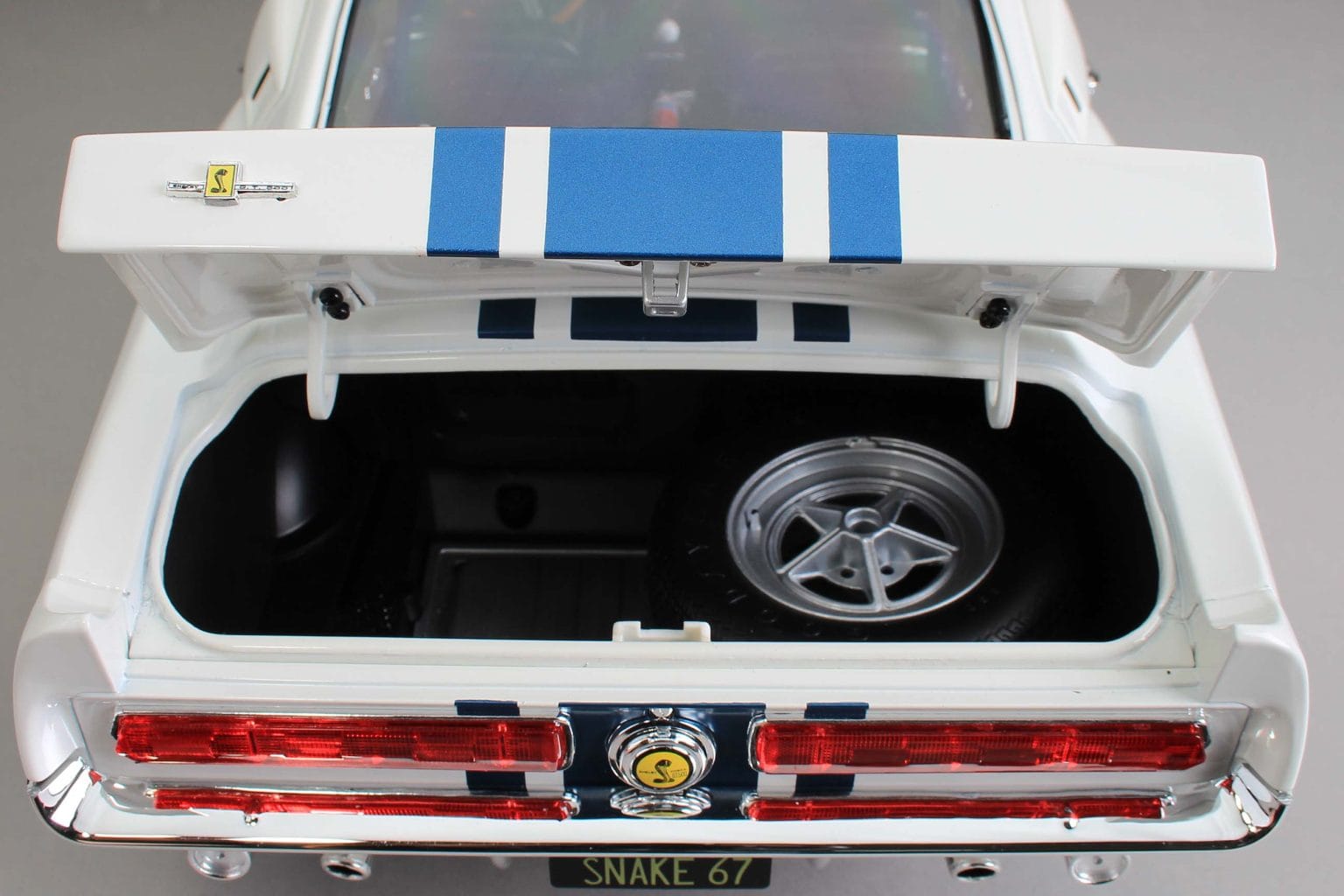 OPENING DOORS
Opening doors, hood, and trunk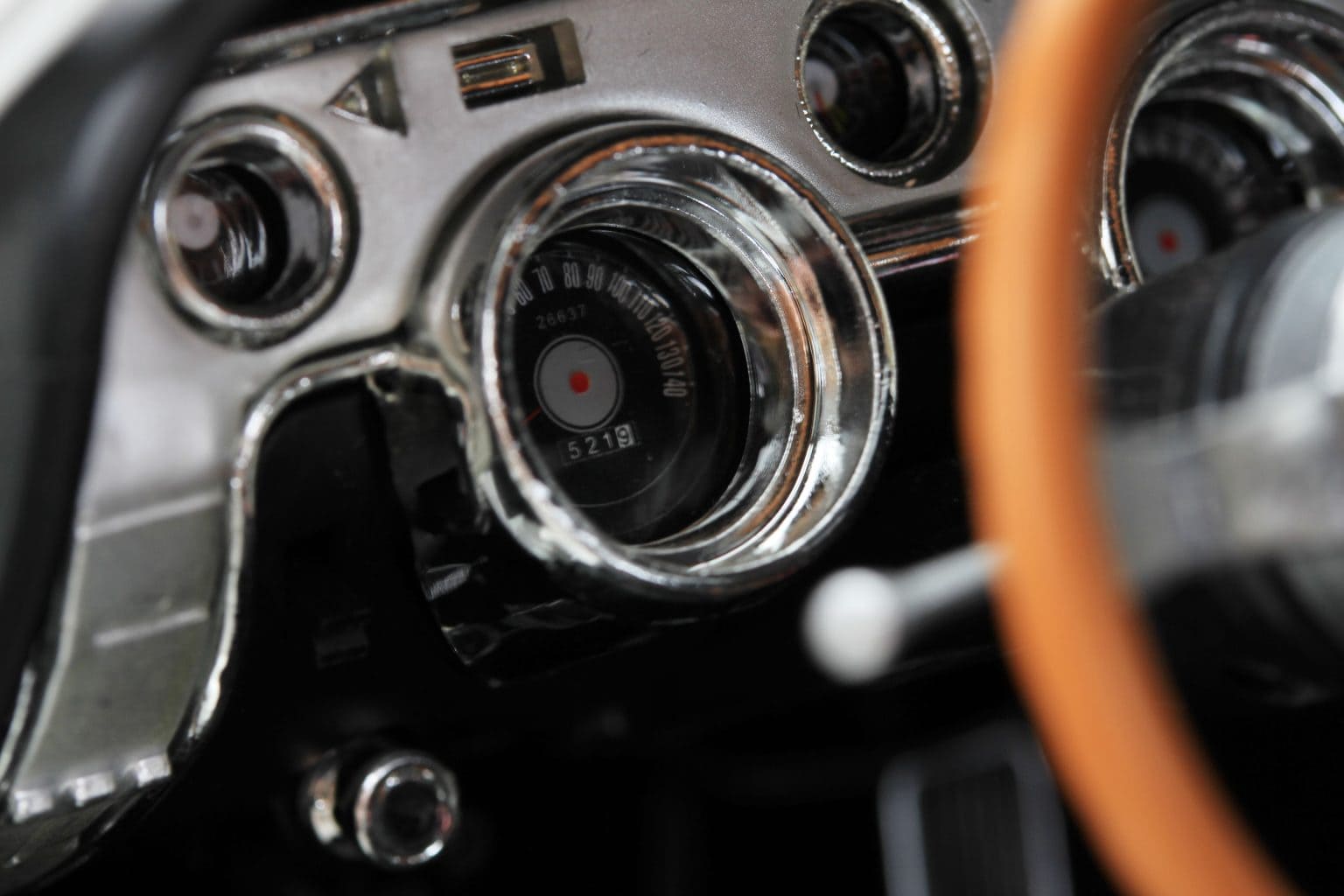 INTERIOR DETAIL
True to life dashboard, down to the smallest feature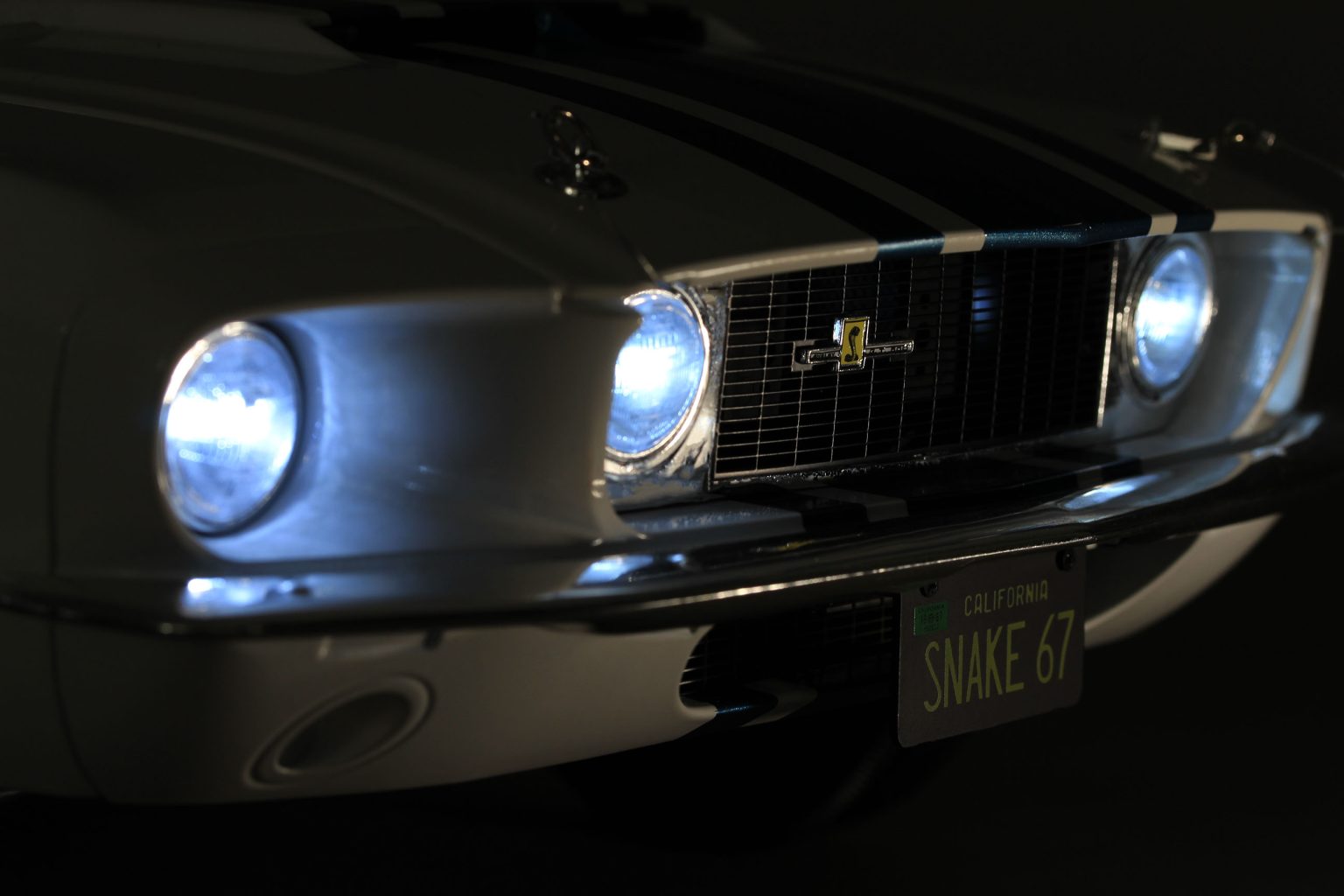 WORKING ELECTRICS
Flip a switch to turn on the headlights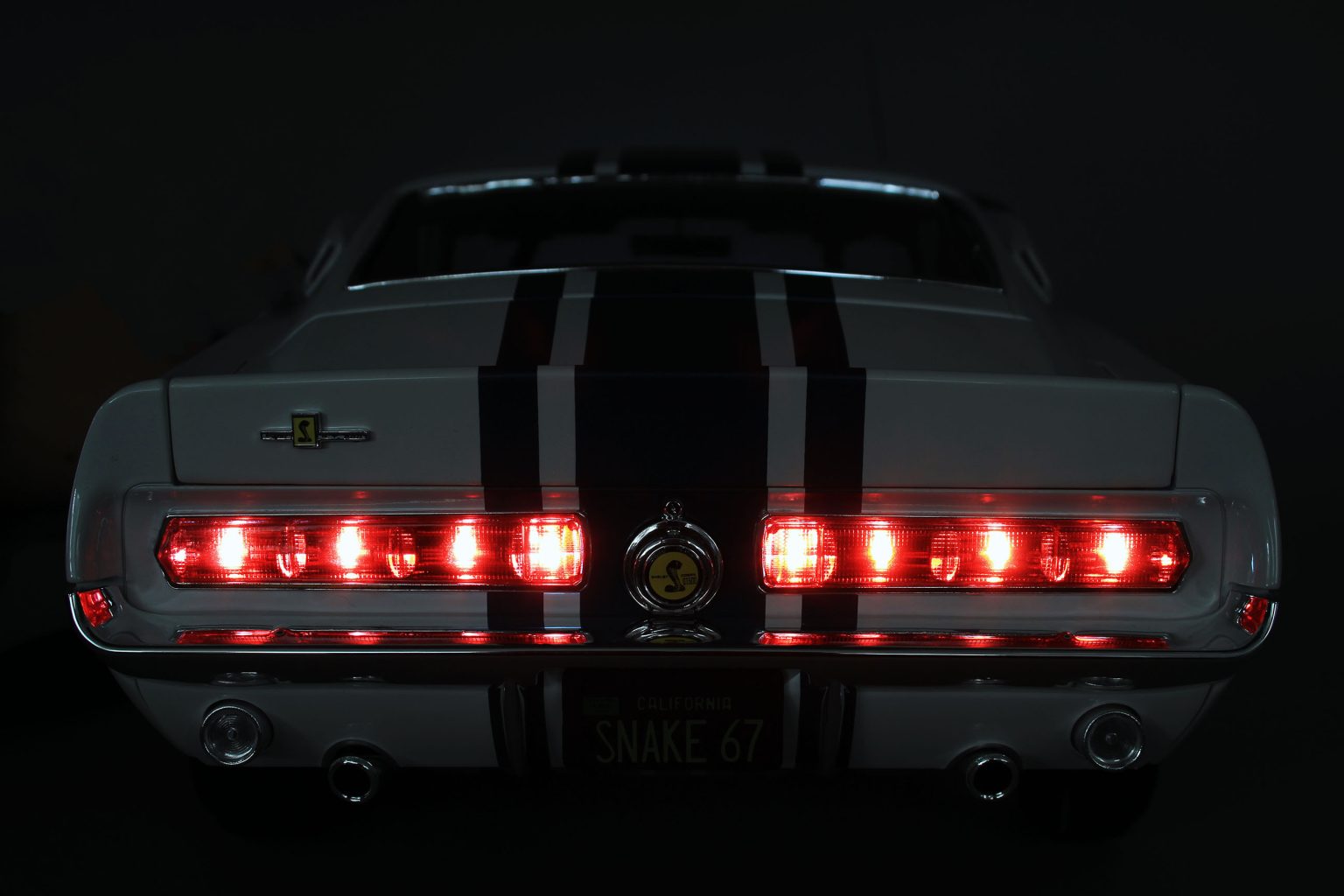 FUNCTIONING TAILIGHTS
Pushing the brakes illuminates the brake lights
Animations, film, and reviews of all the parts of this 1:8 model kit
The 1967 Shelby GT500 Super Snake Illustrated book
FREE with all purchases of this model
Full of stunning photographs, taken both inside and out, by renowned photographer David Newhardt. This beautiful coffee-table book contains close up images filling the entire page, thanks to an innovative binding technique that prevents the book being creased down the centre pages. Now in private ownership, these rare images provide an exclusive opportunity to get real close to this legendary Mustang.
Your buying options
When you place your order we will send your first pack with the first stages of your kit to build your model. Following this, you will be sent another pack every month for 11 months. You will be charged monthly.
Alternatively, you may choose a Full Kit, Accelerator or the 24-month plan
click here for more details.
(S&H cost per pack: USA $9.99; Canada & Mexico $19.99)
We ship worldwide. Your order will be in US$
Display Case
This model can be purchased with a display case.
Select the "Model + Case" option to include this with your purchase.
Display case is added to a 12-month Plan with the cost spread for an extra $16.58 per month.
Alternatively a display can be purchased separately (click to find out more).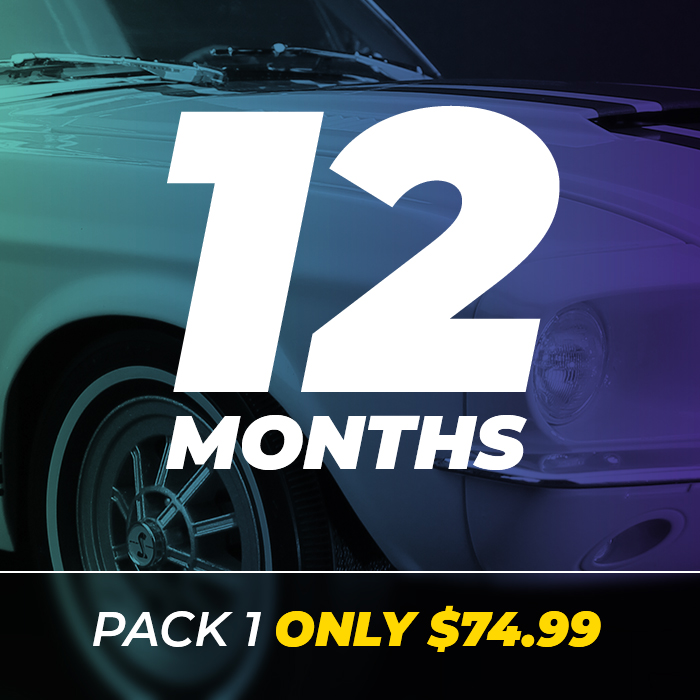 Pack 1 only $74.99
then $149.99 per month
Add $16.58 per month to include Display Case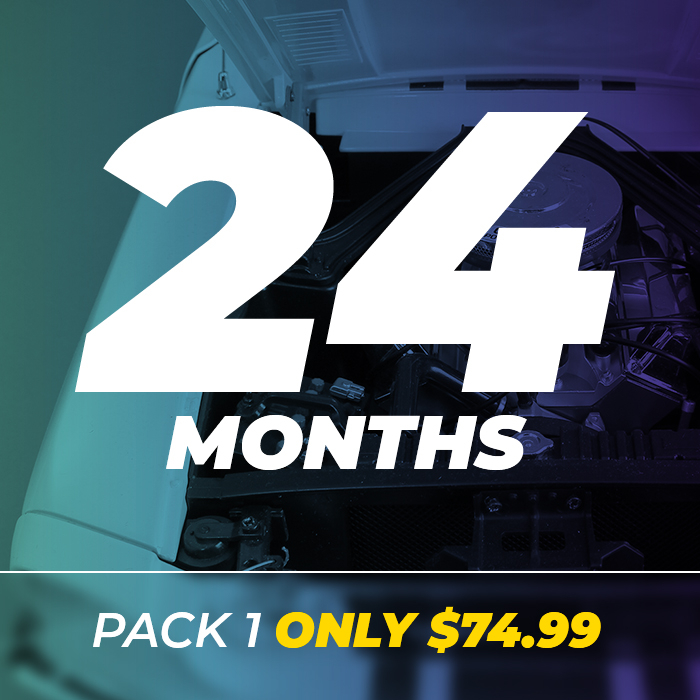 Pack 1 only $74.99
then $79.99 per month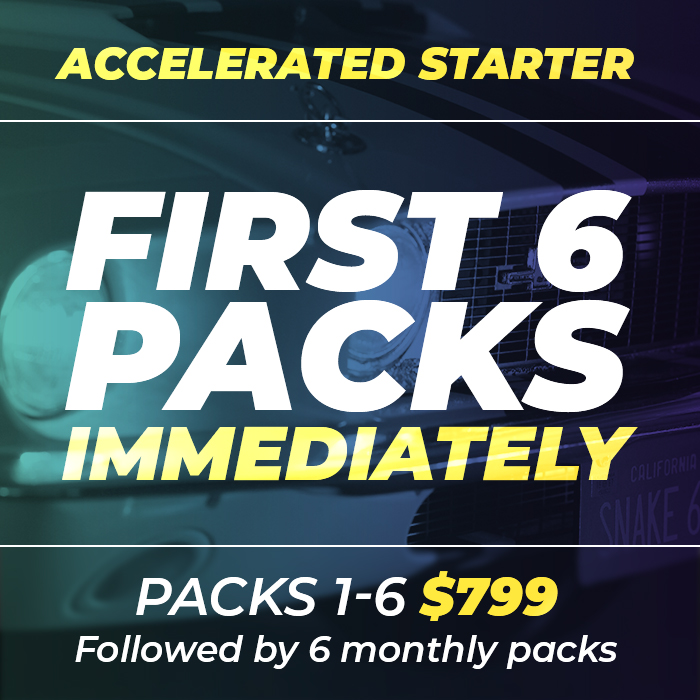 Packs 1–6 – $799
then $149.99 per month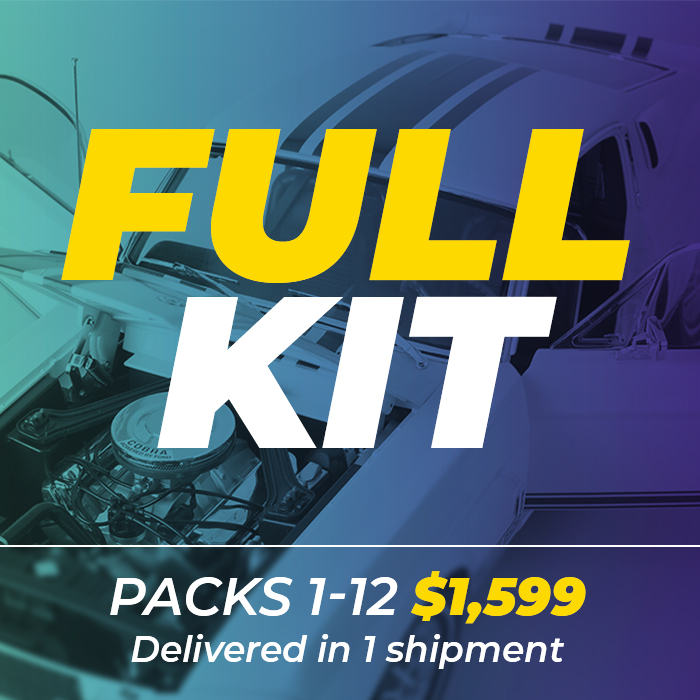 Packs 1-12 only $1,599
Get the Full Kit!
The 'one and only'
1967 Shelby Mustang GT500 Super Snake

The Holy Grail of Mustangs
The 1967 Shelby GT500 Super Snake has a formidable reputation.
In January 2019, it became the most expensive Mustang ever sold at auction – $2.2 million.
What makes this particular 1967 Shelby GT500 the most sought after Mustang in the world?
Part publicity stunt, part market study, the Super Snake was born from opportunity. Goodyear needed to showcase their latest model of tire – the Thunderbolt – with a promotional event centered around its performance, and Carroll Shelby, their West Coast distributor, was the man to do it.
He could have tested the tires on a regular GT500.
But in typical Carroll Shelby style, in collaboration with former Shelby American Sales Manager Don McCain, he instead placed a 427 GT40 Le Mans racing engine under the GT500's hood, modifying the car to deal with the additional power. The Super Snake would end up hitting 170 mph, averaging 142 mph over 500 miles, and despite being "way too fast for the tires it was on", it became, at the time, "the fastest, street-legal production car ever made".
McCain wanted to produce 50 Super Snakes, but the cost was simply unviable. The suggested price would have been $8,000 – almost double the $4,195 price of a standard Shelby GT500. Thinking it would be difficult to find 50 buyers, full scale production of the Super Snake was cancelled.
And so the Super Snake remained one-of-a-kind.
Now, with this stunning, faithful replica, you too can own a part of Shelby history, and build one of the most legendary cars ever made.
Record Breaker
In January 2019, the 1967 Shelby Super Snake broke its own record for most expensive Mustang ever sold, well ahead of the GT500 Eleanor – one of Hollywood's most iconic film cars.
City
Votes

1. 1965 Shelby GT350R 'Flying Mustang' - $3.85 million

:

2. 1968 Ford Mustang 390 'Bullitt' - $3.4 million

:

3. 1967 Shelby GT500 Super Snake - $2.2 million

:

4. 1967 Shelby GT500 Eleanor - $1 million

:

5. 1965 Shelby GT 350R - $990,000

:

6. 1969 Shelby GT500 Convertible - $742,500

:

7. 2007 Shelby GT - $660,000

:

8. 1969 Mustang Boss 429 - $605,000

:

9. 2007 Shelby GT500 - $600,000

:

10. 2008 Shelby GT500KR - $550,000

:
Technical Specification
Car type: 2-door coupé
Kerb weight: 1491 kg (3287 lbs)
Dimensions: 4.74 m (187 in) long, 1.80 m (71 in) wide, 1.31 m (52 in) high
Wheelbase: 2.74 m (108 in)
Power: 520 bhp
Torque: 678 Nm
Engine type: Ford Big-Block FE 427
Displacement: 7.0l (427 ci)
Transmission: 4 speed manual
Layout: front engine, rear wheel drive
Top speed: 170 mph (274 kph)
0–60 mph: 4.3 s
0–100 kph: 4.5 s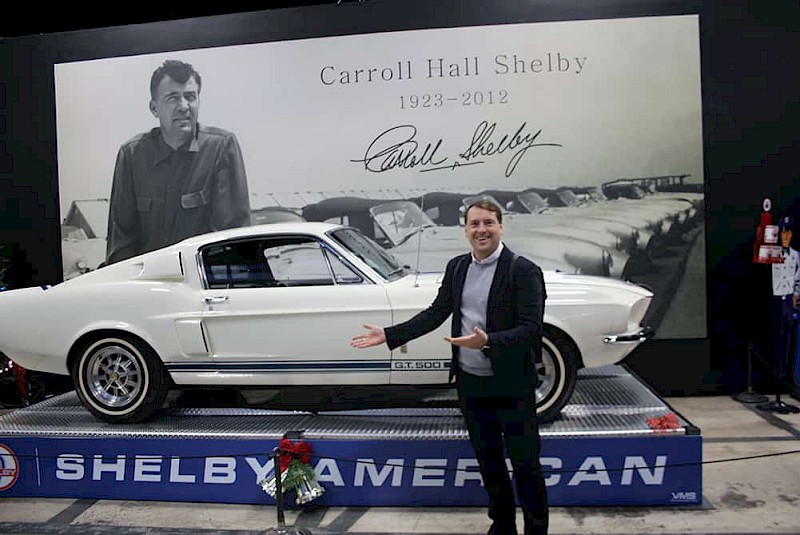 Liam, Co-Founder of Agora, with the $2.2m Super Snake
Photo taken at the Shelby American Heritage Centre, Las Vegas, Nevada.
Watch the original footage of the Shelby Super Snake Goodyear Thunderbolt test drive.