The Ultimate Dream Car
Voted Sports Car of the 20th Century, the elegant Mercedes-Benz 300 SL is considered the ultimate dream car.
When the car made its sensational debut at the 1954 New York Auto Show, it instantly turned the heads of sports car enthusiasts, exuding both elegance and innovation. With its racing pedigree and iconic swooping doors, today the 300 SL Gullwing is considered a masterpiece, and the most collectable Mercedes-Benz car ever produced.
Specifications & Features
Your exquisitely detailed 1955 Mercedes-Benz 300 SL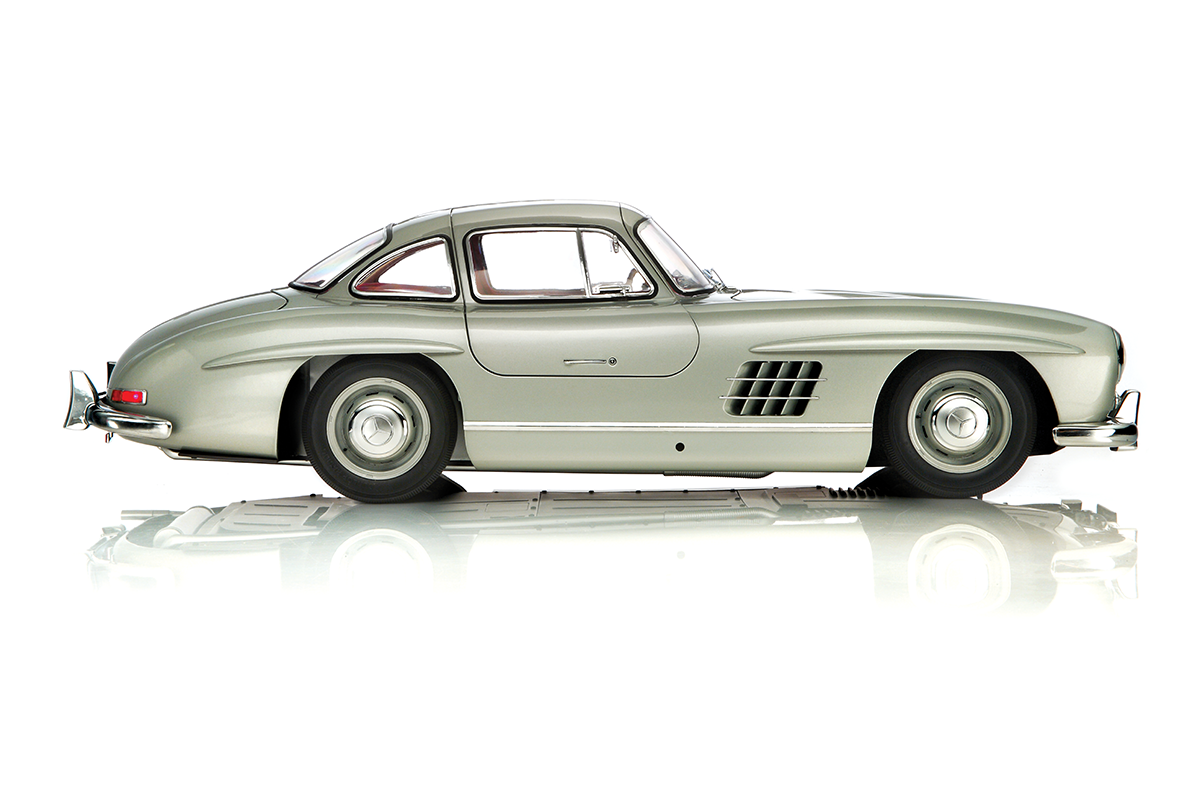 The trail-blazing Mercedes-Benz 300 SL "Gullwing" is super-fast and incredibly stylish. With its 3-litre straight-six engine, aerodynamic silver body, and luxurious red interior, this is the car that many tried to imitate yet was never surpassed. This highly detailed 1:8 scale model kit has been meticulously replicated from a surviving 1955 coupé and includes a wealth of authentic functions and features, including opening top-hinged gullwing doors, a retractable steering wheel and two deluxe Karl Baisch suitcases.
Specification
Scale: 1:8
Material: Body and chassis made from zamak metal
Length: 22 1/4" (565 mm)
Width: 8 4/5" (224 mm)
Number of parts: 400 approx.
Features
Functioning headlights & brake lights
Steering wheel operates the front wheels
and folds forwards like the original
Opening hood, gullwing doors and windows
Silver body with red interior
Concealed Dunlop wheel and handy jack in the trunk
Replica Karl Baisch suitcases included
It's all in the detail
Outstanding detail at 1:8 scale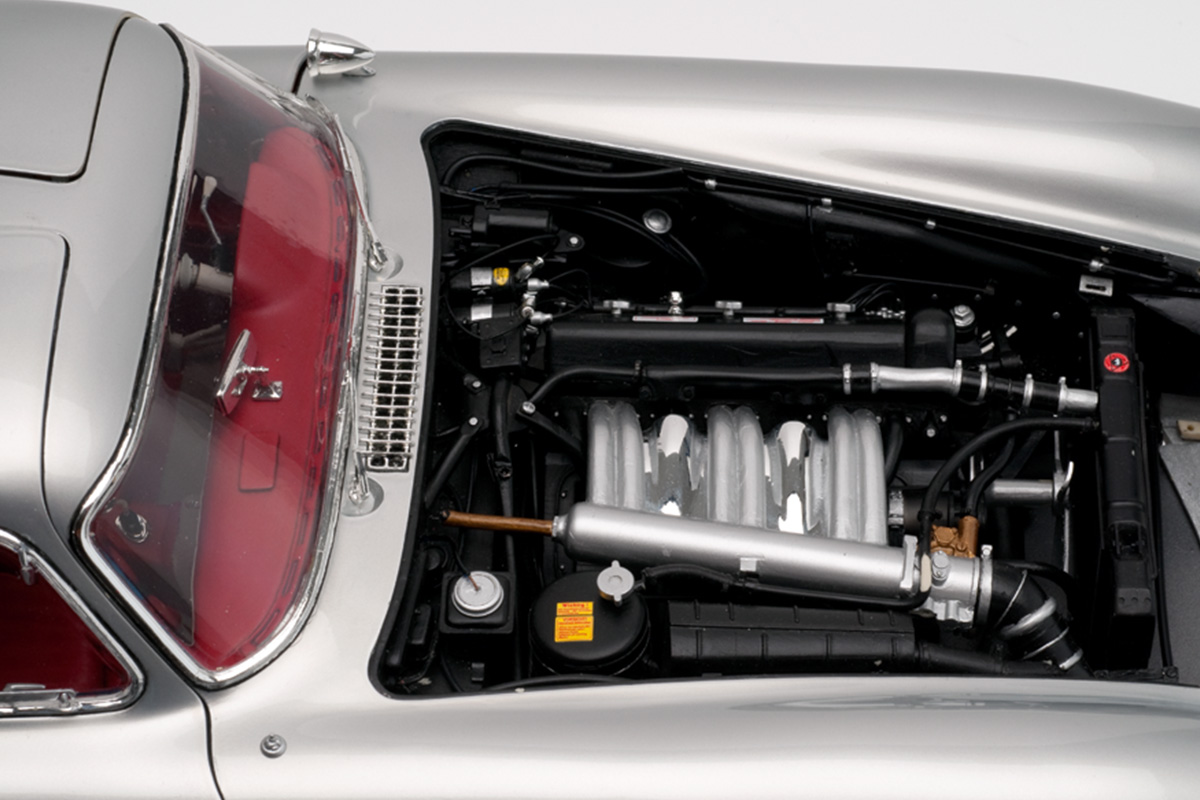 AUTHENTIC ENGINE
Open the hood to reveal the signature Mercedes-Benz M198 six-cylinder engine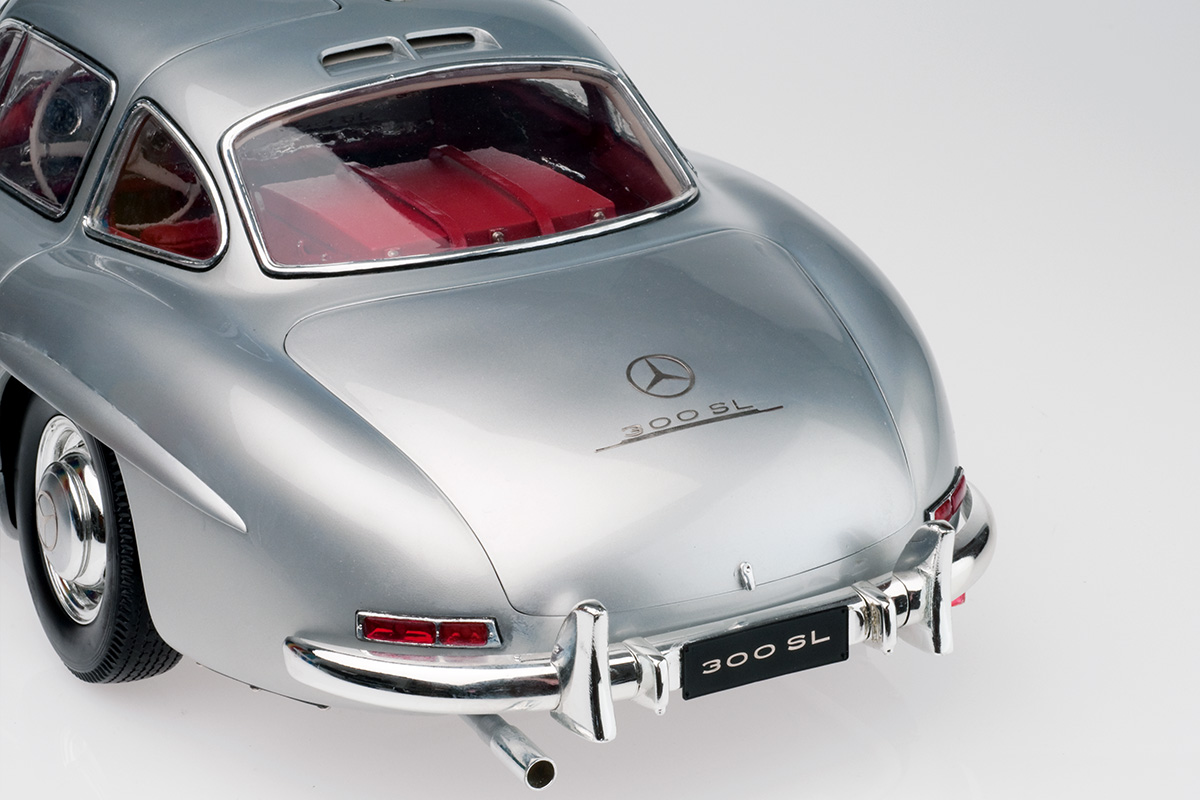 DIE CAST METAL PARTS
Made from high-quality materials including die-cast metal and ABS parts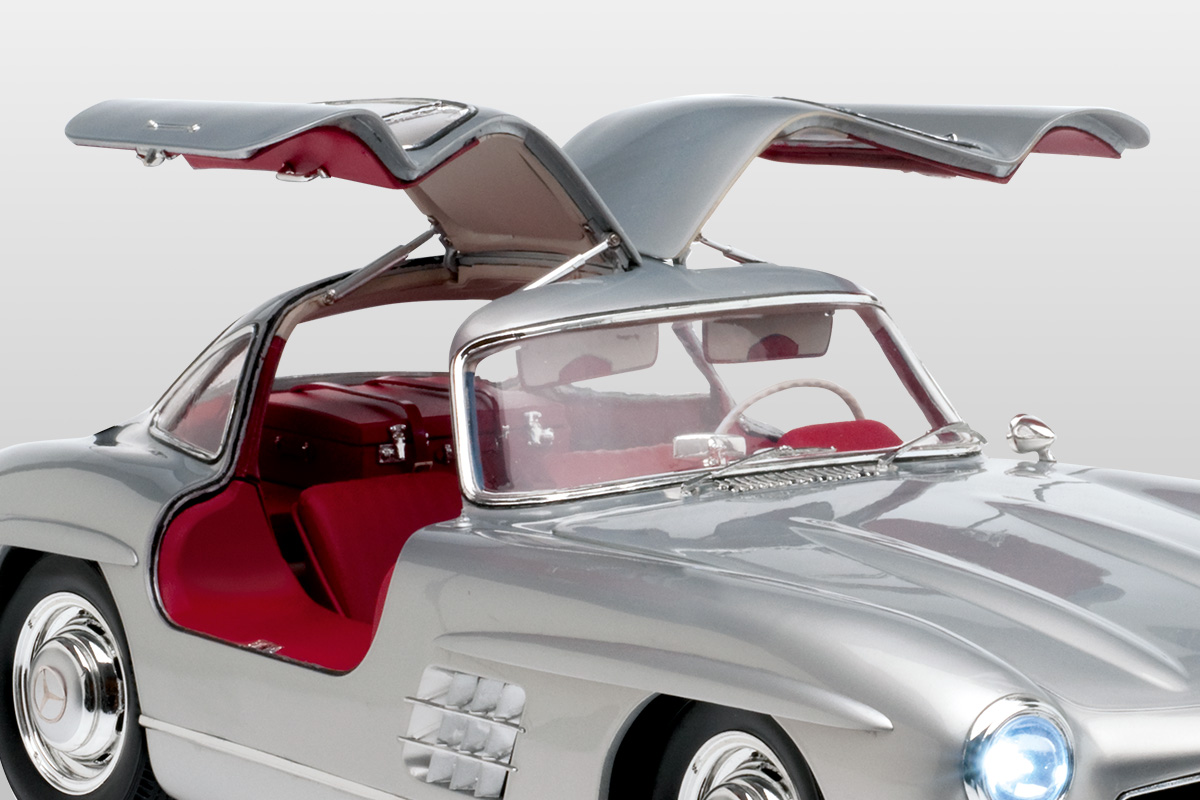 OPENING DOORS
The iconic top-hinged Gullwing doors open to swoop upwards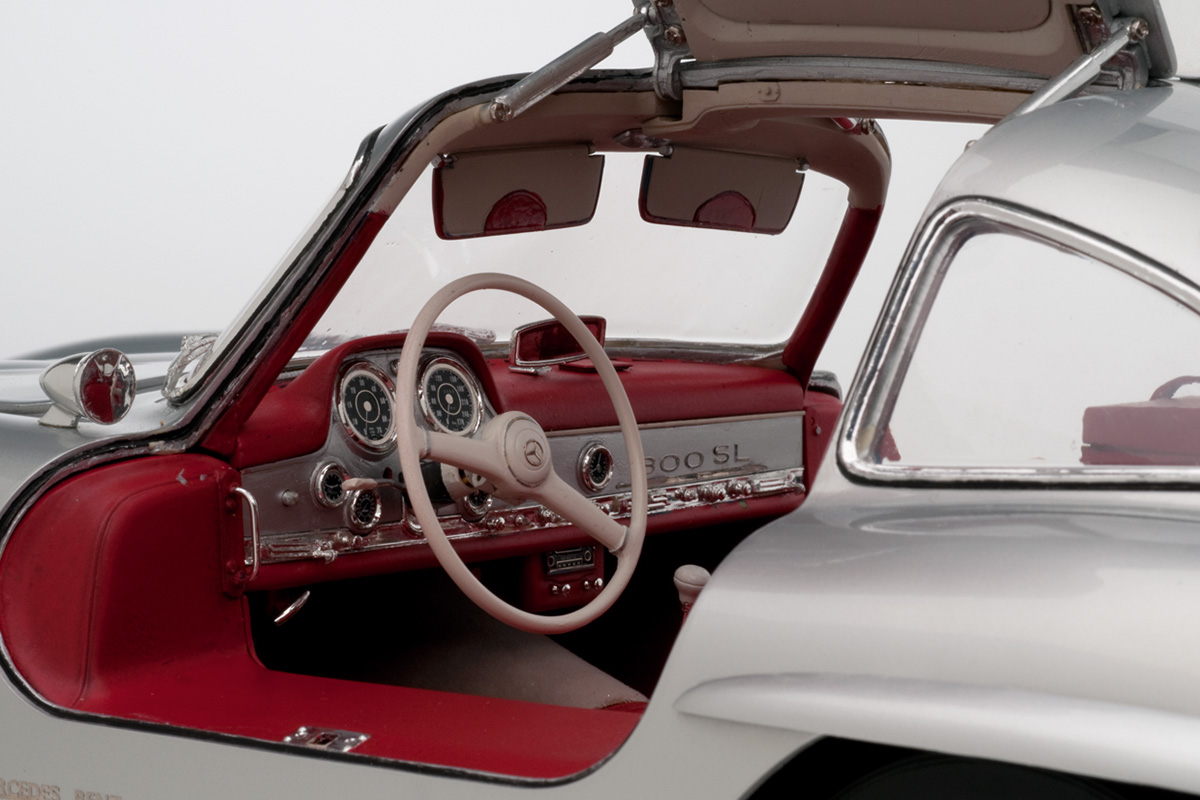 INTERIOR DETAIL
Dials, levers and buttons are intricately detailed on the dashboard with folding ivory steering wheel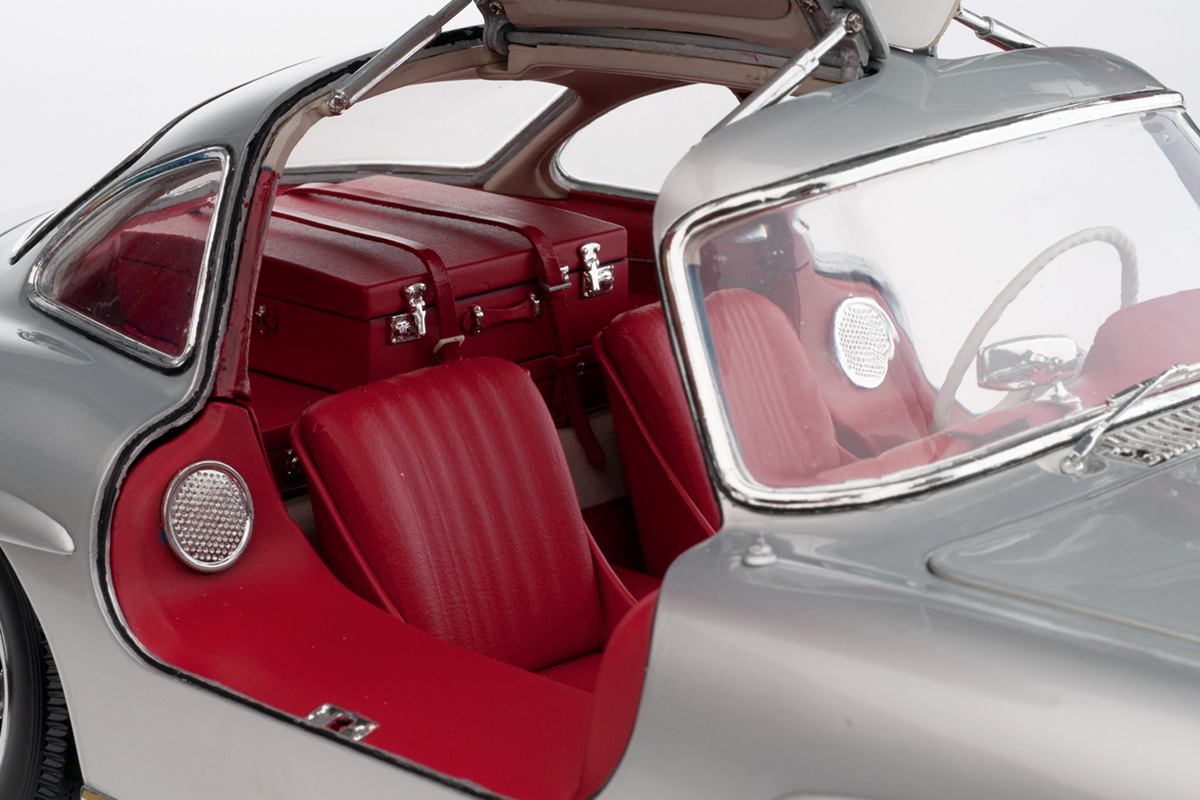 DELUXE KARL BAISCH SUITCASES
Two reproduction Karl Baisch suitcases are smartly secured in the luggage compartment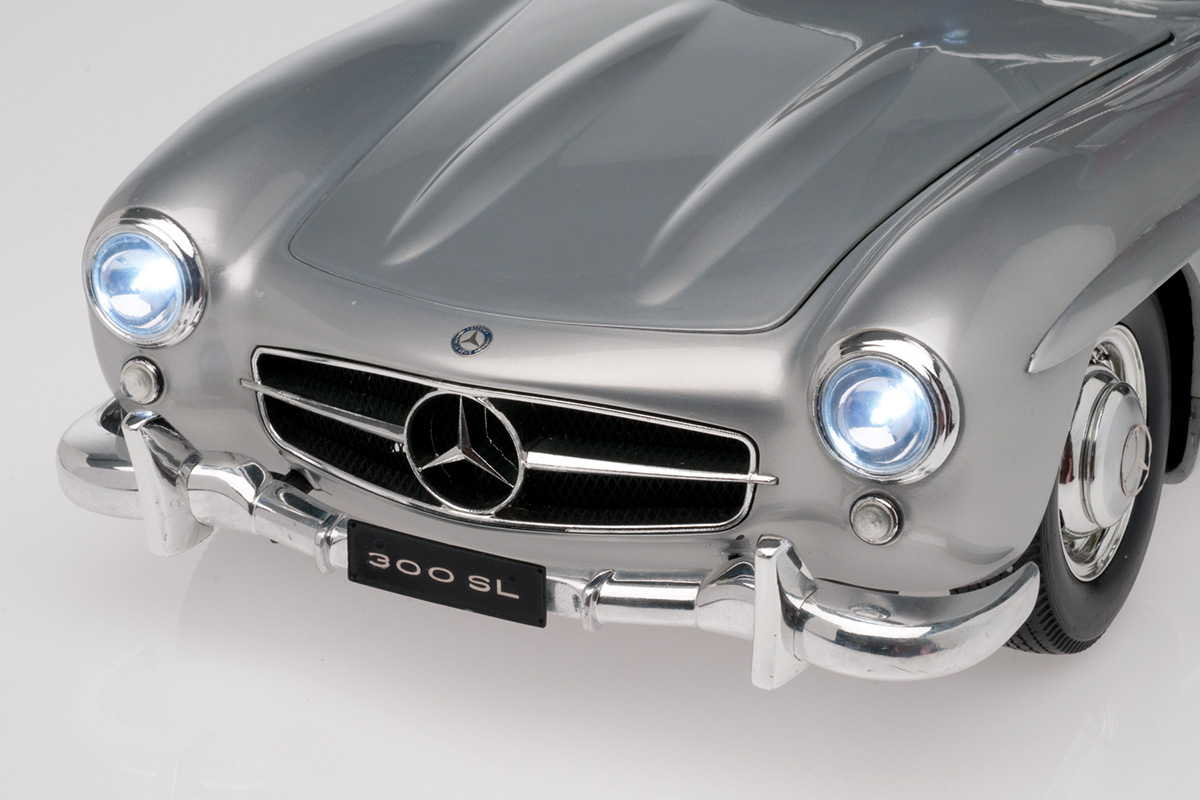 WORKING ELECTRICS
Working headlights, turn signals and door-operated interior light. The brake pedal operates the brake lights
Your buying options
When you place your order we will send your first pack with the first stages of your kit to build your model. Following this, you will be sent another pack every month for 11 months. You will be charged monthly.
Alternatively, you may choose a Full Kit, Accelerator or the 24-month plan
click here for more details.
(S&H cost per pack: USA $9.99; Canada & Mexico $19.99)
We ship worldwide. Your order will be in US$
Display Case
Include a Display Case by spreading the cost across your monthly Packs.
Simply choose the '+Case' option button below.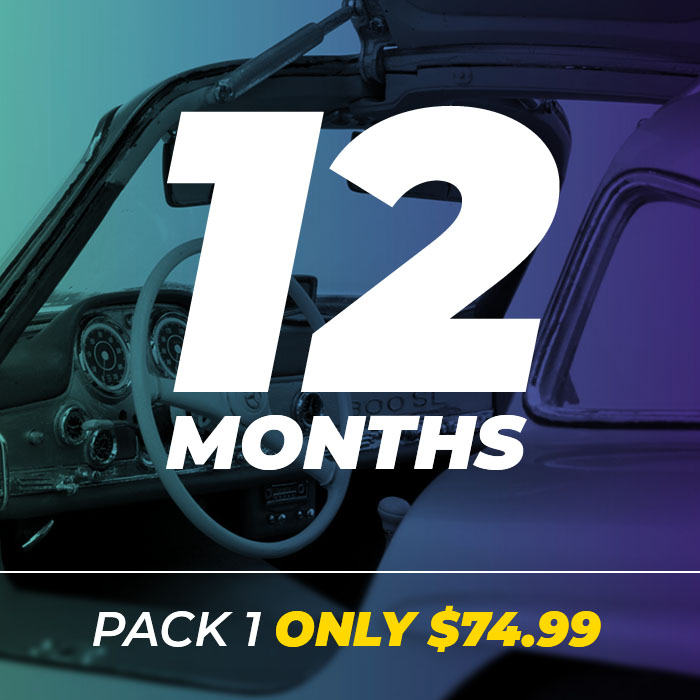 PACK 1 ONLY $74.99
then $149.99 per month
Add $16.58 per month to include Display Case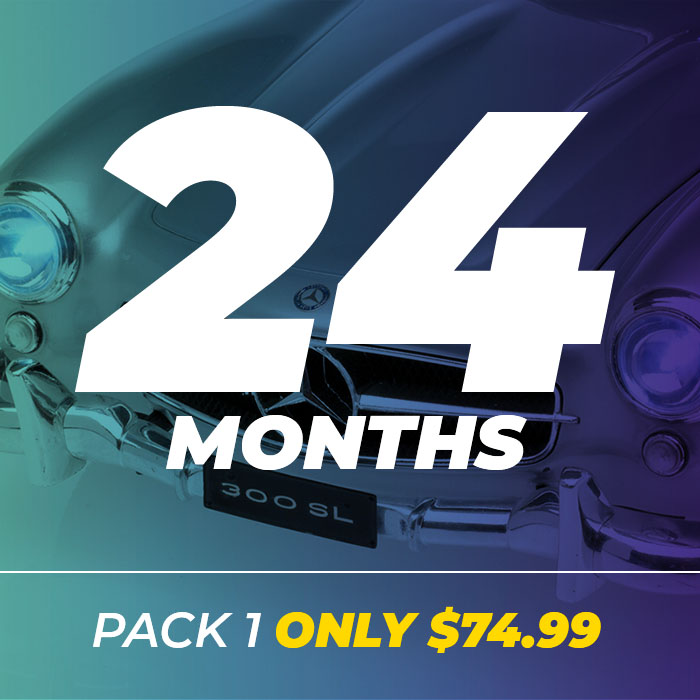 PACK 1 ONLY $74.99
then $79.99 per month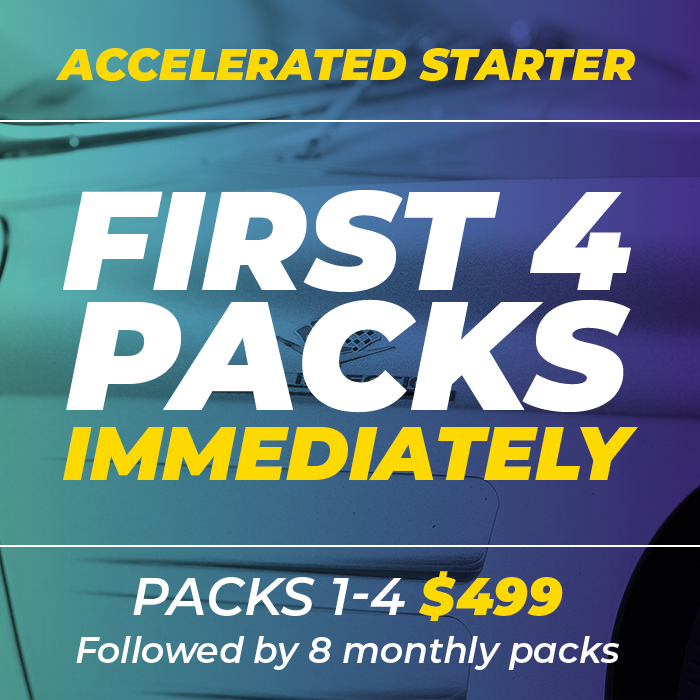 PACKS 1–4 – $499
then $149.99 per month.
The 1955 Mercedes-Benz 300 SL "Gullwing"

Mercedes-Benz 300 SL History
The Mercedes-Benz 300 SL was first developed as a racing sports car, the W194, in the aftermath of World War II. The International Automobile Federation (FIA) readmitted Germany into international races, which sparked chief development engineer Rudi Uhlenhaut and the racing department of Daimler Benz to experiment with their pre-war cars. To save costs on development, many of the Mercedes-Benz 300 sedan parts were used with changes to adapt to a smaller wheelbase and the added power of a new engine. Taking a 3-litre production engine, the team raised its power from 115 hp at 4600 rpm to 171 hp at 5200 rpm.
To make the car even more competitive, they developed a complex system of tubes to form the chassis which provided rigidity while remaining light. This produced a problem: the cockpit was enveloped by the tubular frame, making conventional doors impossible. This led to the implementation of the now iconic Gullwing doors of the 300 SL, which were hinged at the roof and would rise upwards when opened. With its aerodynamic coupé body and an independent four-wheel suspension, the 300 SL ("Super Leicht", or Super Light) handled well and could reach speeds of over 250 km/h.
Its impact was immediate, as the W194 went on to win at the 24 Hours of Le Mans in France, Eifelrennen at Nürburgring, and the Carrera Panamericana race in Mexico. The car garnered several fans, notably Max Hoffman, a successful importer of luxury European cars to America. Certain of the booming post-war market's desire for a luxury race car, he suggested a street-legal model of the race car be produced, and reportedly backed this up with an order for 1000 units. Once development completed, the production model featured many improvements over the original racer: Bosch fuel injection incorporated into the engine, a separate 5.28-gallon expansion tank to compensate for overheating, and a heat shield to protect the fuel mixture intake from the heat of the exhaust manifold.
On February 6th of 1954, the Mercedes-Benz 300 SL debuted at the New York Auto Show, rather than Frankfurt or Geneva – another proposal of Hoffman's. Its iconic looks and gullwing doors attracted a lot of attention, while the improvements to the engine made it the fastest production car of its day – as well as the world's first mass-produced four-stoke engine. Max Hoffman was given sole rights to import, and his prediction proved right – between 1955 and 1957, more than 80% of the 1400 units made were sold in the U.S.
The Mercedes-Benz 300 SL became an icon the world over as the luxury sports car. For those who could afford to buy one, it made a valued piece to any collection – at a cost of 29,000 Deutsche Marks, the 300 SL cost as much as a luxury yacht at the time. Today, the car still demands a high price, with auctions for it comfortably hitting six figures, or millions for one in good condition.
Technical Specification
Car type: Two-seater coupé
Dimensions: 452.1 cm (178 in) long, 179.1 cm
(70 1/2 in) wide, 130 cm (51 3/16 in) high
Kerb weight: 1295 kg (2855 lbs)
Wheelbase: 240 cm (94 1/2 in)
Power: 212 bhp at 5800 rpm
Torque: 203 lb-ft (275 Nm) at 4600 rpm
Engine type: Mercedes-Benz M198 straight-six 3.0 L,
Bosch fuel injection
Displacement: 2996 cc
Transmission: 4-speed manual
Construction: Tubular frame, steel body with aluminium hood, doors, and trunk
Top speed: 162 mph (260 km/h)
0-60 mph: 8.8 sec
Mercedes-Benz 300 SL Trivia
The American market was the correct choice for the 300 SL, with one of its first customer being Le Mans veteran Briggs Cunningham, followed by the likes of singer Frank Sinatra and actors Clark Gable and Tony Curtis.
—
Hoffman suggested a roadster as well, which would become the Mercedes-Benz 190 SL announced alongside the 300 SL – and once again ordered 1000 units as incentive.
—
There was debate whether 300 SL stood for "Super Light" or "Sport Light". Both were used by Mercedes-Benz cars until 2017. At the start of 2017 document from the corporate archives dated early 1952 revealed that for the 300 SL, the abbreviation stood for "Super Light".
In May 2022, a Mercedes-Benz 300 SLR Uhlenhaut Coupe broke the record for the most expensive car ever sold at auction – far surpassing any other model of Mercedes-Benz sold before it.
City
Votes

:

2. 1954 Mercedes-Benz W 196 – $29,600,000

:

3. 1936 Mercedes-Benz 540K Special Roadster – $11,770,000

:

4. 1928 Mercedes-Benz 680 S Torpedo – $8,226,400

:

5. 1928 Mercedes-Benz 26/120/180-S-Type – $5,395,000

:

6. 1955 Mercedes-Benz 300 SL – $4,620,000

:
"A Celebration at 60"
The Mercedes-Benz 300 SL at Goodwood Road & Racing