"This was the point when I finally decided to make a perfect car"
– Ferruccio Lamborghini
When the Lamborghini Miura debuted in 1966, it broke records as the fastest production car in the world. With its V12 engine reaching a top speed of 280 km/h and boasting an acceleration of 0 to 100 km/h in 6.7 seconds, the Lamborghini Miura set the benchmark for sports cars of the time and is considered by many to be the first supercar.
Specifications & Features
An extraordinary level of detail
The Lamborghini Miura was the first true supercar, making every other sports car – from the Ferrari F40 to the McLaren F1 – look outdated by comparison. It redefined the concept of a sports car.
Miura's sinuous lines, created by three talented designers at Bertone, along with an unprecedented centrally mounted V12 engine that offered the car unparalleled power and grit, proved to be a groundbreaking design.
This 1:8 scale model is a faithful replica of the Lamborghini Miura P400 S, right down to the smallest of details. The body is made from high quality metal, with hinged front and rear clam shell which, once opened, reveal all the mechanics and the powerful V12 engine. Details also include Campagnolo rims with soft Pirelli rubber tires, opening doors with characteristic black slats, highly detailed cockpit and dashboard with precise replica analogue instrumentation.
All components are already painted in accurate detail and colors allowing you to build the finest replica of this very special automobile.
Specification
Scale: 1:8 scale
Length: 55 cm (22″)
Width: 22 cm (8.6″)
Height: 14 cm (5.5″)
Bodywork: Die-cast metal
Details: ABS engineering plastic
Number of parts: 460 approx.
Features
Engine, acceleration, and horn sound
Operational front, rear and brake lights
Working internal lights for dashboard and passenger compartment
Faithfully reproduced V12 Lamborghini engine
Turning wheels
Opening doors
Matt black louvres and door slats
'Eyelash' headlamps
It's all in the detail
Outstanding detail at 1:8 scale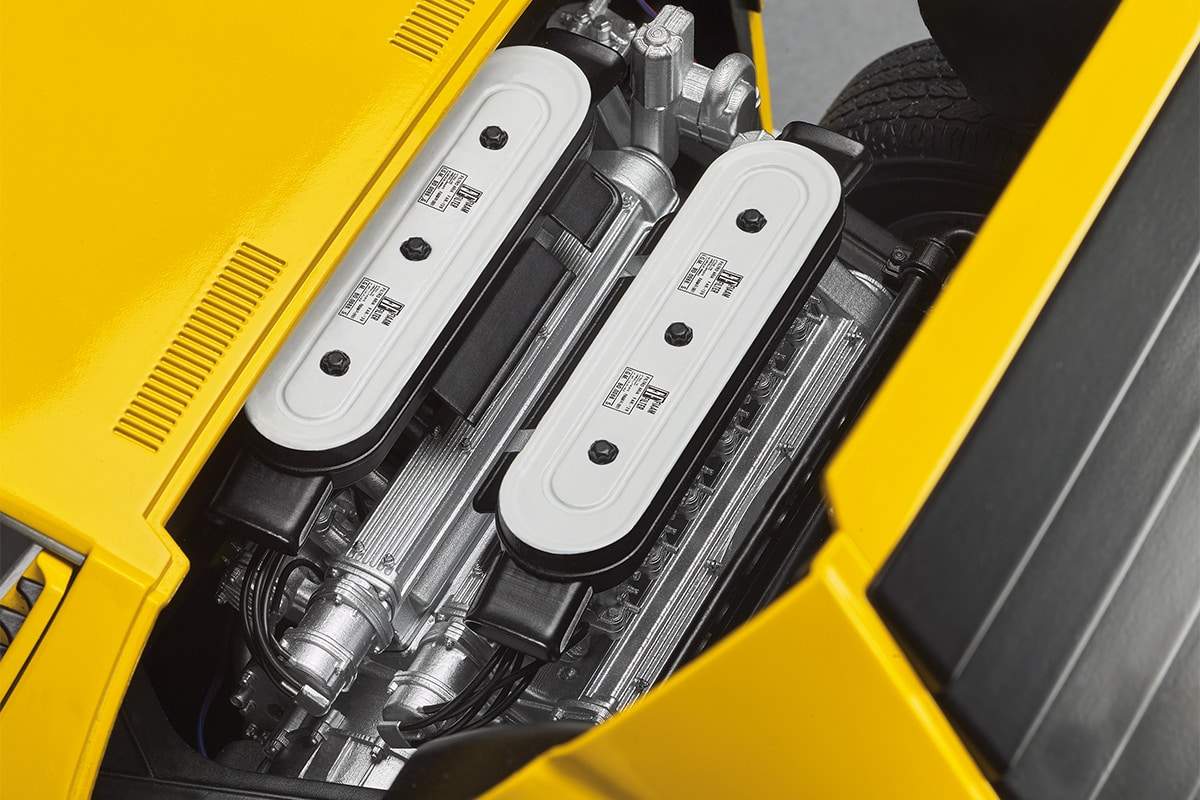 AUTHENTIC ENGINE
Precisely reproduced, powerful V12 Lamborghini engine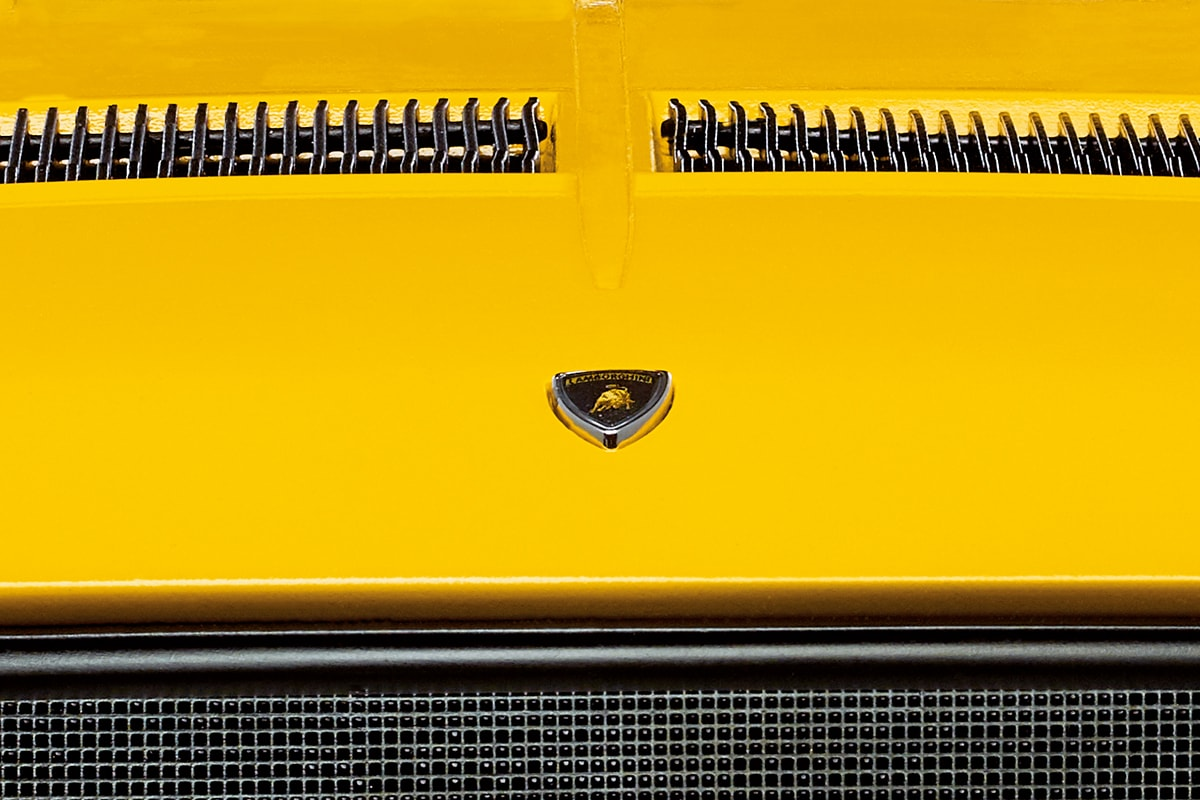 REPLICA EMBLEM
Replica Lamborghini Raging Bull emblem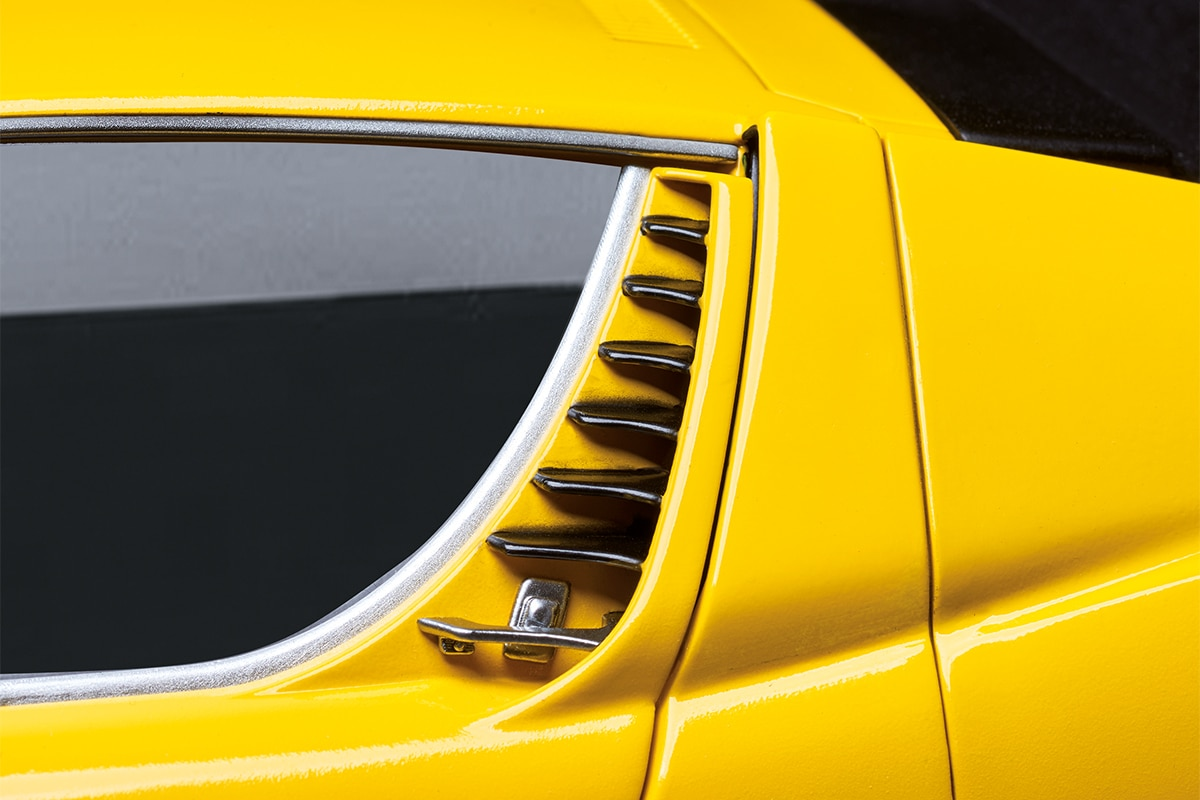 OPENING DOORS
Including the characteristic black-slatted air intakes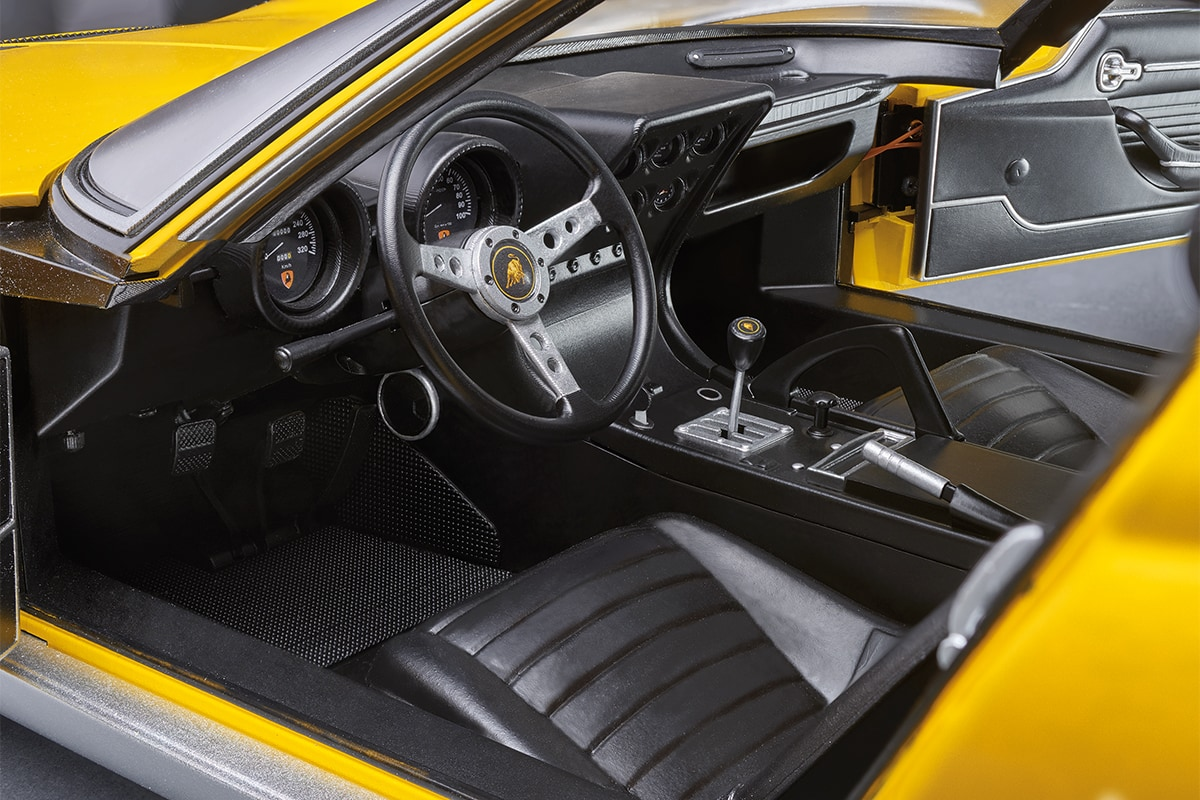 INTERIOR DETAIL
Attention is given to every detail, from the seat pattern to the dials on the dashboard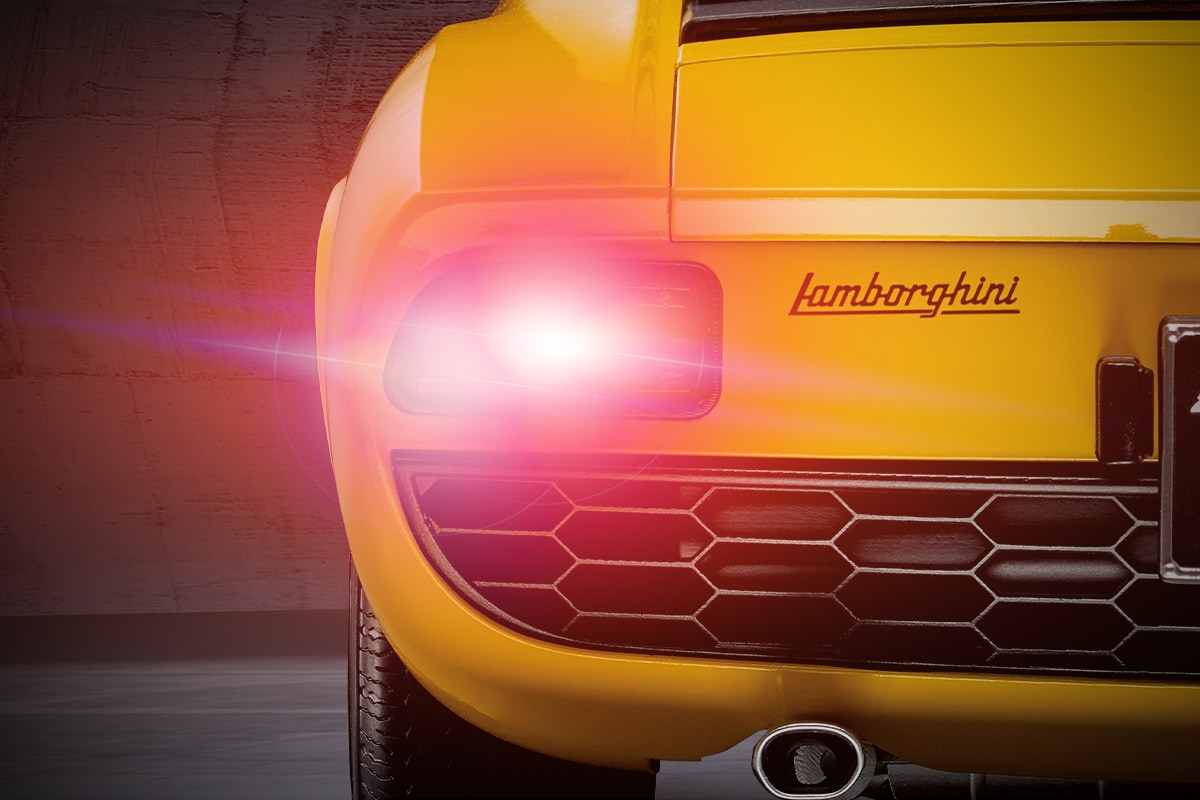 FUNCTIONING TAILIGHTS
Featuring engine & horn sounds; front, rear & brake lights; dashboard and passenger compartment lights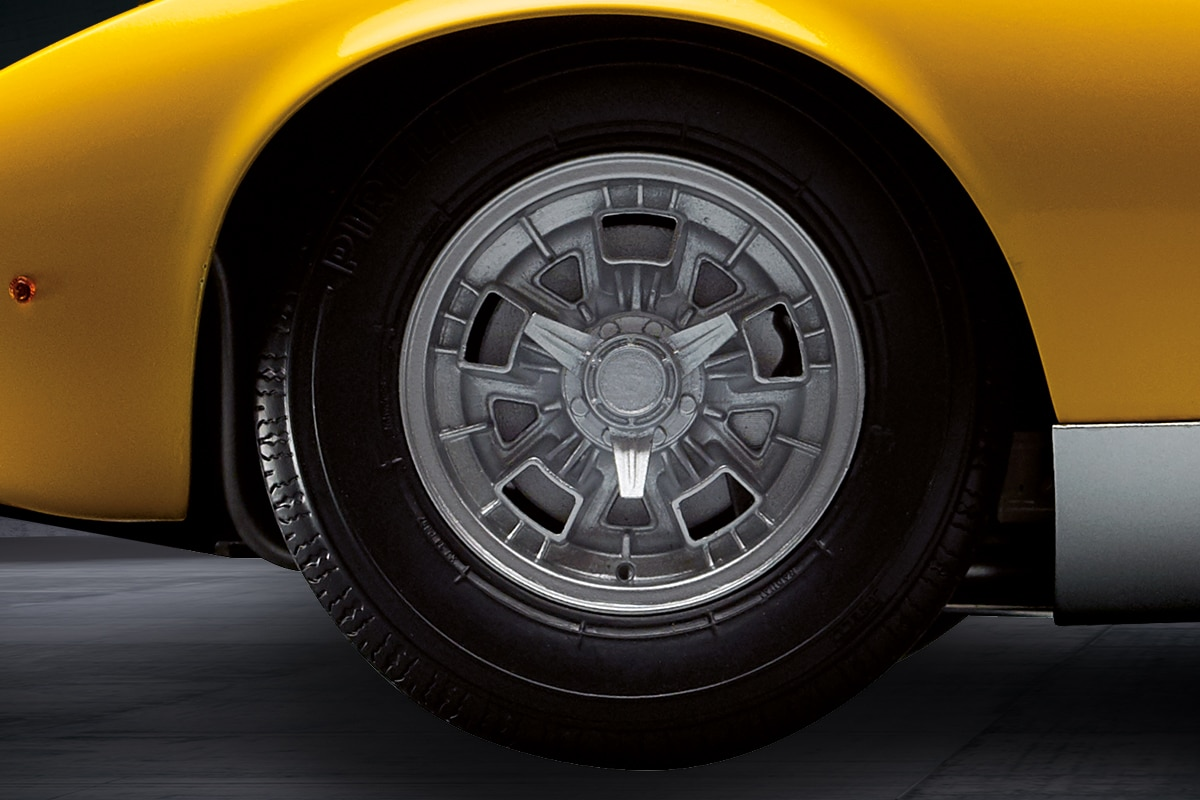 PIRELLI TIRES
Authentic reproduction Campagnolo rims and Pirelli tires
Footage of the Lamborghini Miura
Your buying options...
When you place your order we will send your first pack with the first stages of your kit to build your model. Following this, you will be sent another pack every month for 11 months. You will be charged monthly.
Alternatively, you may choose a Full Kit, Accelerator or the 24-month plan
click here for more details.
---
(S&H cost per pack: USA $9.99; Canada & Mexico $19.99)
We ship worldwide. Your order will be in US$
Display Case
Include a Display Case by spreading the cost across your monthly Packs.
Simply choose the '+ display case' option button below.
*Display case can be added to a 12-month Plan to spread the cost, or they can be purchased separately for immediate delivery
(click to find out more)
(S&H cost per pack: USA $9.99; Canada & Mexico $15.00)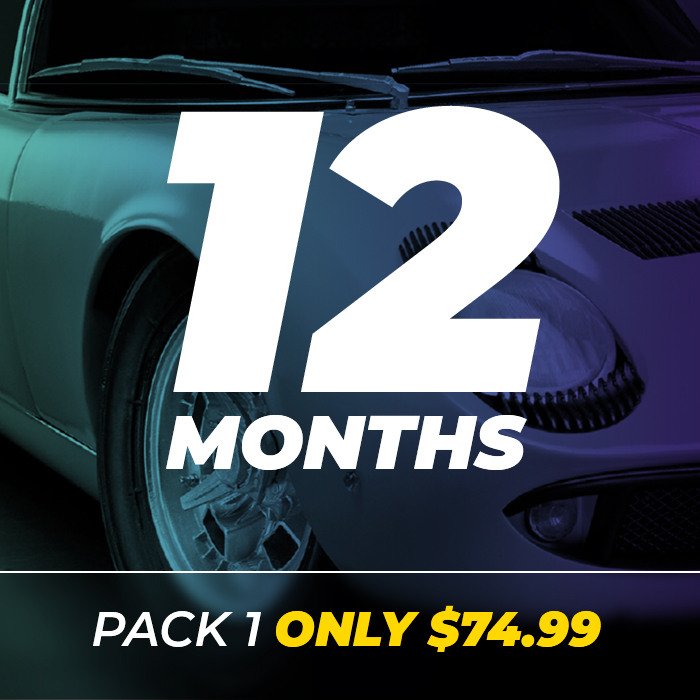 Pack 1 only $74.99
then $149.99 every month
Add $16.58 per month to include Display Case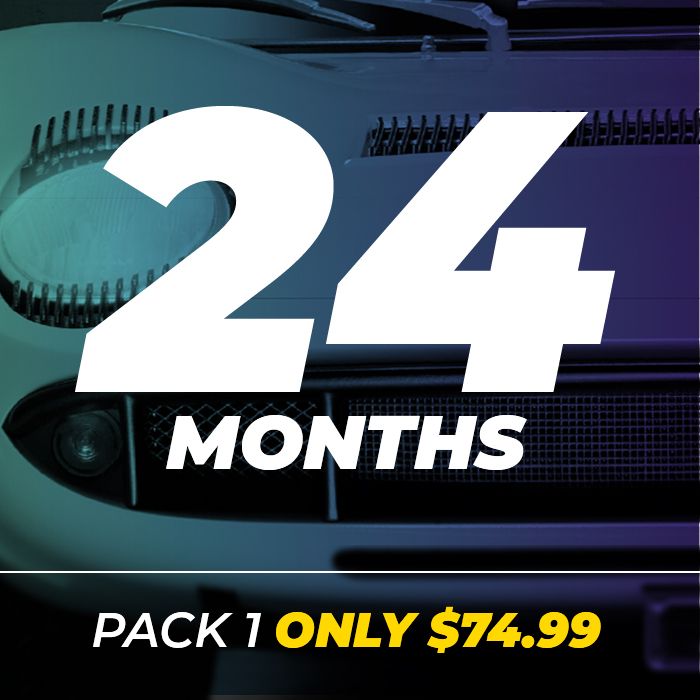 Pack 1 only $74.99
then $79.99 per month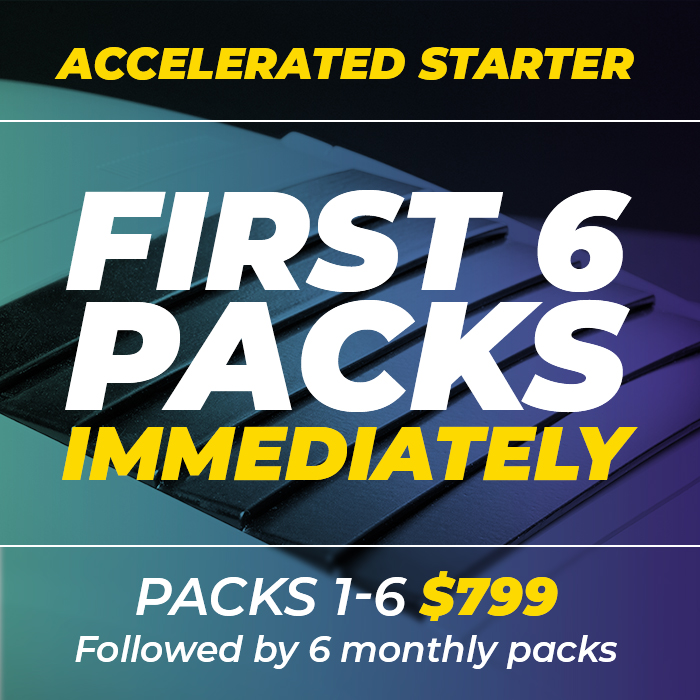 Packs 1–6 – $799
then $149.99 per month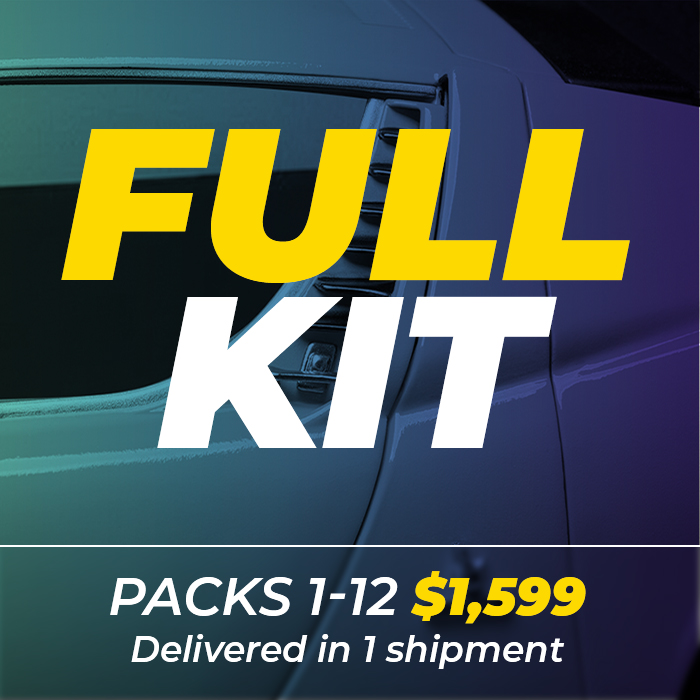 Packs 1-12 $1,599
Get the full kit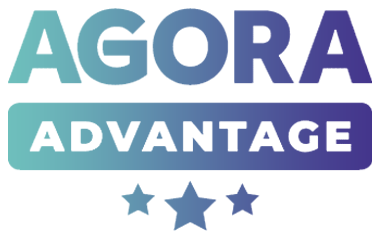 FREE PACK
Each time you complete an Agora model you qualify for a complimentary Pack 1 of your next model.
Fastest in the world
The Lamborghini Miura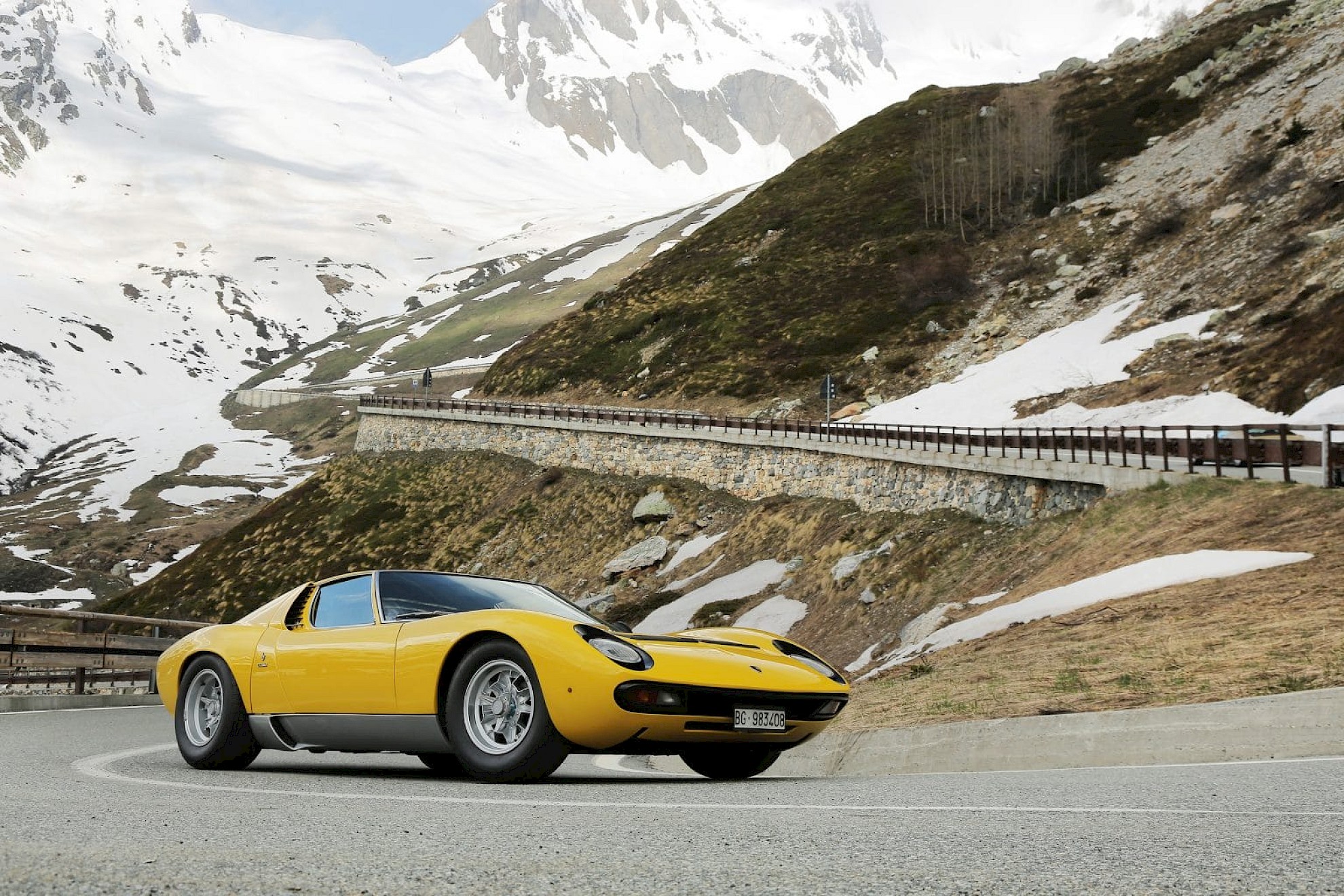 History
In 1965, Lamborghini's three top engineers began work on a prototype car that would be a departure from Lamborghini's standard at the time. While the company's focus was on grand touring cars, the engineers (Gian Paolo Dallara, Paolo Stanzani and Bob Wallace) envisioned a car that could be driven on the road and win on the track. Working during the night, they eventually created a prototype to show to the company founder, Ferruccio Lamborghini, who gave them the green light on their "P400".
Later that year, the rolling chassis of their prototype was displayed at the Turin Motor Show. It featured a transversely-mounted mid-engine layout – the first of its kind, with a V12 packed into the tight space of the frame by effectively merging the differential and the transmission. Even without a body to go over the chassis, impressed showgoers began placing orders for the would-be car.
Needing a body to go with their prototype, Lamborghini enlisted another Italian automobile company, Bertone, who specialized in car styling and had created designs for the likes of Alfa Romeo, Maserati, and main rival: Ferrari. The sleek and stylish body for the P400 was finished only days before its unveiling at the 1966 Geneva Motor Show. With the rush to complete the body, the engineers had not found time to check if the engine fit inside the compartment, meaning the sales head of Lamborghini turned away the motoring press from looking under the hood!
The car became the highlight of the show, pushing the P400 into full production. It was named the "Miura" after the famous Spanish fighting-bull breeder Juan Miura, whose bulls were known for their size and ferocity, and the Miura bull was featured in Lamborghini's newly created badge.
Between 1966 and 1969, precisely 275 Lamborghini P400 Miuras were produced. The car was a huge success for the company, despite its steep price tag of $20,000 USD. In 1968, the Miura was developed further with the release of the Miura P400S, the P400SV in 1971, as well as several one-off models.
The Miura was Lamborghini's flagship car, redefining the concept of the sports car and setting the pace for others to follow.
Fastest Production Cars in 1966
City
Votes

1966 - Lamborghini Miura - 174mph (280 km/h)

:

1964 - Bizzarrini 5300 GT Strada - 171mph (275.2 km/h)

:

1964 - Jaguar XJ 13 - 170mph (273.5 km/h)

:

1966 - AC Cobra 427 - 165mph (265.5 km/h)

:

1966 - Maserati Ghibli 4.7 - 154mph (247.8 km/h)

:

1966 - Ferrari 330 GTC - 153mph (246.2 km/h)

:

1966 - DeTomaso Mangusta - 150mph (241.4 km/h)

:

1966 - Chevrolet Corvette C2 Stingray - 141mph (226.9 km/h)

:

1963 - Alfa Romeo Giulia TZ - 134mph (215.6 km/h)

:

1966 - Buick Riviera 6.6l - 128mph (205.9 km/h)

:
Technical Specification
Car type: 2-door coupé sports car
Kerb weight: 1298kg (2862 lbs)
Dimensions: 4360 mm (172″) long, 1760 mm (69″) wide, 1060 mm (42″) high
Wheelbase: 2500 mm (98″)
Power: 365 bhp
Torque: 388 Nm
Engine type: Lamborghini 60° V-12 four-stroke; transverse-mounted
Displacement: 257 kW (350 PS)
Transmission: 5-speed manual transmission
Layout: rear mid-engine, rear-wheel drive
Top speed: 280 km/h (174mph) 0-100km/h (62mph): 6.7sec
Watch the intro to The Italian Job (1969) featuring the Lamborghini Miura.
Behind the Scenes with DTS