LEOPARD 2A6 MAIN BATTLE TANK
"We turned up with our tanks, we didn't have to fight.
We were the biggest stick in the valley".
Commander of Danish Leopards in Afghanistan.
---
Developed to become the world's first Main Battle Tank with additional mine protection, the Leopard 2 has proven itself to be so successful that it is now unparalleled in serving the armed forces of 18 nations.
Our 1:16 big-scale model of this world-class MBT measures 68.5 cm (27 in) in length, is operated by remote control and features moving sprockets and tracks made up of individual metal links, 360° rotating turret, elevating main gun, machine gun & engine sound, exhaust smoke, and infrared target. It replicates every detail of the armored protection, fire power and manoeuvrability of the outstanding, real-life machine.
Specifications & Features
Your 1:16 scale model is a replica Bundeswehr Panzer Battalion 104 tank, part of the NATO eFP, Lithuania, 2016 battle group.
Cutting-edge German technology has equipped the Leopard 2A6 with exceptional fire power, manoeuvrability and protection, including a sophisticated laser rangefinder and computing system, and a 120 mm smoothbore cannon, that combine to ensure exceptional combat capabilities and hit probability.
The Leopard 2A6 main battle tank is considered one of the best main battle tanks in the world, relied on by 18 nations to provide outstanding protection from the latest types of ammunition and threats.
Our intricately detailed scale model replicates all the features, technology and equipment of this outstanding modern combat machine.
Specification
Scale: 1:16
Length: 27" (68.5 cm)
Width: 9 1/4" (23.5 cm)
Height: 17 11/16" (9.5 cm)
Weight: 9.9 lbs(4.5 kg) approx.
Number of parts: 800 approx.
This model is supplied pre-painted.
Remote control features
Moving metal tracks
Infra-red firing/targetting
Rotating gun turret
Elevating main gun
Engine sound
Main gun & machine gun sound
Exhaust smoke
Front and rear lights
Opening hatch with gunner figure
Onboard video camera
Remote control unit with video screen
Rechargeable battery included
It's all in the detail
Outstanding detail at 1:16 scale
Exclusive motorised features & electronics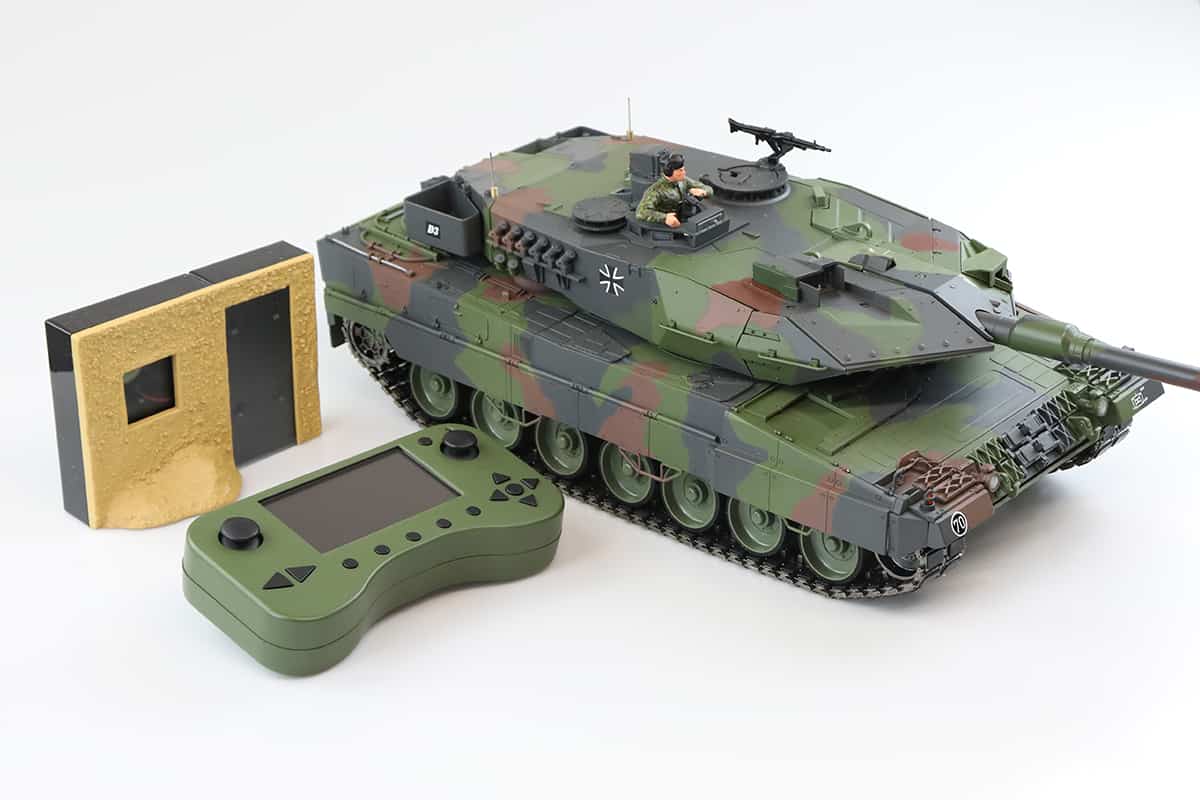 Remote Control
Remote control operations include forward and reverse; 360° rotation of the turret and hull; cannon, machine gun and engine sound; elevation of cannon; exhaust smoke; infrared firing beam; lights.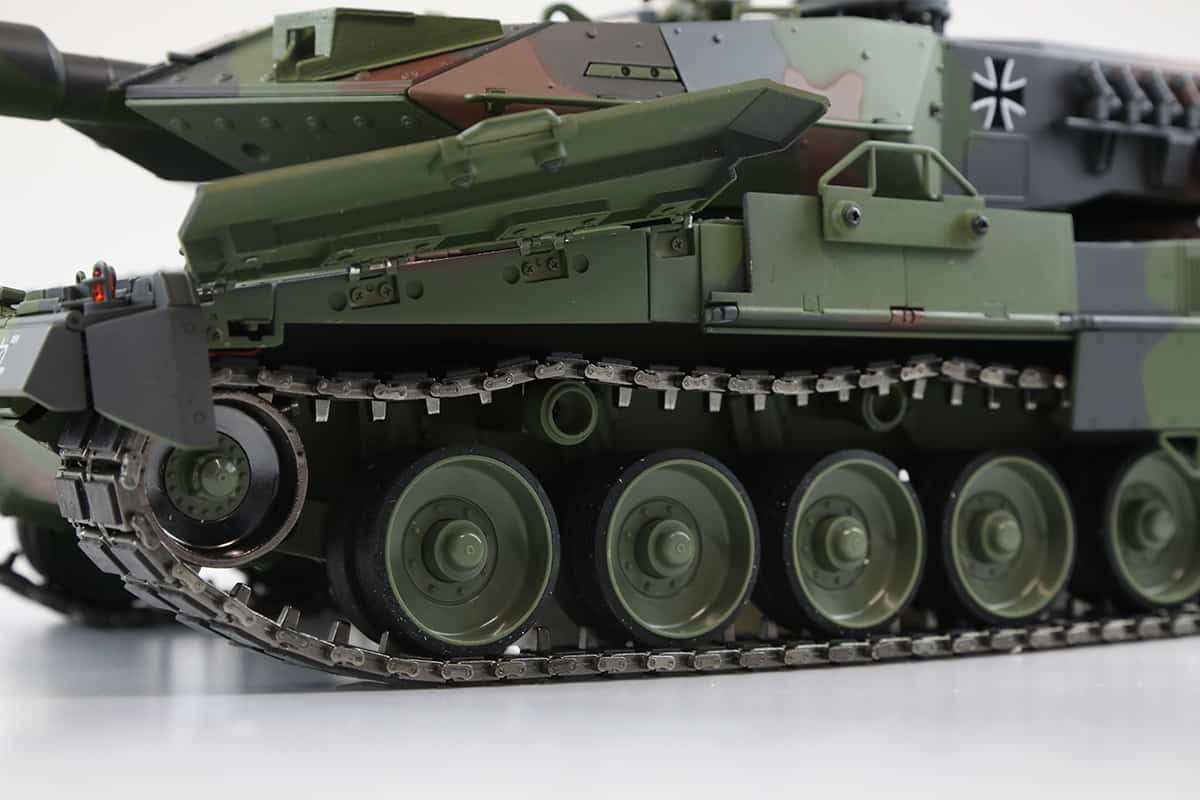 Metal tracks
Sprockets, wheels and individual chain links made of metal provide strength, grip and durability in the most challenging environments. Independent forward and reverse gears for each track allows 360° rotation. Each wheel has independent suspension.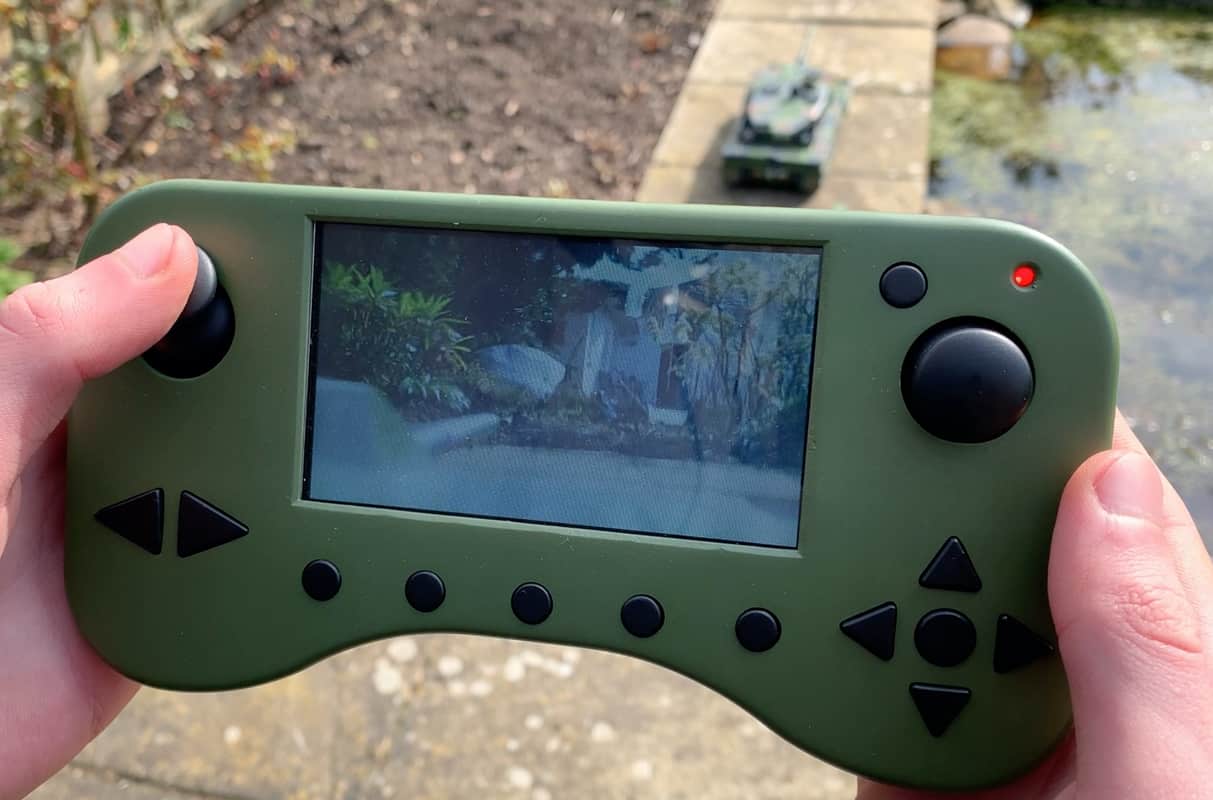 On-board camera
The 11 cm (4 1/2") screen on the remote control displays the image captured by the onboard camera allowing you to get a commander's view of the target.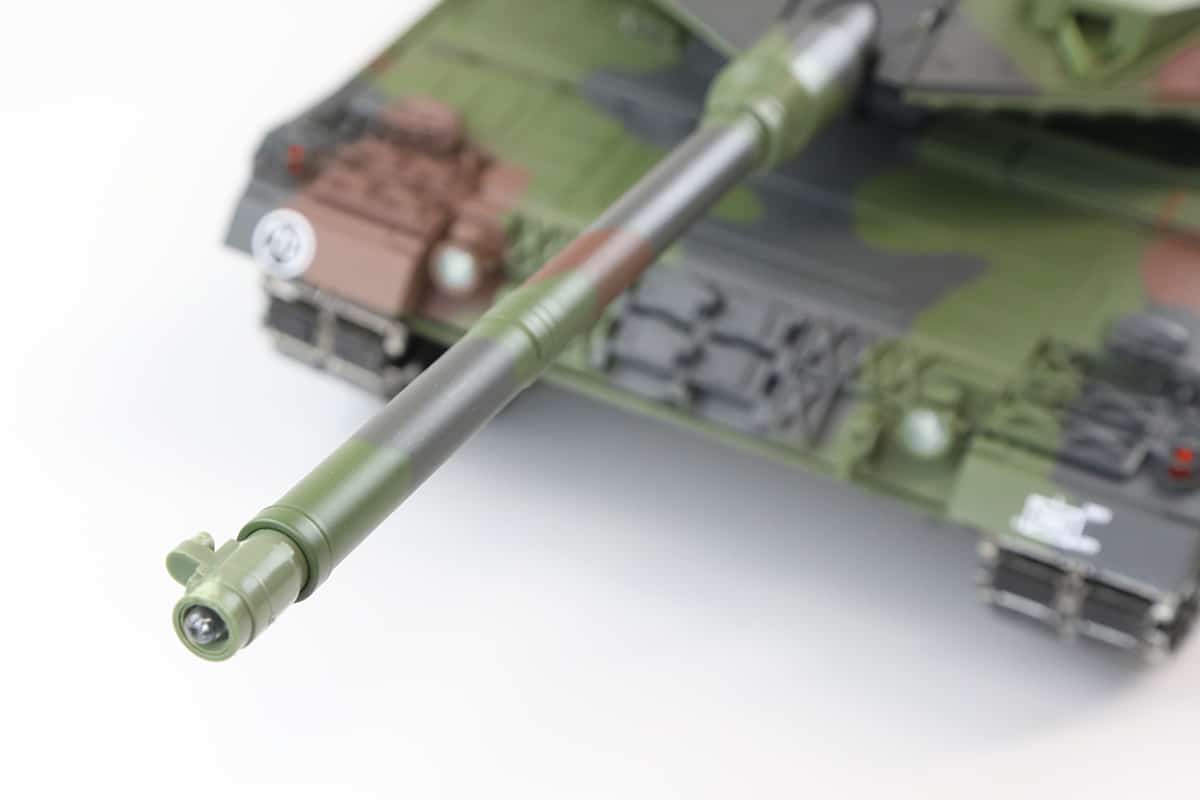 Infra-Red Targeting
Your model includes an infrared firing system, aimed by operating the main gun, which fires a beam at the ruined-building target supplied with your model. Once struck, the target flashes and lights up to confirm a hit.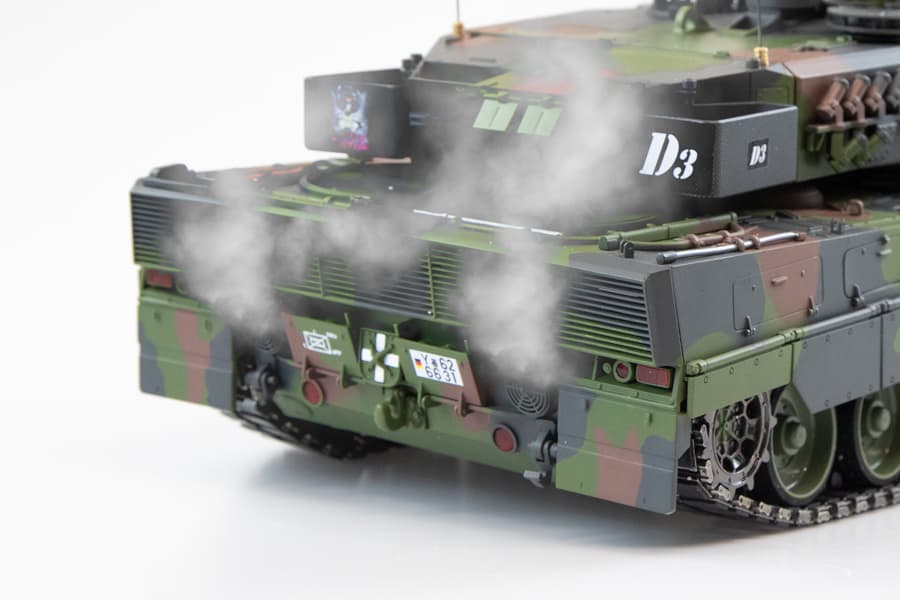 Smoke Generator
Arrowhead turret lifts off the hull to reveal all the working electronics. Leopard exhaust smoke can be simulated by adding smoke oil supplied with the model, and is turned on and off via the remote control unit.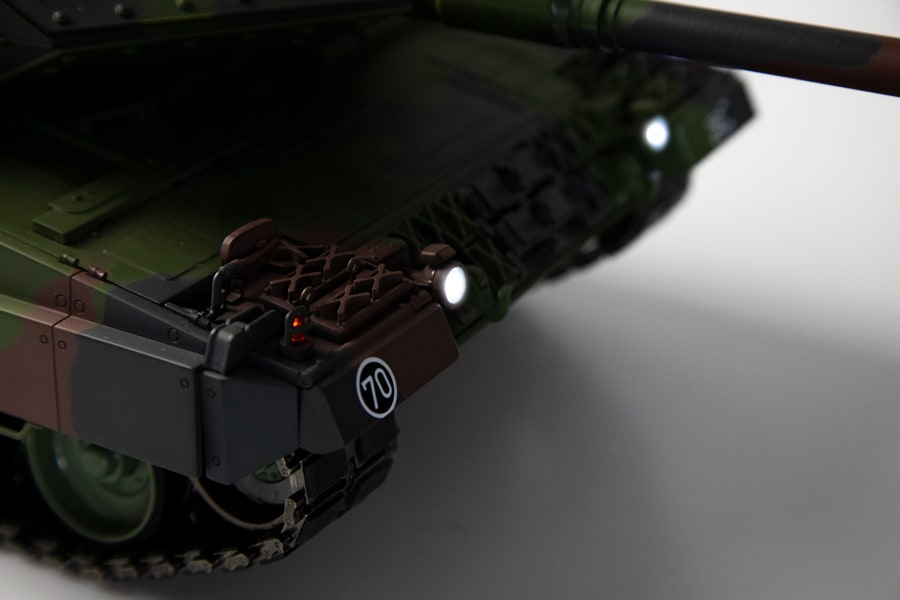 Lighting
LED main lights, position lights and indicators are controlled via the remote control unit. Indicators come on automatically when turning (this function can be turned on or off).
Pitstain Hobbies Build Review
Your buying options
When you place your order we will send your first pack with the first stages of your kit to build your model. Following this, you will be sent another pack every month for 11 months. You will be charged monthly.
Alternatively, you may choose a Full Kit, Accelerator or the 24-month plan
click here for more details.
(S&H cost per pack: USA $9.99; Canada & Mexico $19.99)
We ship worldwide. Your order will be in US$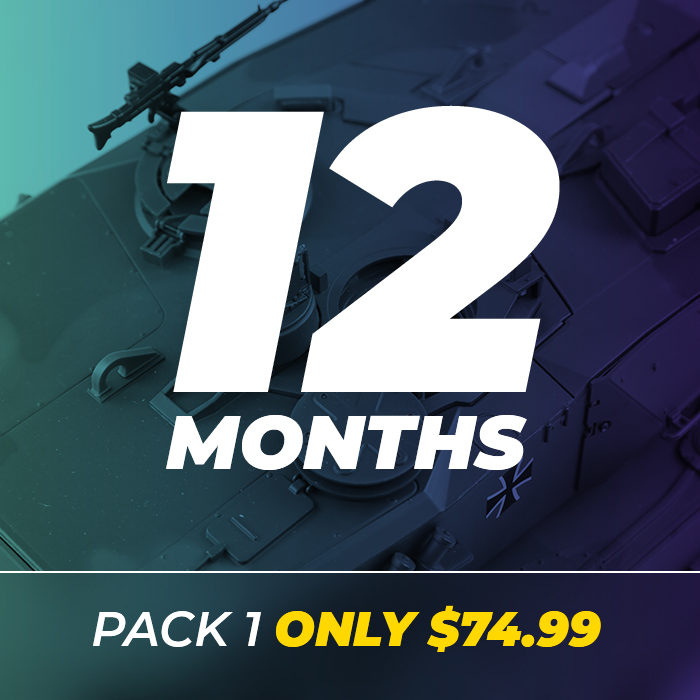 Pack 1 only $74.99
then $149.99 per month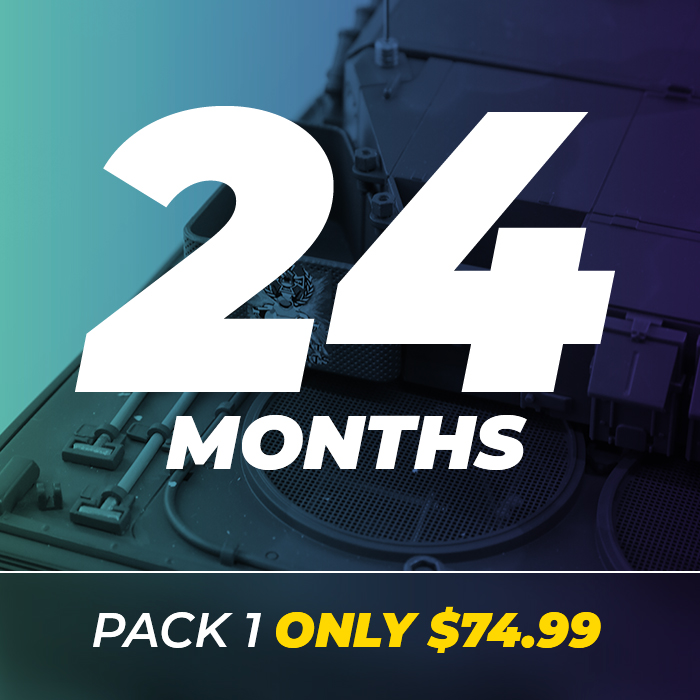 Pack 1 only $74.99
then $79.99 per month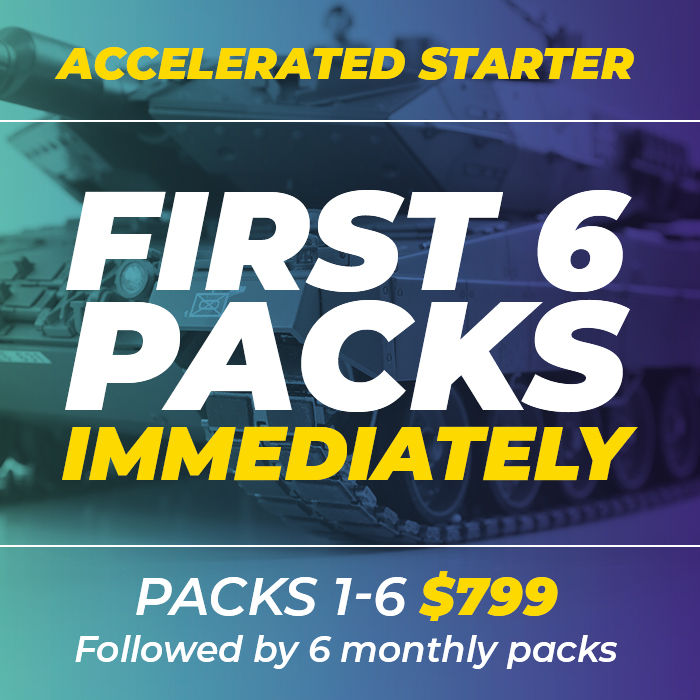 Packs 1–6 – $799
then $149.99 per month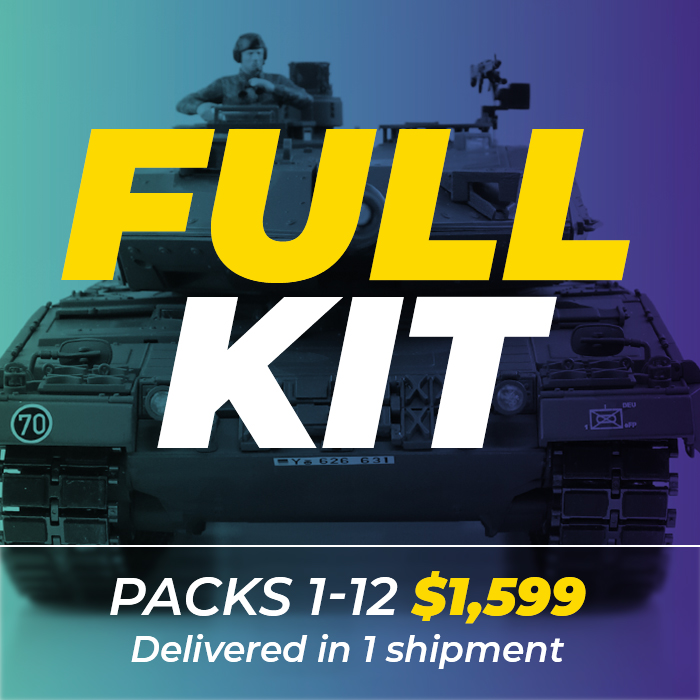 Packs 1-12 only $1,599
Get the Full Kit!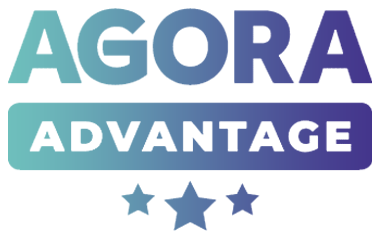 FREE PACK
Each time you complete an Agora model you qualify for a complimentary Pack 1 of your next model.
Leopard: an unparalleled success story
eFP: enhanced Forward Presence
Our scale model is a replica of the Leopard 2A6 deployed in Lithuania as part of NATOs enhanced Forward Presence (eFP) Battle Group in 2016.
Such deployment has underscored the continuing importance of retaining tanks for military operations, even if they are not always used. In this article, Lieutenant-Colonel Vincent Kirstein, who commanded some of the initial Leopard 2s deployed in Afghanistan in 2006, explains their importance.
The author, Allan Joyner, describes how various Leopards deployed in Afghanistan were modified to significantly augment protection, and ease operation, and examines the future for the current fleet of Leopards:
https://canadianarmytoday.com/the-leopard-changes-some-of-its-spots/
The 50-year history of the Leopard:
Leopard 1
Entered service in 1965 and remains in use in nine countries today. Focused on firepower with L7 105 mm gun and cross-country performance.
Leopard 2
The main battle tank developed by Krauss-Maffei in the early 1970s for the West German Army. First entered service in 1979 succeeding the Leopard 1. All models feature digital fire control systems with laser rangefinders, a fully stabilised main gun and coaxial machine gun, advanced night vision and sighting equipment. The sophisticated computer system provides the ability to engage moving targets while moving over rough terrain.
Leopard 2 to Leopard 2A4 have vertically-faced turret armour
Leopard 2A5 known as the 'improved' batch have arrowhead shaped turret, and armour tailored to a given threat scenario.
Leopard 2: the baseline Leopard – the first series manufactured version.
Leopard 2A1: has improved armour protection. The two most notable changes were the modification of the ammunition racks to be identical to those in the M1 Abrams, and redesigned fuel filters that reduced refuelling time.
Leopard 2A2: This modernised first batch can be recognised by the circular plate covering the hole where the cross-wind sensor for the fire-control system was removed. The original sights were replaced with thermal sights. The upgrade also included the fitting of filler openings and caps to the forward hull fuel tanks to allow separate refuelling, as well as the addition of a deflector plate for the periscope and a large cover plate to protect the existing NBC protection system. The tank was given new five-metre towing cables with a different position.
Leopard 2A3: fitted with improved communications equipment (digital radio sets), improved parking brake and the ammunition reloading hatches were welded shut.
Leopard 2A4: fitted with new digital fire control system and improved turret with flat titanium/tungsten armour. It was the most widespread version of this tank. All the previous models were upgraded to this standard.
Leopard 2A5: a radically improved version introduced in 1990. The A5 introduced an arrow-shaped, spaced add-on armour to the turret front and the frontal area of the sides, designed to defeat shaped charge weapons and take out the kinetic energy of APFSDS rounds. There were also some improvements in the main armour composition. The tank interior received spall liners to reduce fragments if the armour is penetrated. The frontal "heavy" third of the side skirts was replaced with a new, stronger type. The commander's sight was moved to a new position behind the hatch and it received an independent thermal channel. The gunner's sight was moved to the turret roof as opposed to the cavity in the front armour in previous models. A new heavier, electronically operated sliding driver's hatch was fitted. Turret controls went all-electric, increasing reliability and crew safety, and producing some weight savings. The gun braking system was improved to prepare for the later mounting of the new L55 gun tube and to enable firing of more powerful ammunition, such as the DM-53 APFSDS.
At that time the Leopard 2A5 was referred as the best main battle tank in the world.
Leopard 2A6: another radically improved version with improved armour protection and a longer Rheinmetall 120 mm L55 smoothbore gun. The L55 is 25% longer than its predecessor, providing higher muzzle velocity, which gives better range and penetration for APFSDS kinetic energy rounds.
The Leopard 2A6M is a version of the 2A6 with enhanced mine protection under the chassis, and a number of internal enhancements to improve crew survivability. Trials in February 2004 demonstrated that, with the new armour package, Leopard 2 tank crews could survive the detonation of an anti-tank mine under the tank without suffering any injuries. Replacement of the hydraulic drive with electrical, and the driver's seat, which is traditionally bolted to the hull, is now suspended by straps so it moves freely.
Leopard 2A7: a proposed upgrade package for existing MBTs, which includes additional armour, additional cameras for long-range surveillance, advanced command and control equipment and some other improvements.
(source: http://www.military-today.com/tanks/leopard_2.htm)
(source: https://tanknutdave.com/the-german-leopard-2-series )
Technical Specification
The Leopard 2A6 is currently one of the best main battle tanks in the world
Country of origin: Germany
Entered service: 2001
Crew: 4 (commander, gunner, loader, driver)
Dimensions and weight
Weight: 62 t
Length: (gun forward) 10.97 m
Hull length: 7.7 m
Width: 3.7 m
Height: 3 m
Armament
Main Gun: 120 mm smoothbore
Machine Gun: 7.62 mm MG3A1
Elevation range: –9 to +20 degrees
Rotation range: 360° in 8 seconds
Turret rotation: 360° in 8 seconds (electric)
Ammunition load
Main gun: 42 rounds
Machine gun: 4,750 rounds
Mobility
Engine: MTU MB-873 Ka-501 diesel
Engine power: 1,500 hp
Maximum speed: 80 km/h; backwards 50 km/h
Range: 500 km
Manoeuvrability
Gradient: 60%
Side slope: 30%
Vertical step: 1.15 m
Wading depth without preparation: 2.5 m
Wading depth with snorkel: 10 m
Trench passability: 3 m
Fording: 1 m
This is the exact tank that our model is based on, the Bundeswehr Panzer Battalion 104 tank, NATO enforced Forward Presence. Battlegroup Lithuania, 2016.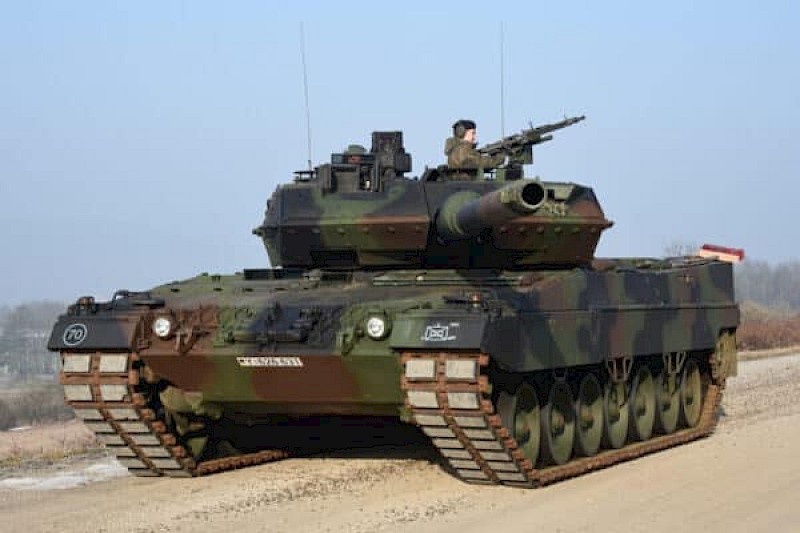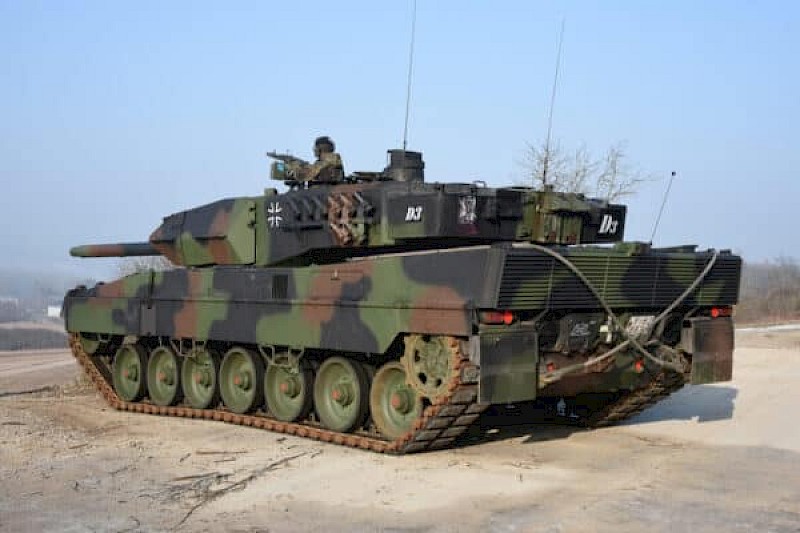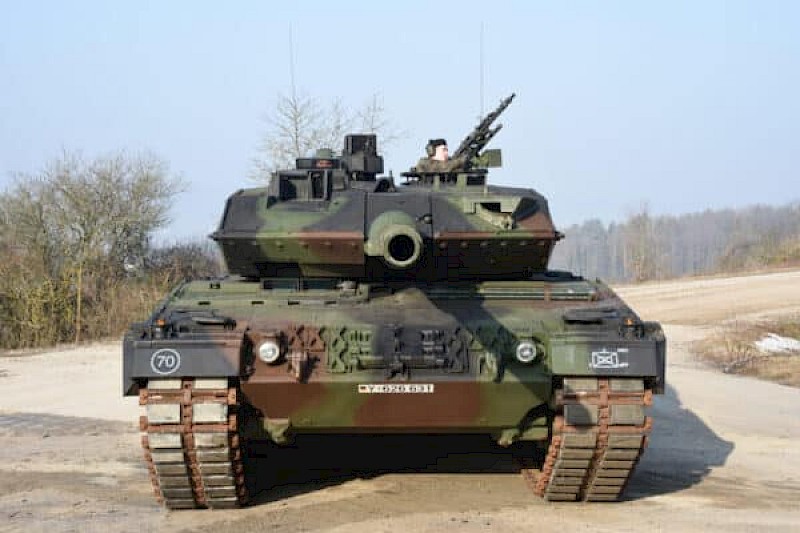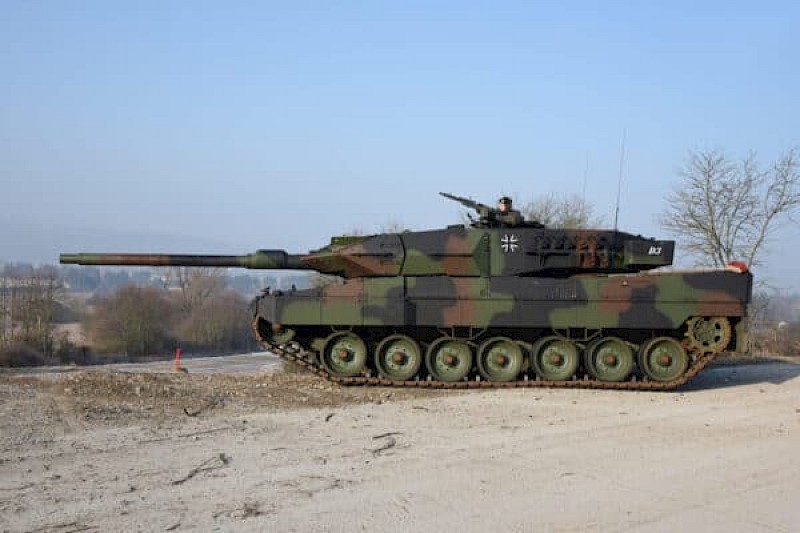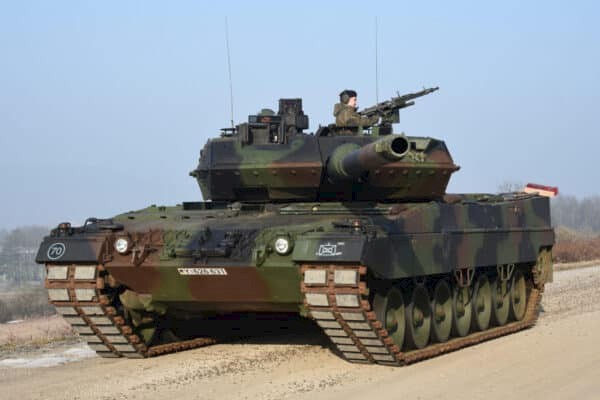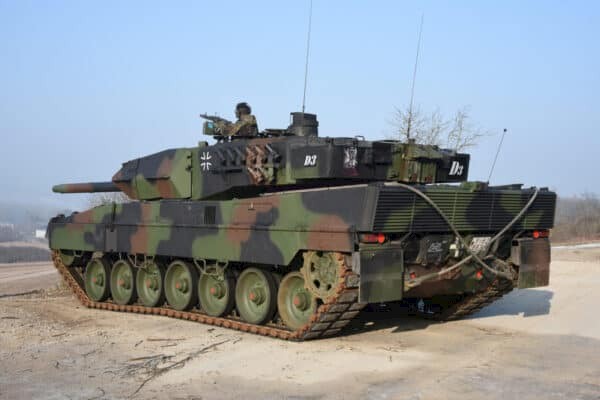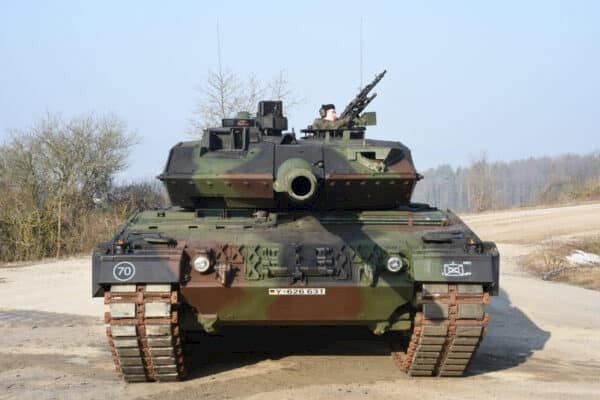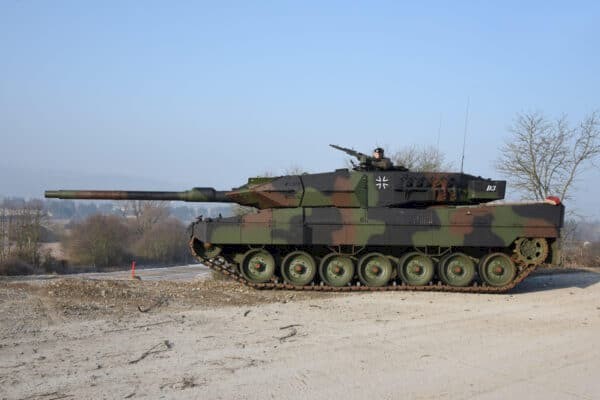 Promotional video for the Leopard 2A6 made by its manufacturer KMW