1961 ROUTEMASTER RM 857
The Routemaster RM 857, built in 1961 and as it looked in 1966, operated on London's most famous bus route, passing the Bank of England, St Paul's Cathedral and Westminster Abbey. Today, this legendary bus is considered the ultimate celebration of a design classic.
Specifications & Features
Hop aboard the RM 857 Routemaster Bus!
The original Routemaster, RM1, started service on 8th February 1956. The new design incorporated many radical improvements. Aluminium was used for the bodywork – a material not used as standard until several decades later. The suspension relied on shock absorbers and vertical steel springs to ensure a comfortable ride.
Similar care and attention has been taken to create your perfect 1:12 scale model. Each component has been expertly produced, based precisely on those used in the Routemaster RM 857 in 1966, when the bus was operating on route 11. Using durable materials and with intricate details replicated throughout, your model is the ultimate celebration of a design classic.
Specification
Length: 699mm (27 1/2″)
Width: 203mm (8″)
Height: 365m (14 1/3″)
Wheelbase: 427mm (16 1/2″)
Weight: 14.3 kg (31 1/2 lbs)
Scale: 1:12
Materials: This die-cast metal model includes electronics, photo-etched items and ABS parts.
All parts come ready-painted – no painting required
Features
Movable parts include the wing mirrors and the petrol cap
The bell that was used to signal the driver works!
Working destination sign
Active suspension and steering
Faithfully reproduced 9.6 litre six-cylinder diesel engine
Fully operating headlights, rear and interior lights
Pull the lever to open the upper deck emergency exit
It's all in the detail
Outstanding detail at 1:12 scale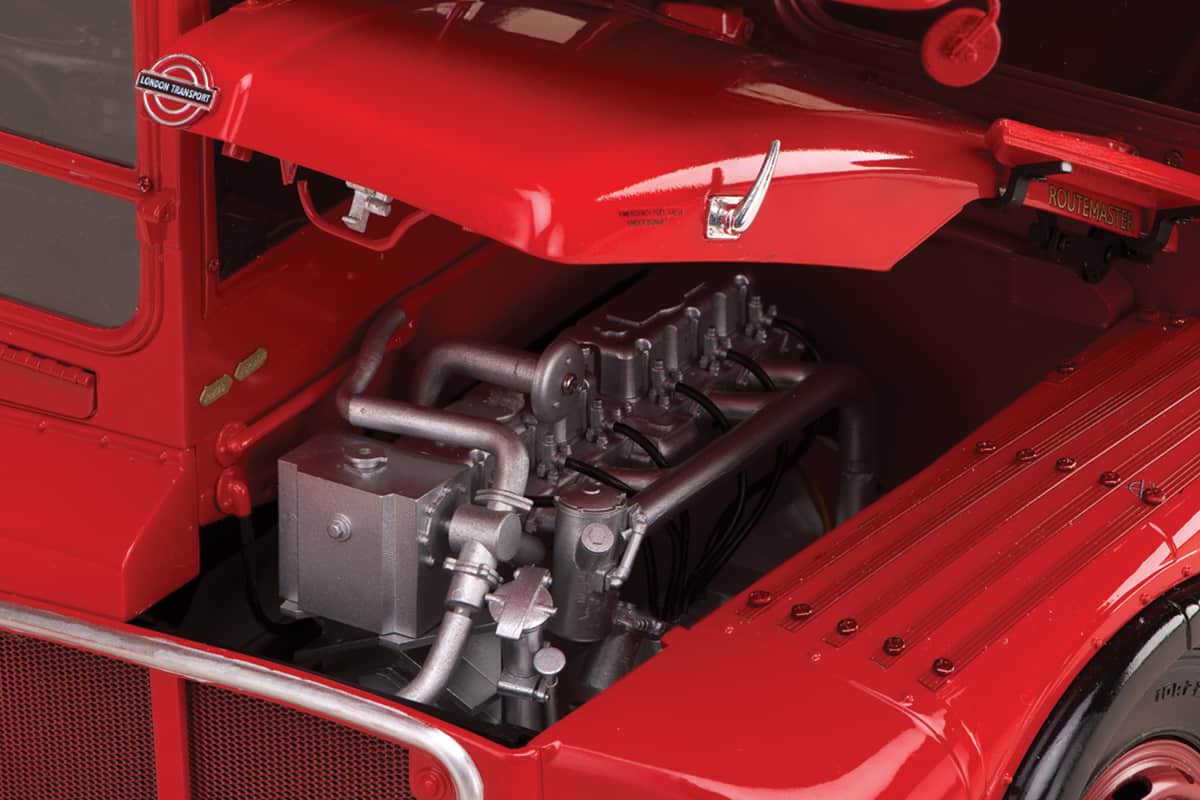 ENGINE
Faithfully reproduced 9.6 litre six-cylinder diesel engine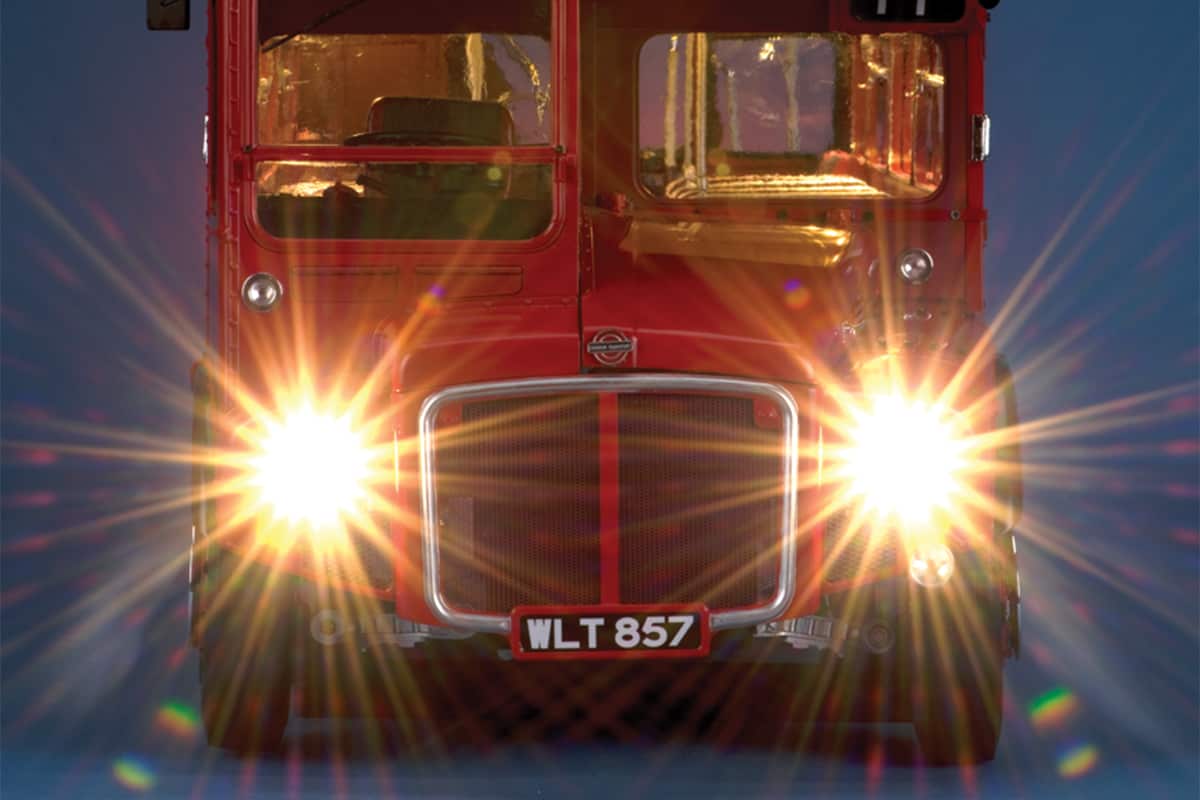 WORKING LIGHTS
Fully operating headlights, rear and interior lights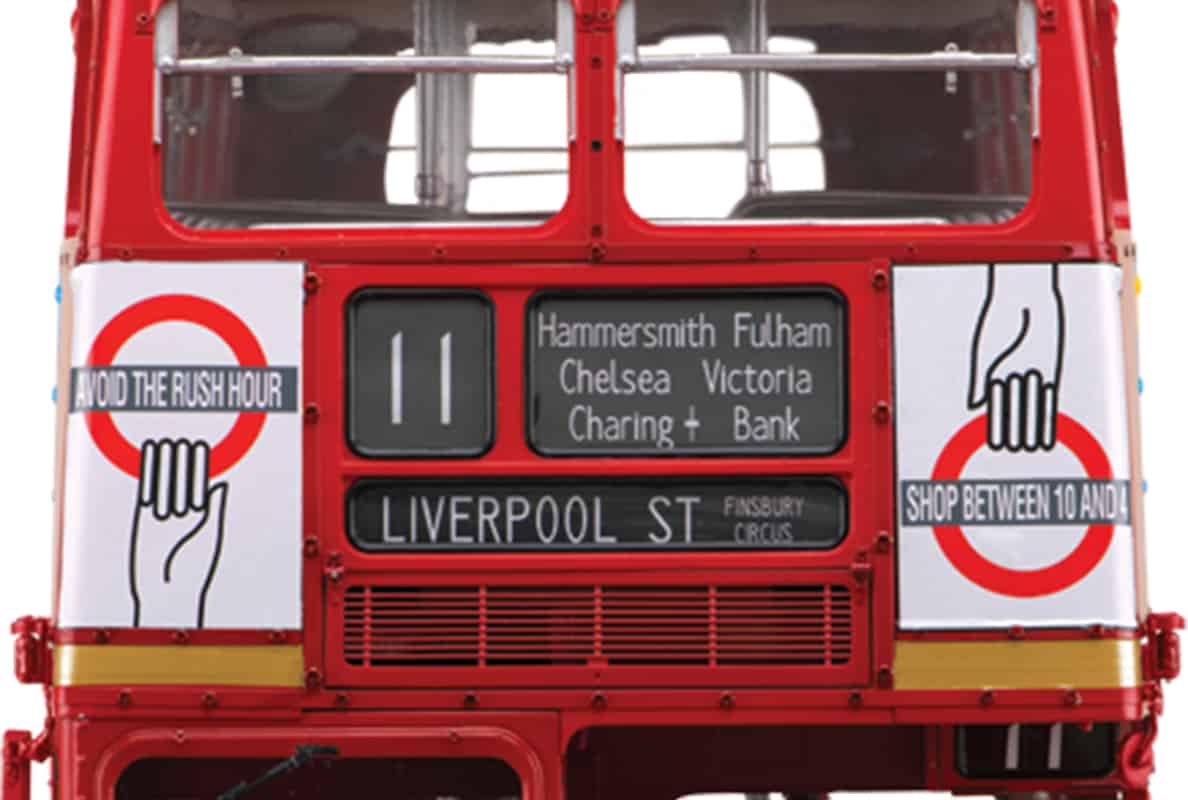 DETAILS
Working destination sign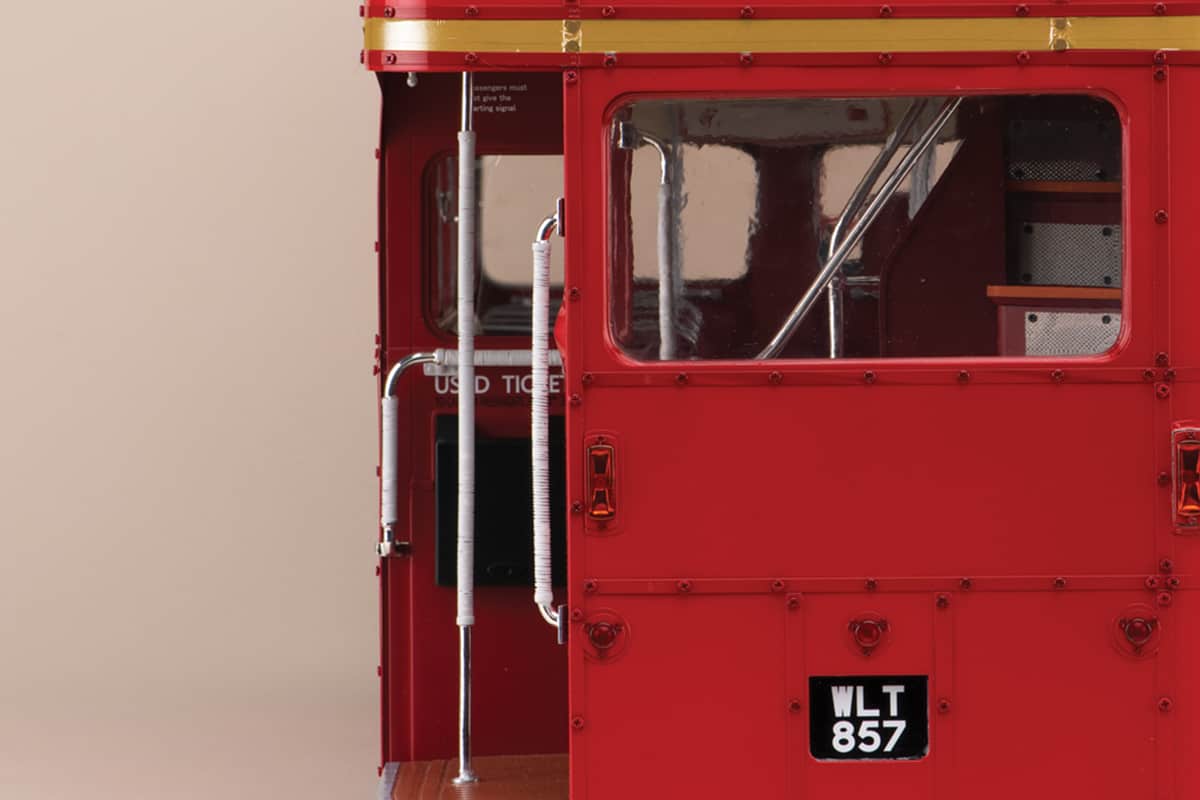 DIECAST METAL PARTS
Made from high-quality materials including die-cast metal, photo-etched and ABS parts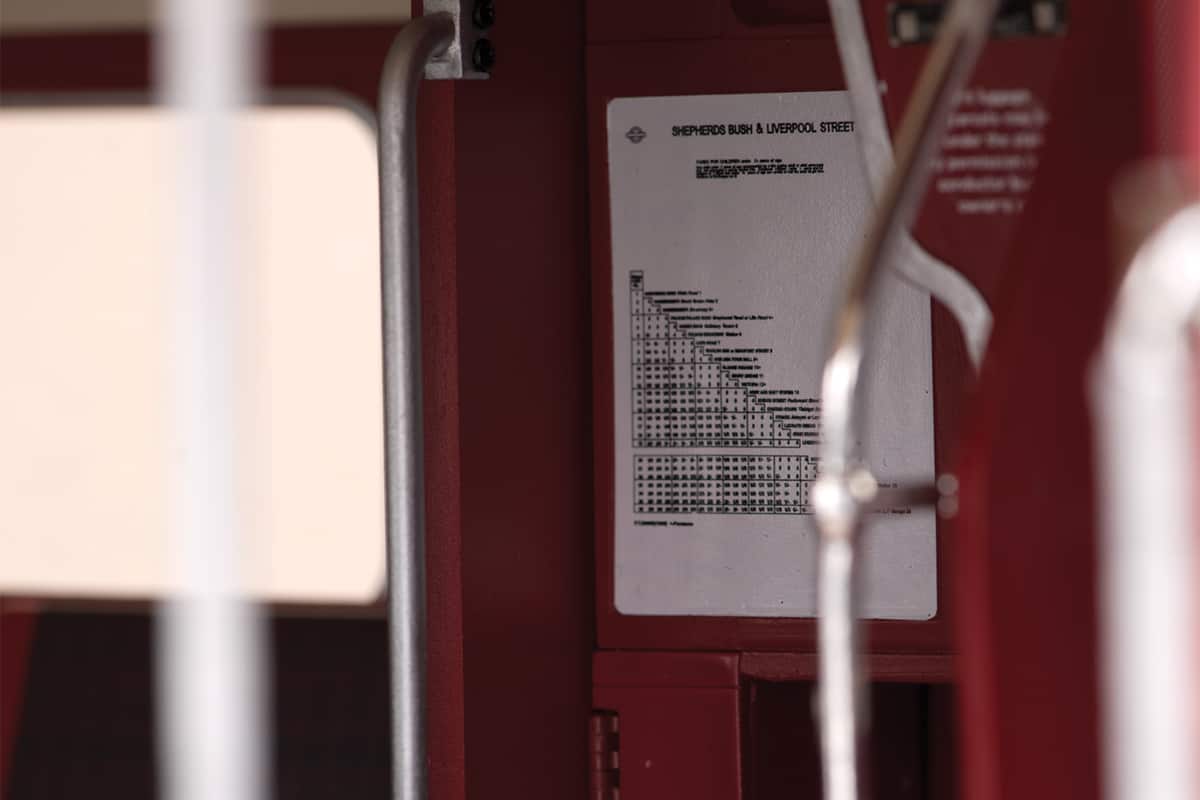 AUTHENTIC FARE CHART
Recreated with incredible accuracy – right down to the fare chart on the rear platform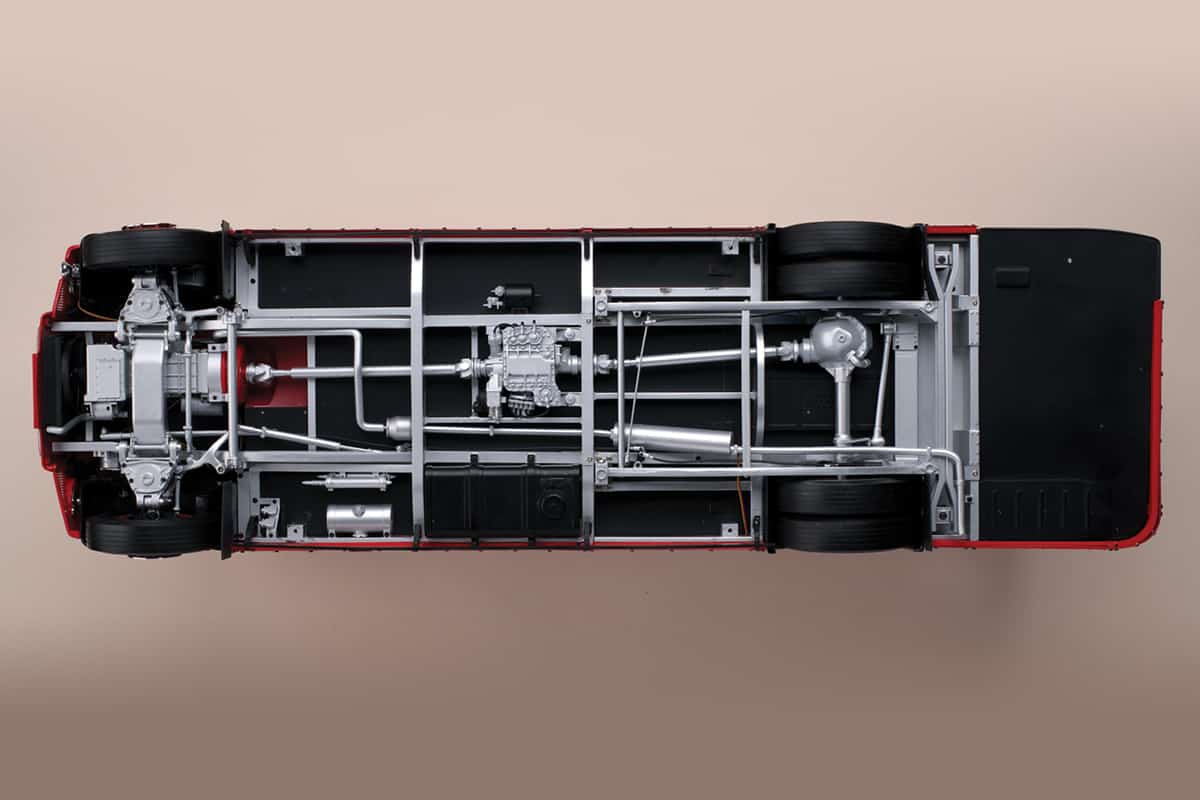 UNDERSIDE
The view from underneath reveals the gearbox, prop shafts and exhaust system
Your buying options...
When you place an order we will send your first pack with the first stages of the kit to build your model. Following this, you will be sent another pack every month for 11 months. You will be charged monthly.
Alternatively, you may choose a Full Kit, Accelerator or the 24-month plan
click here for more details.
(S&H cost per pack: USA $9.99; Canada & Mexico $19.99)
We ship worldwide. Your order will be in US$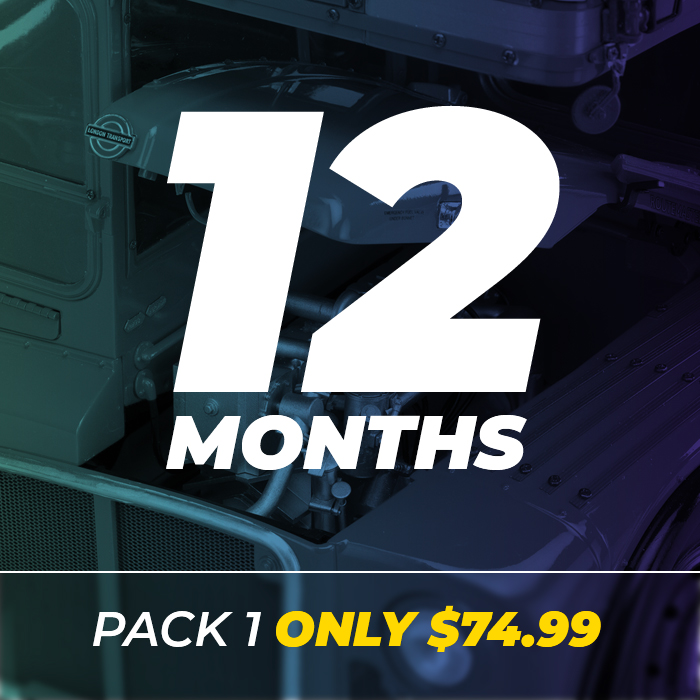 Pack 1 only $74.99
then $149.99 per month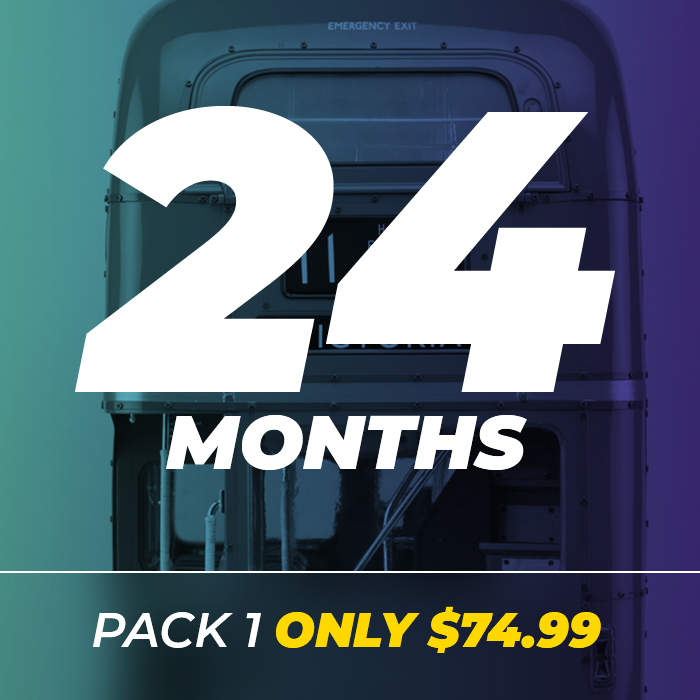 Pack 1 only $74.99
then $79.99 per month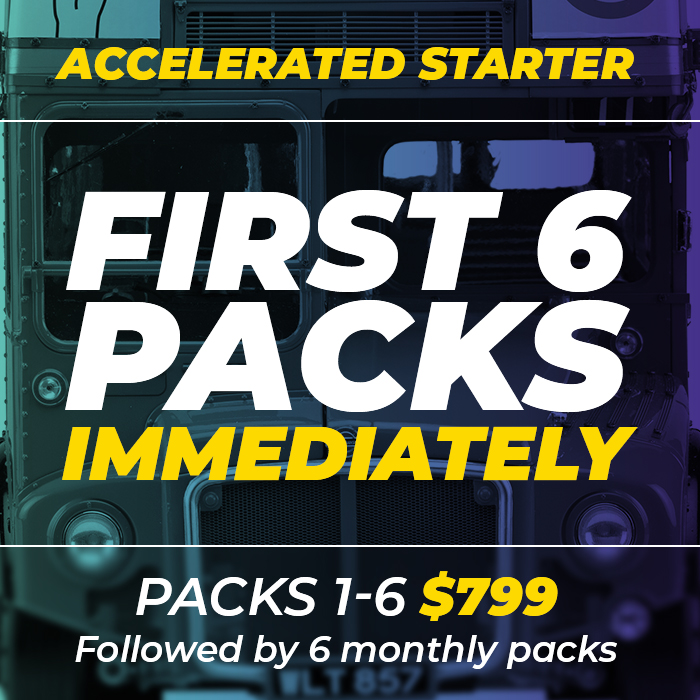 Packs 1-6 only $799
Then $149.99 per month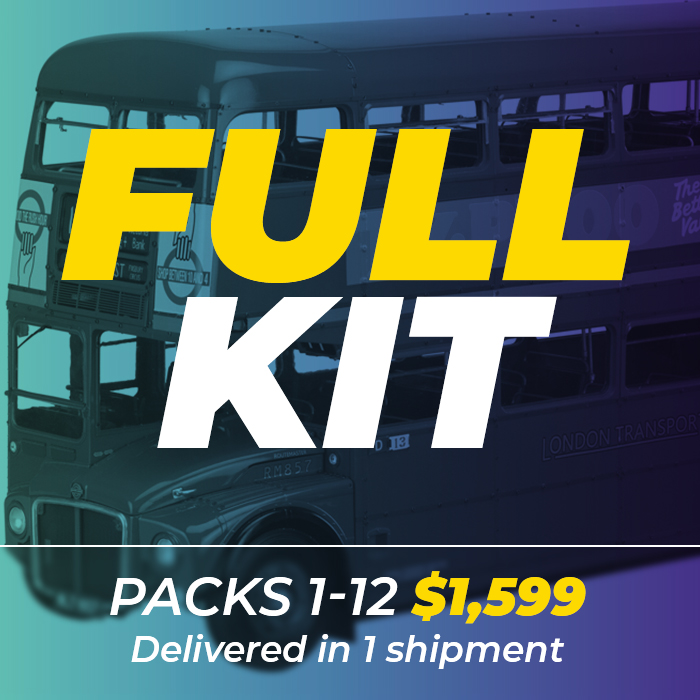 Packs 1-12 only $1,599
Get the Full Kit!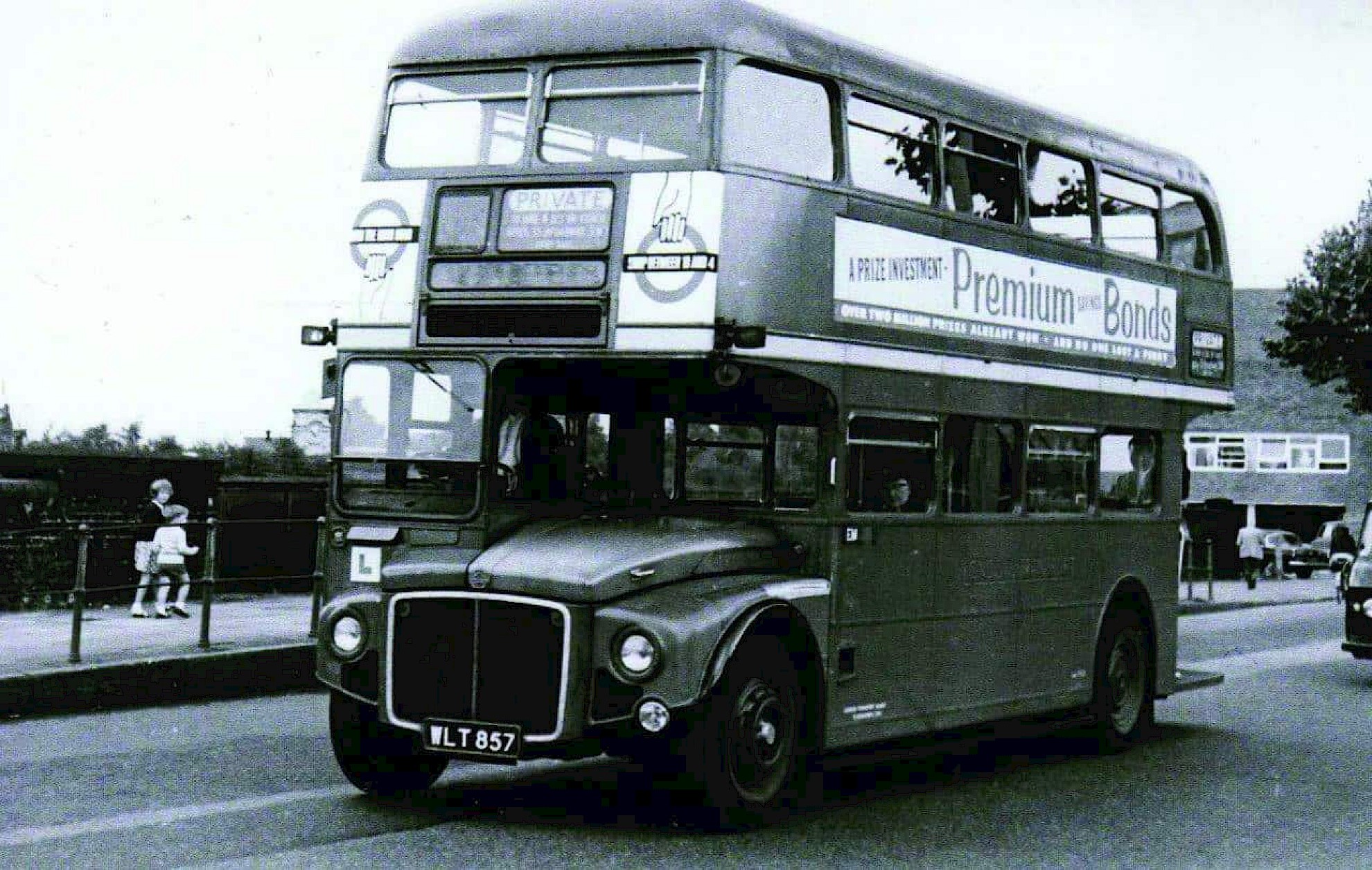 The Story of the Routemaster RM 857
Each Routemaster was individually numbered. Your model is based on the RM 857, shown above. Built in July 1961, it was allocated to Stamford Hill garage, and replaced trolleybuses on routes 67 and 243 and night bus N83. As well as stints at other garages, it was also employed as a training vehicle. Withdrawn from service in December 1984, it has since been used as a mobile home and as transport for Vespa motor scooters and is now exhibited at bus shows.
A brief history of AEC
In 1912 the London General Omnibus Co Ltd (LGO) was acquired by the Underground Electric Railways Company of London Limited (UERL) and as part of an overall company restructure, the Associated Equipment Company, or as it is more familiarly know AEC, was created to separate the bus manufacturing elements from the rest.
From 1908 LGO had started building its own chassis so as not to rely on those from other companies. By 1912 though, it was clear that the factory at Walthomstow in north-east London was too small and so AEC began work on a new factory at Southall, west London. The new site was ready in 1926 and the first chassis rolled off the production lines in February 1927.
From 1912, AEC continued to manufacture the LGO X-type and B-type double-decker buses, but despite being famous as the manufacturer of the Routemaster bus, AEC was also a formidable lorry maker and its early years were in fact dominated by the production of lorries, and with the outset of the First World War in 1914 their assembly lines were focussed upon producing vehicles for the British military.
Between the wars AEC's bus production went from strength-to-strengh with the introduction of the Reliance, Ranger, Regal and Renown models. AEC became so strong in London that the company started to market itself as the "Builders of London's buses".
By 1941, due to the war, production of all non-military vehicles at AEC had stopped whilst the company focussed on the war-effort producing over 10,000 vehicles including artillery tractors, command vehicles and armoured cars.
From the mid 20s AEC named all of the military vehicles with a name beginning with 'M' (e.g. Matador, Major, Mammoth) and their bus and coach range had names beginning with 'R (e.g. Routemaster, Regal, Regent, Renown).
In the post-war years AEC acquired Crossley Motors, Maudslay Motor Co. and Thornycroft, and eventually AEC itself was taken over by Leyland Motors in 1962. Production at its Southall site continued in various forms until its closure in 1979, and the factory was demolished in 1981 and replaced with the Great Western Industrial Park.
For a full list of AEC buses see: https://en.wikipedia.org/wiki/List_of_AEC_buses
Technical Specification
Specification of the standard Routemaster (RM)
Built: 1958 to 1965
Engines:
AEC AV590 9.6 litre
Leyland 0600 9.8 litre diesel
Power: 115 bhp at 1800 rpm
In-service top speed: 45 mph
Dimensions:
Width 2.4m (8′)
Length 8.4m (27′ 6″)
Height 4.4m (14′ 4.5″)
Number of seats: 28 downstairs, 36 upstairs (total 64)
Gearbox: AEC direct selection/automatic 4 speed
Brakes: Continuous flow power hydraulic
Turning circle: 19m (62′) circle
Front Chassis frame: engine, steering and front suspension.
Rear Chassis frame: rear axle and rear suspension.
Routemaster buses are recognised by their class:
| | | | |
| --- | --- | --- | --- |
| Class | Type | Length | Number |
| RM | Standard Bus | 27.5ft (8.38m) | 2,123 |
| RML | Long Bus | 29.91ft (912m) | 514 |
| RMC | Coach | 27.5ft (8.38m) | 69 |
| RCL | Long Coach | 29.9ft (912m) | 43 |
| RMF | Front Entrance Bus | 29.9ft (912m) | 51 |
| RMA | Front Entrance Bus | 27.5ft (8.38m) | 65 |
| FRM | Front Entrance Bus | 31.3ft (9.54m) | 1 |
Source: Wikipedia
Here's an old documentary we found on Youtube charting the history of the Routemaster. According to the comments it was shot in the early 1990s, but has some great old footage – not to mention some awesome old-fashioned English accents!!!!
The video is in two parts, you can find part 2 here: https://youtu.be/pYkEunTHUF8.