Mercedes-Benz W 196 R
The technologically-advanced Silver Arrow that gave Stirling Moss his first 1955 World Championship victory.
A streamlined silver masterpiece, the Mercedes-Benz W 196 R was designed for the 1954/55 racing seasons, leaving its competitors in its wake. With nine victories and fastest laps, eight pole positions in twelve Grand Prix races and two world champion's titles, the W 196 R is one of the finest racing cars in history.
Specifications & Features
Your 1:8 scale model kit includes museum-quality details and materials
The Mercedes-Benz W 196 R was designed using cutting-edge technology for the era.
Its new streamlined body was both expedient and visually appealing. Features included a light, tubular space frame, new single-joint swing axle, giant turbo-cooled Duplex drum brakes and eight-cylinder in-line engine.
Working closely with Mercedes-Benz, this detailed replica model has been expertly crafted using extremely accurate digital scanning techniques of the original car. The bodywork, chassis and main features are made from die-cast metal giving it a top-quality finish and feel.
Specification
Limited to 500 worldwide
(individually numbered 1-500)
Scale: 1:8
Material: Die-cast metal body with ABS details
Length: 50.2 cm (19 3/4″)
Width: 19.7 cm (7 3/4")
Height: 13.6 cm (5 3/8″)
Number of parts: 450 approx.
Features
Engine sound when the dashboard button is pushed
Steering wheel operates the front wheels
Replica eight-cylinder in-line engine
1955 Stirling Moss British Grand Prix winning Monoposto model
Finished in silver and wearing race number 12
Drivers seat in replica blue plaid seat cover
It's all in the detail
Outstanding detail at 1:8 scale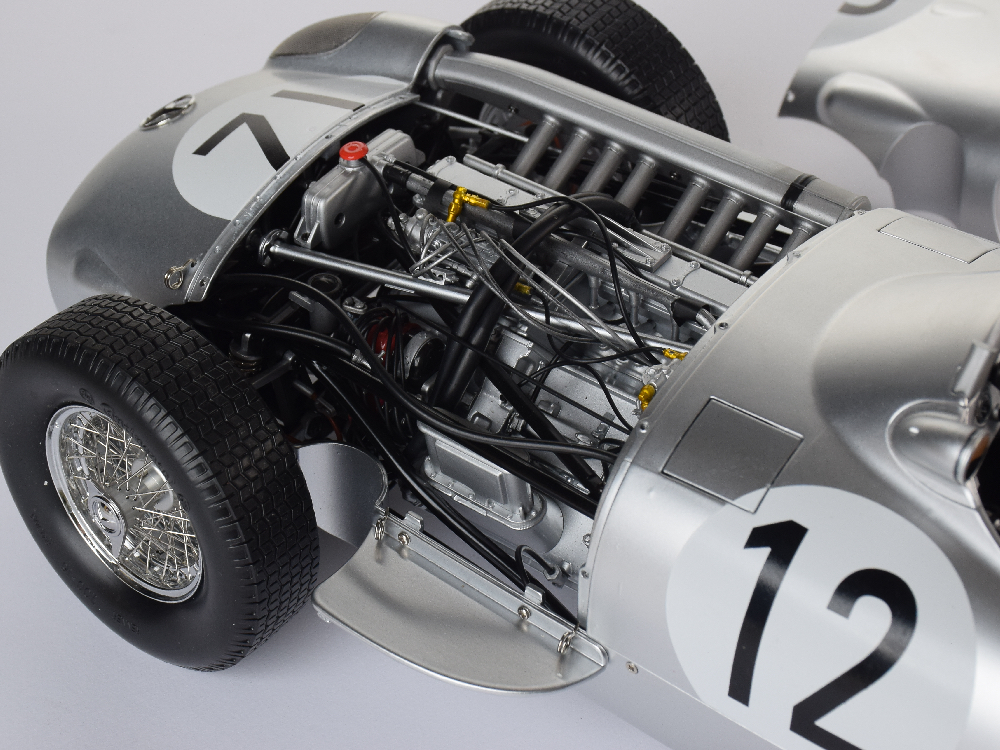 AUTHENTIC ENGINE
Replica eight-cylinder in line engine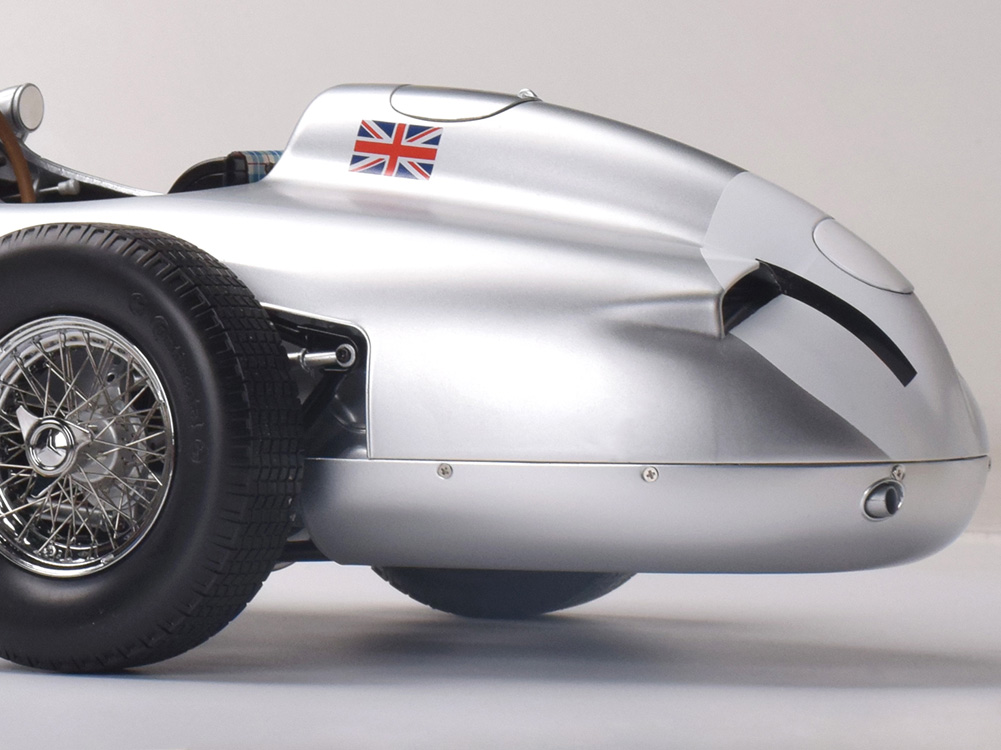 DIE-CAST METAL PARTS
Made from high-quality materials including die-cast metal body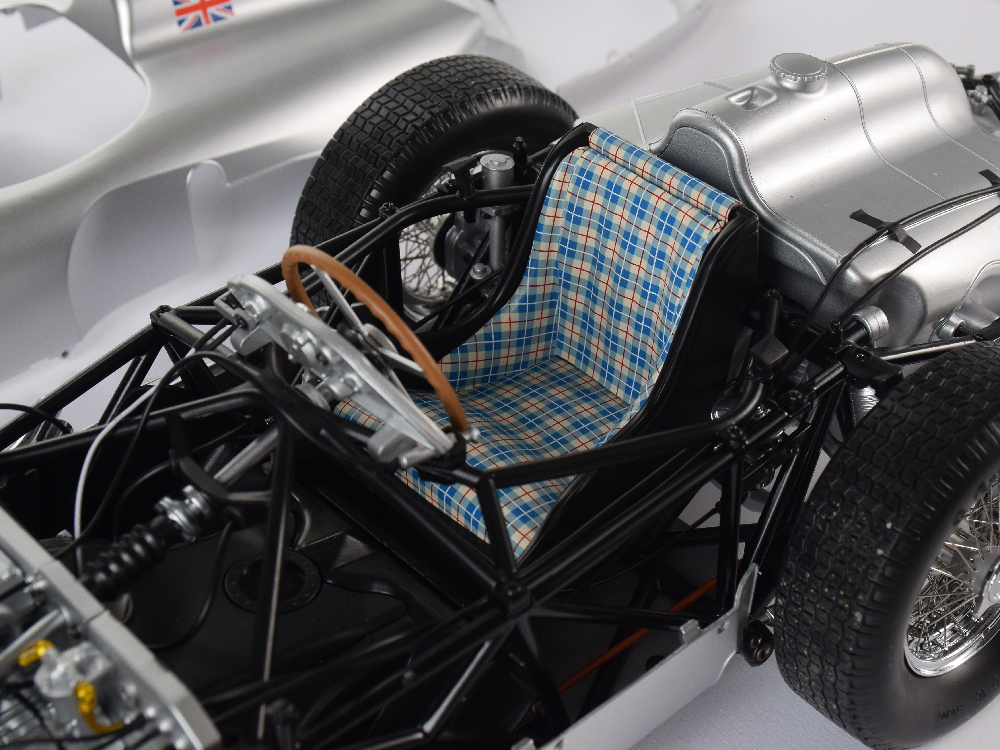 REPLICA RACING SEAT
Including replica blue plaid fabric racing seat cover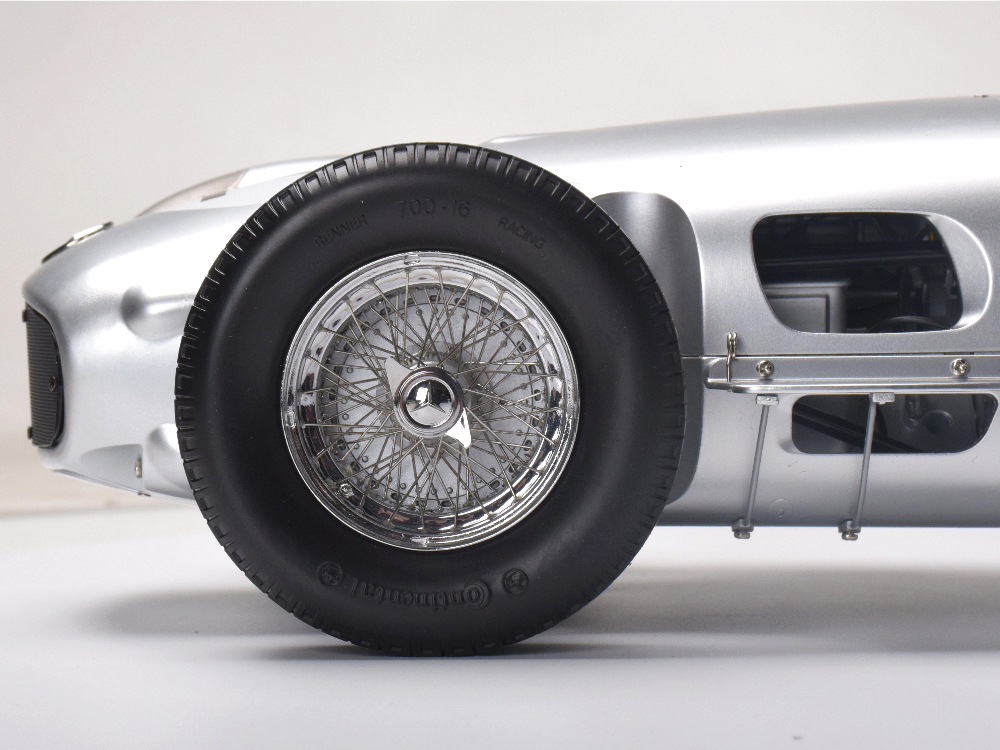 ORIGINAL WHEELS
Replica wire wheel spoke design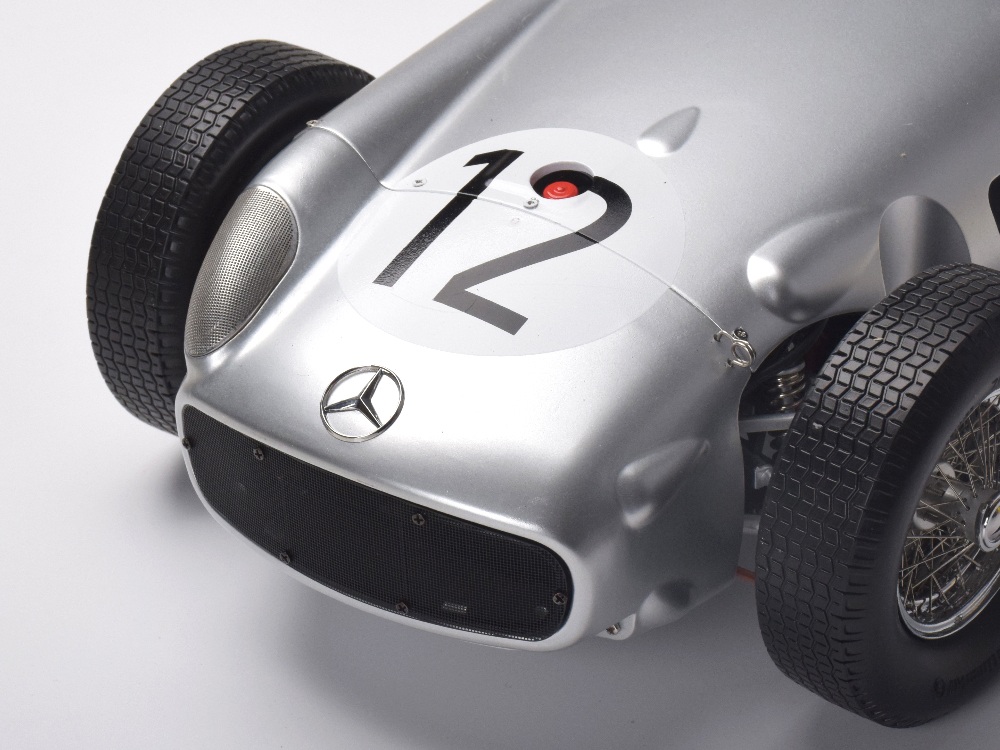 1955 Grand Prix
Stirling Moss' unique livery from the 1955 British Grand Prix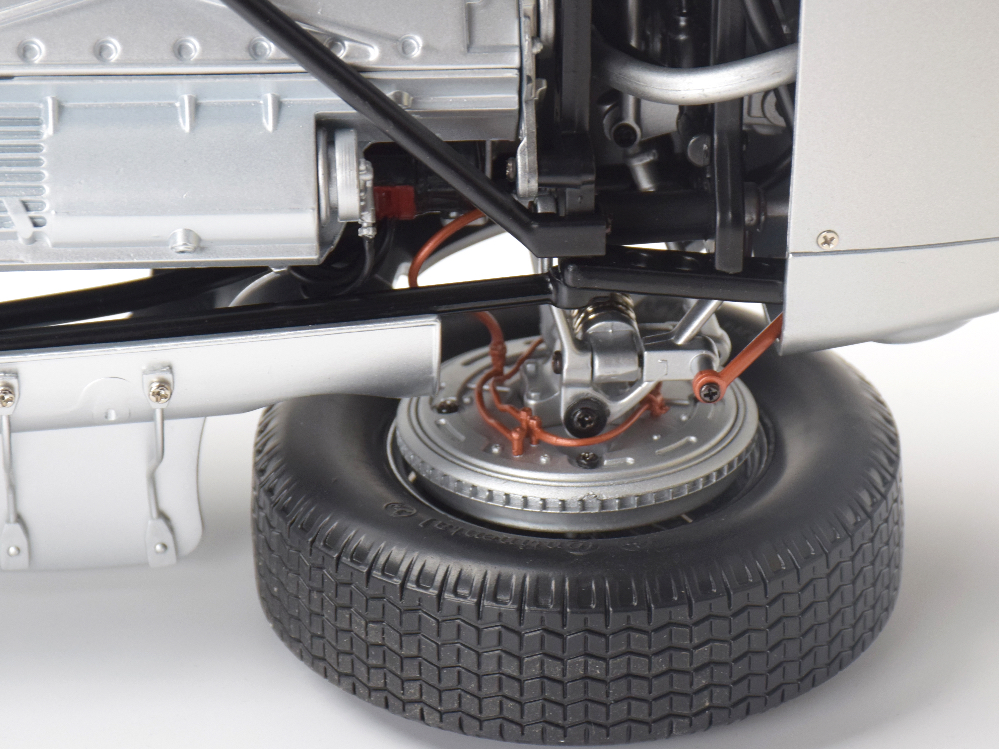 WORKING ELECTRICS
Complete with engine sound
Exclusive display plinth included
Your model is supplied with a specially designed display plinth:
• Illuminated badges
• Metal plaque engraved with a unique limited edition number
• Individually numbered, commemorative gold-plated medal
• A signed and numbered certificate of authenticity
(Display plinth supplied to all customers and not available separately)
Your buying options
The Agora Models flexible payment option allows you to choose over how many months you would like your model to be delivered, allowing you to spread the cost.
Choose either our 4-Pack Accelerator or Full Kit. The display plinth is included in all options.
---
We ship worldwide. Your order will be in US$
Note: There is no standard 12/24-month payment plan for this Limited Edition model.
Agora Elite and Agora Master members have the exclusive option of buying the 4-Pack Accelerator on a monthly payment plan (delivery includes the first 4 packs, but will be charged in four monthly instalments). All Orders will be verified.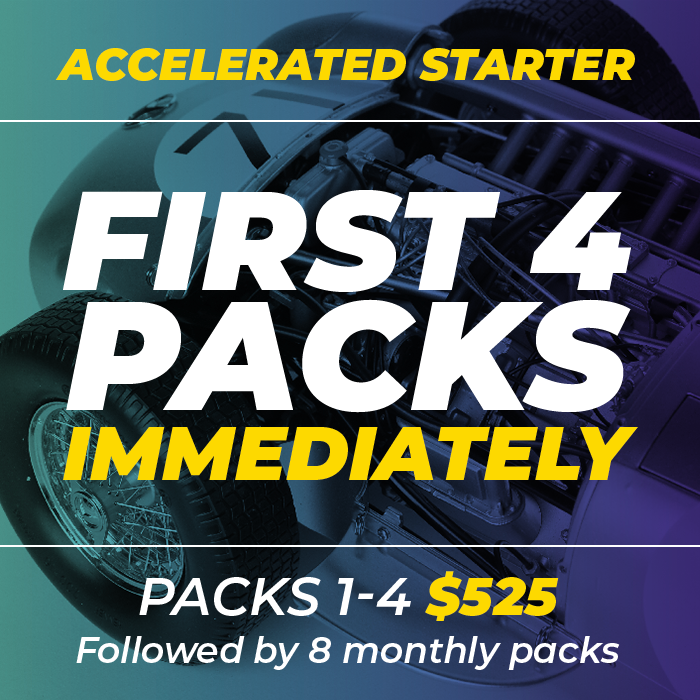 Packs 1–4 – $525
then $149.99 per month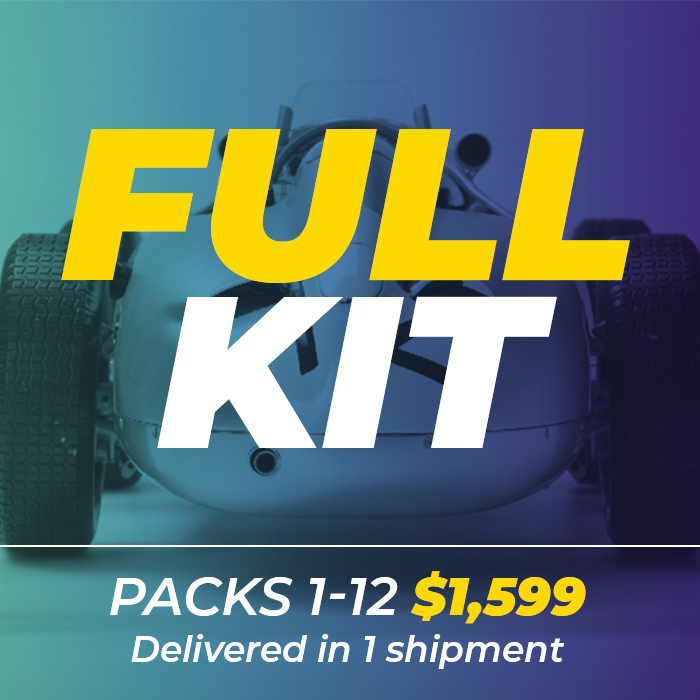 Packs 1-12 only $1,599
Get them all at once!
The 1955 Mercedes-Benz W 196 R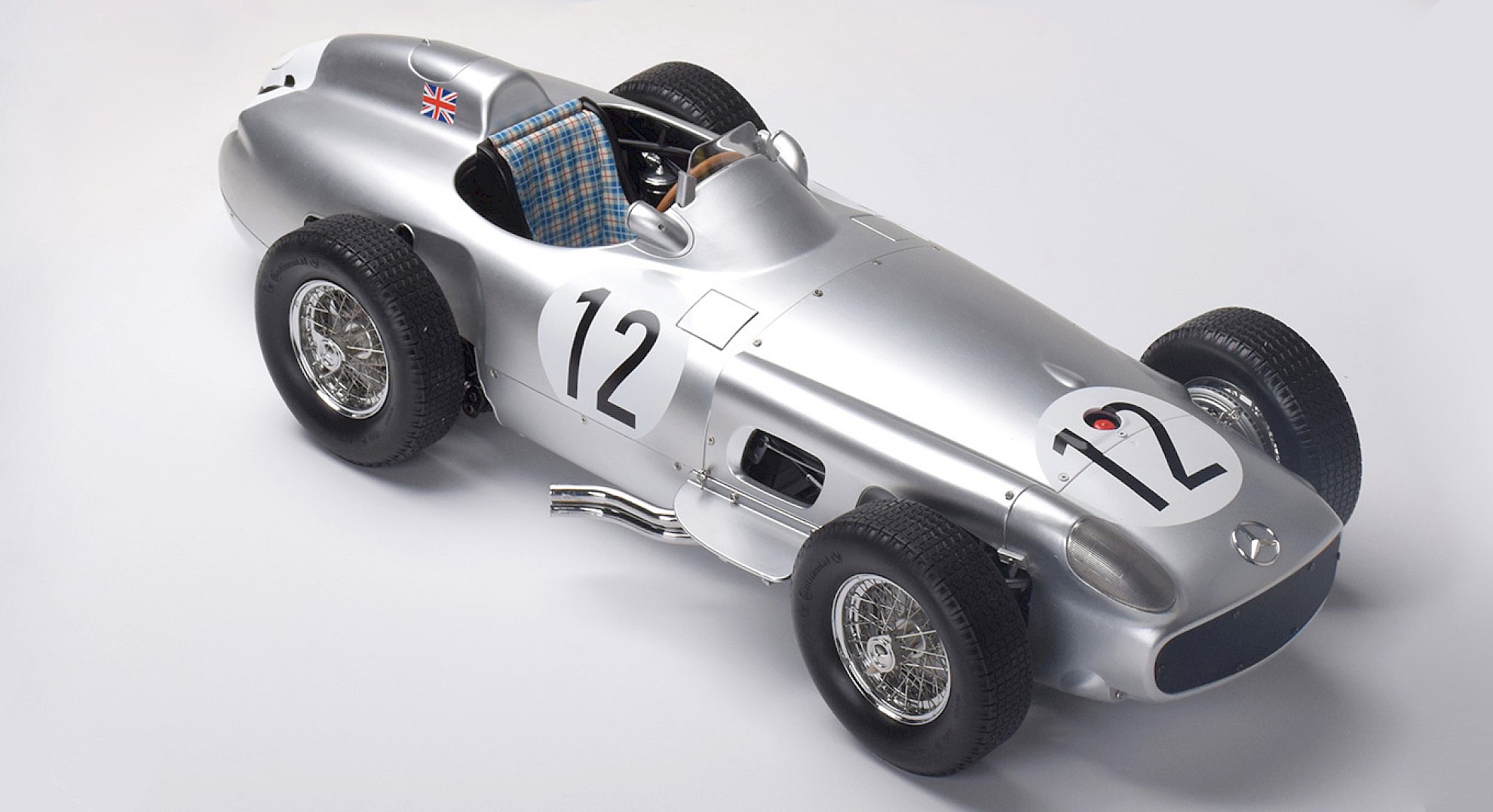 Development of the Mercedes-Benz W 196 R
For the 1954 season the F1 governing body, CSI (Commission Sportive Internationale), had introduced the new 2.5-liter Formula 1 regulations for naturally aspirated engines: a capacity of 750 cc with compressor, or 2500 cc without, and a racing distance of 300 kilometres (or a minimum of three hours). This meant that all manufacturers would be starting with new machines. For Mercedes-Benz this would be a significant change as all their Grand Prix engines had been supercharged since the 1920s. True to form, they created a new racing car that was miles ahead of the competition: the W 196.
As with any engine, Mercedes-Benz first constructed a single cylinder test unit with 310 cc and four valves. This produced a deficiency they had encountered in the 1930s: valve-gear problems coupled with fragile springs when exceeding 8000 rpm. One of their road and race car engineers, Hans Gassmann, found the solution while commuting home one day. Using a desmodromic valve system, the cam lobes and rocker arms could control the valves opening and closing, eliminating the need for springs. This permitted higher revs, greater safety and more power – as well as larger and heavier valves.
The result was a straight 8 in-line engine, mounted into a spaceframe at a 53-degree angle, featuring Bosch direct fuel injection and the desmodromic valves. With two blocks of four cylinders, 3-inch bore and 2.7-inch stroke, it adhered to the 2.5-litre limit and produced 256 bhp at 8260 rpm.
The car had an almost perfect balance due to strategic positioning of heavier elements, with the water and oil coolers at the front and the tanks holding petrol and oil in the tail. The steering was worm-and-sector, the 5-speed manual gearbox was mounted in unit with the differential, and the light alloy drum brakes were mounted inboard at all four corners to reduce the unsprung weight. In keeping with the Silver Arrows nickname that had been given to Mercedes race cars, the two body styles (streamlined for high-speed tracks and open-wheeled for traditional tracks) were constructed in glittering aluminium.
The W 196 made its debut on July 4th 1954 at the Reims-Gueux circuit in France, where it finished first and second place driven by Juan Manuel Fangio and Karl Kling respectively. This put all other manufacturers on notice: to win, they would need to pick up the pace. In 1955, improvements to the car brought its power up to 290 bhp at 8500 rpm as Mercedes-Benz continued to spare no expense maintaining their dominance. Over 14 months between 1954 and 1955, the Mercedes-Benz W 196 entered twelve Grand Prix events – winning nine of them.
Sir Stirling Moss
Sir Stirling Moss was a British Formula One racing driver. He was born in London on September 17th, 1929, to Aileen (née Craufurd) and Alfred Moss, both of whom were involved in motorsport. His father was an amateur racing driver who had finished 16th in the 1924 Indianapolis 500, while his mother had entered prewar hillclimbs.
Moss began his career in racing in 1948 after purchasing a Cooper 500 racing car using winnings from competition horse-riding events. He quickly demonstrated his proficiency by winning numerous national and international events. His first major international victory came in 1950 at the Dundrod circuit, Northern Ireland, in the RAC Tourist Trophy. In 1954, he became the first non-American to win the 12 Hours of Sebring, racing alongside his American teammate Bill Lloyd for Briggs Cunningham.
Alfred Neubauer, the Mercedes-Benz racing team manager, had hired Argentine superstar Juan Manuel Fangio for the 1954 season. After witnessing Stirling Moss pass both Fangio and Alberto Ascari, who many regarded as the two best drivers in F1 at the time, during the Italian Grand Prix in Monza, Neubauer hired the up-and-coming driver in 1955. Behind the wheel of the W 196, Fangio and Moss proved practically untouchable.
Moss won his first World Championship victory in the 1955 British Grand Prix at Aintree, becoming the first British driver to win that race as well. It was also the first time he beat teammate and friend Fangio, having finished shortly behind Fangio at the Belgian (+8.1 seconds) and Dutch (+0.3 seconds) Grands Prix. Overall, Moss finished second in the 1955 Formula One Season on 23 points, Fangio taking first with 40 points.
He continued to race until 1962 when he crashed during the Glover Trophy at Goodwood, putting him in a coma for a month. He joined ABC as colour commentator for Formula One and NASCAR races on Wide World of Sports. He also narrated the official 1988 Formula One season review with the BBC alongside Tony Jardine. He returned to racing in events in 1974 and continued throughout his retirement, until officially retiring from racing in 2011.
Throughout his career, Moss won 212 of the 529 races he entered. In 1990, he was inducted into the International Motorsports Hall of Fame. He held the record as the English driver with the most Formula One victories until being surpassed in 1991 by Nigel Mansell. In the 2000 New Year Honours List, he was made a Knight Bachelor for services to motor racing before being knighted Sir Stirling Moss by Prince Charles on March 21st, 2000.
Sir Stirling Moss is known as one of the greatest racing drivers, despite never winning the World Championship. He was a versatile driver, adept in endurance races, rally, as well as Formula One. He died at the age of 90 at his home in Mayfair, London, on April 12th, 2020.
Technical Specification
Car type: Single-seat F1 race car
Kerb weight: 835 kg (1841 lbs)
Dimensions: 402.5 cm (158 1/2″) long, 162.5 cm (64″) wide, 104 cm (41″) high
Wheelbase: 235 cm (92 1/2″)
Engine type: Eight-cylinder in-line four-stroke petrol engine with direct injection
Displacement: 2496 cc (152.3 cu in)
Output: 256 hp (188 kW), later boosted to up to 290 hp (213kW)
Top speed: 186mph (300km/h)
Watch this short film that shows Sir Stirling Moss racing to victory in his first Grand Prix win