The amazing hypercar with sensational performance
The definitive Ferrari, LaFerrari was designed to be the fastest production Ferrari – ever. Its innovative hybrid engine boasts over 900 horsepower, the most powerful in the world, with KERS technology capable of recovering power and performance from the car's kinetic energy. Inside its sleek monocoque frame, made with four different carbon fibers, are F1 ergonomics blended with luxury comfort to give one of the most exhilarating driving experiences ever made.
Specifications & Features
Your exquisitely detailed
2013 Ferrari LaFerrari
This 1:8 scale model is a faithful replica of the record-breaking LaFerrari, realistic right down to the smallest detail. From the design of the bodywork, the active aerodynamic profiles, the stitching on the sports bucket seats, to the replica V12 engine – every part of Ferrari's signature hypercar is accurately reproduced. To show off the advanced electronics, every model comes with a remote control in the shape of the steering wheel which is used to open the electronic butterfly doors, fire up the engine, sound the horn, and activate the lights.
Now you have the chance to build the finest replica of this incredible car.
Specification
Scale: 1:8
Length: 23 5/8" (60cm)
Width: 10 1/4" (26cm)
Height: 5 1/2" (14cm)
Bodywork: Die-cast metal
Details: ABS engineering plastic
Number of parts: over 500
Features
Painted in distinctive Rosso Corsa
Remotely operated, electronic butterfly doors
Illuminating headlights and brake lights
Faithfully reproduced hybrid V12 Ferrari engine
Hear the engine roar and sound the horn at the push of a button
Opening front and rear bonnets
Functional steering wheel
Deployable rear spoiler
It's all in the detail
Outstanding detail at 1:8 scale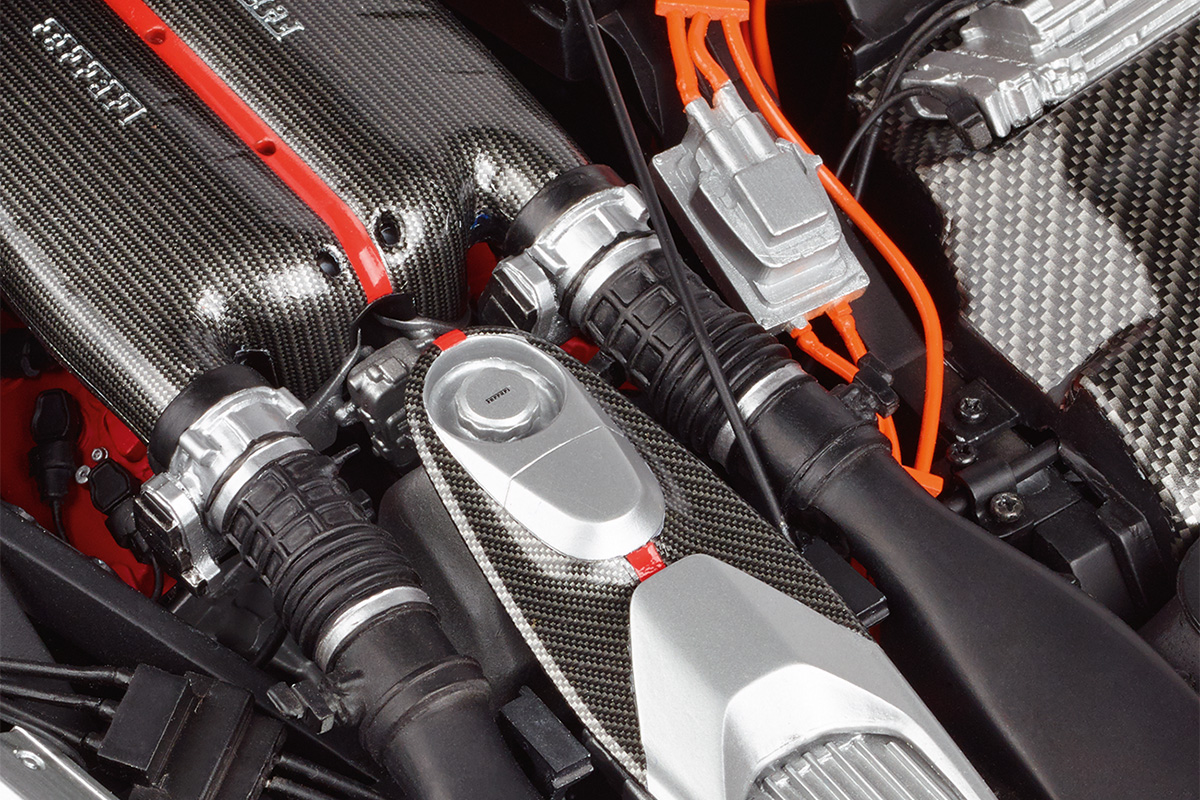 AUTHENTIC ENGINE
Reproduction hybrid V12 engine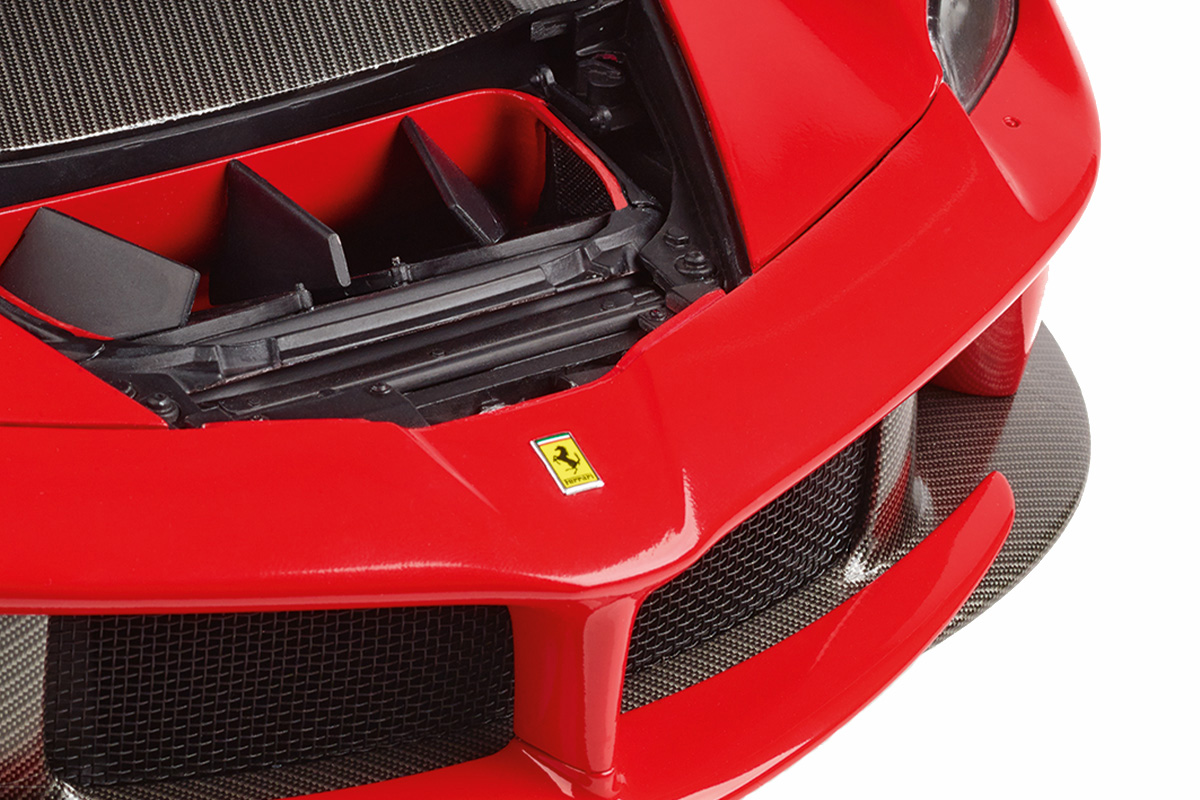 DIE-CAST METAL PARTS
Made using high quality die-cast metal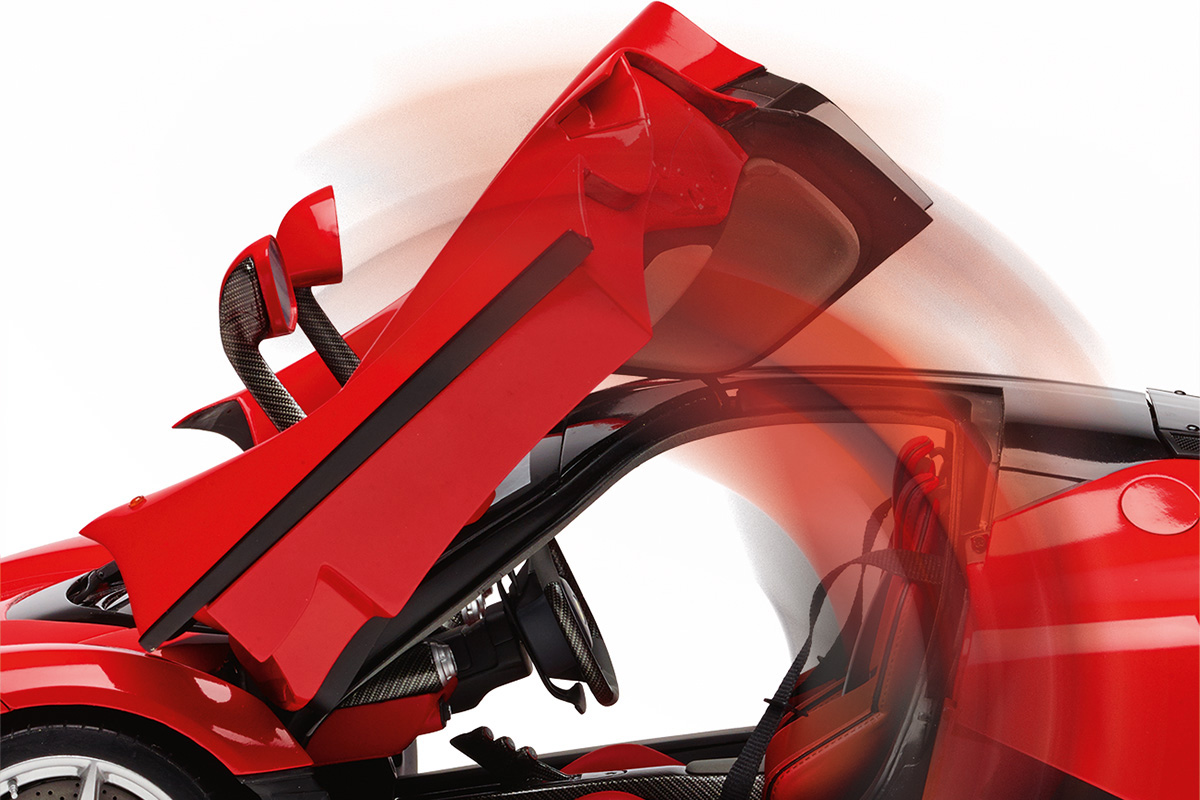 BUTTERFLY DOORS
Electrically opening butterfly doors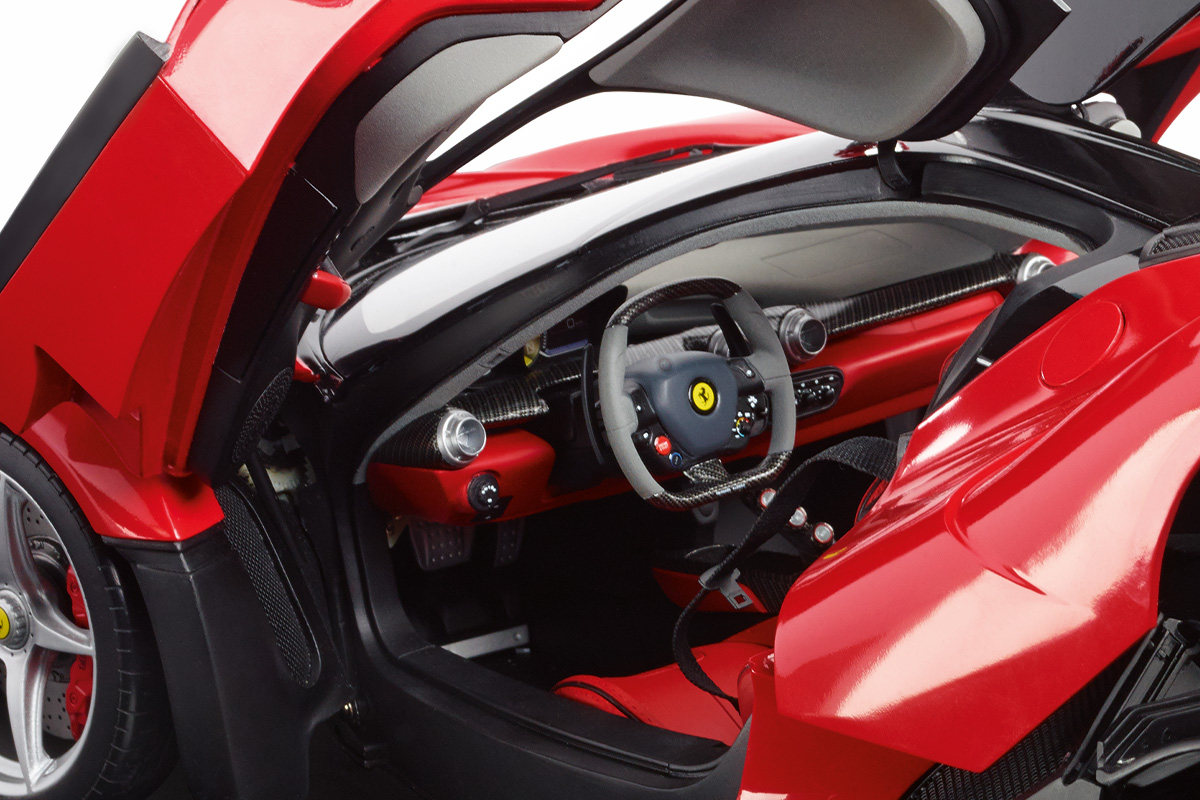 INTERIOR DETAIL
Detailed, super-technological cockpit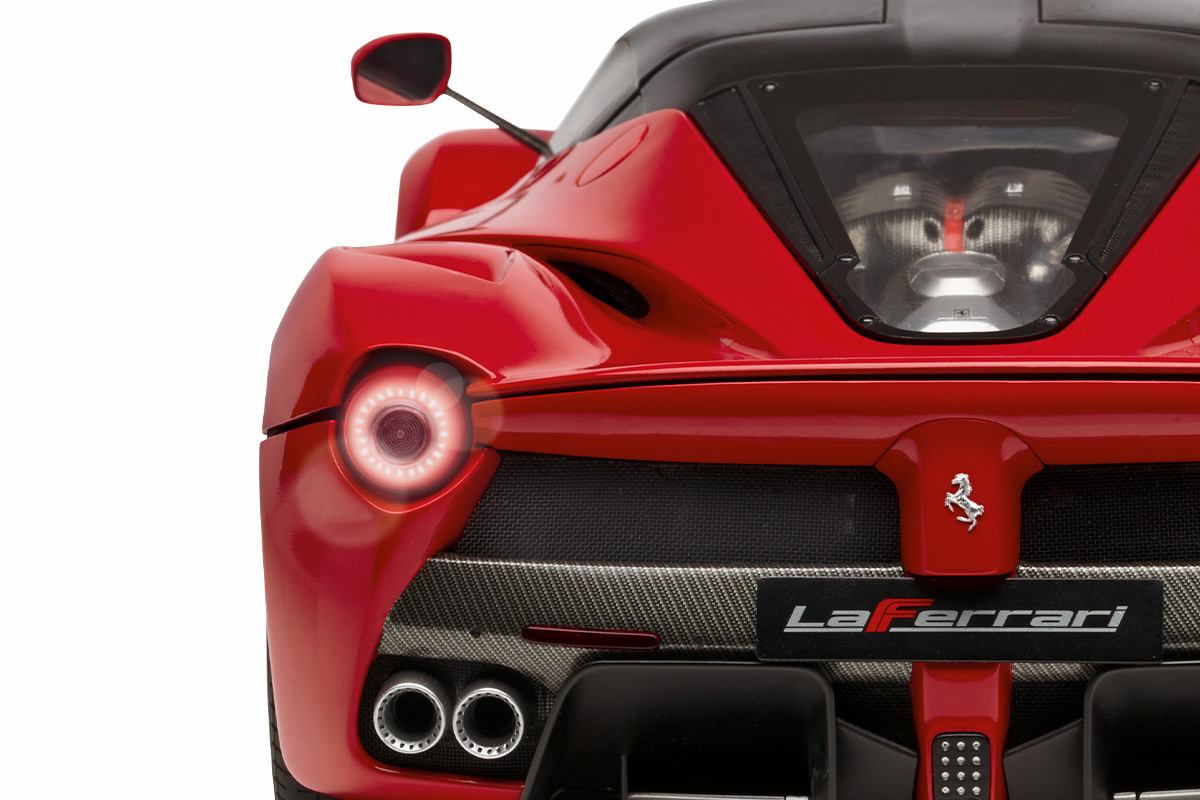 WORKING ELECTRICS
Working LED headlights and brake lights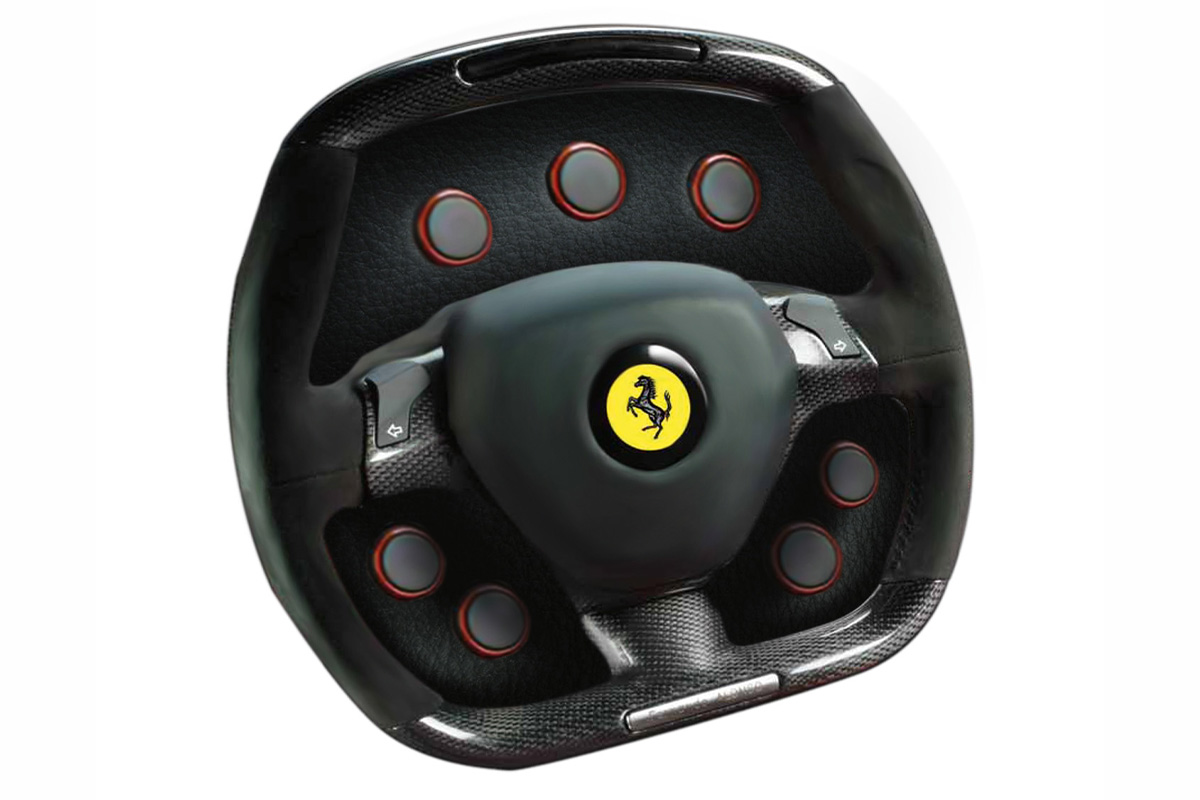 REMOTE CONTROL
Operate the doors, sound and light effects
Upgrade to the Limited
Edition in Daytona Black

(strictly limited to 150 worldwide)
The LaFerrari Limited Edition in Daytona Black is shown here sporting exclusive black wheels but will also come with a full set of standard silver wheels giving you the choice of which set to use! It is also supplied with a numbered display stand.
RESERVE YOUR LIMITED EDITION NOW
$749 - this price includes Packs 1–3, including the features listed above
and the Limited Edition display stand.
Your buying options...
When you place your order we will send your first pack with the first stages of your kit to build your model. Following this, you will be sent another pack every month for 11 months. You will be charged monthly.
(S&H cost per pack: USA $9.99; Canada & Mexico $19.99)
We ship worldwide. Your order will be in US$
PACK 1 ONLY $74.99
then $149.99 per month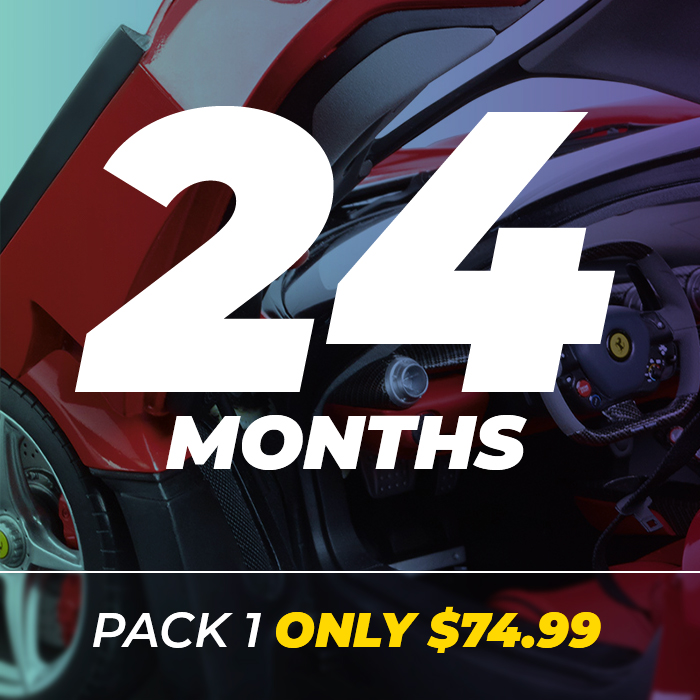 PACK 1 ONLY $74.99
then $79.99 per month
PACKS 1–4 – $499
then $149.99 per month.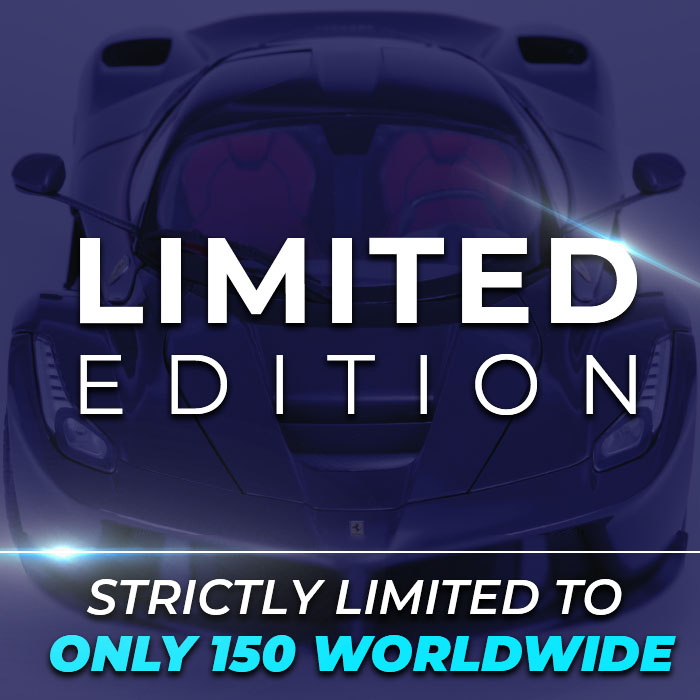 BLACK EDITION – $749
includes Packs 1-3, then $199.99 per month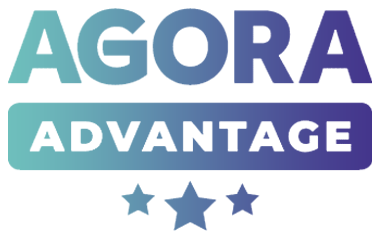 FREE PACK
Each time you complete an Agora model you qualify for a complimentary Pack 1 of your next model.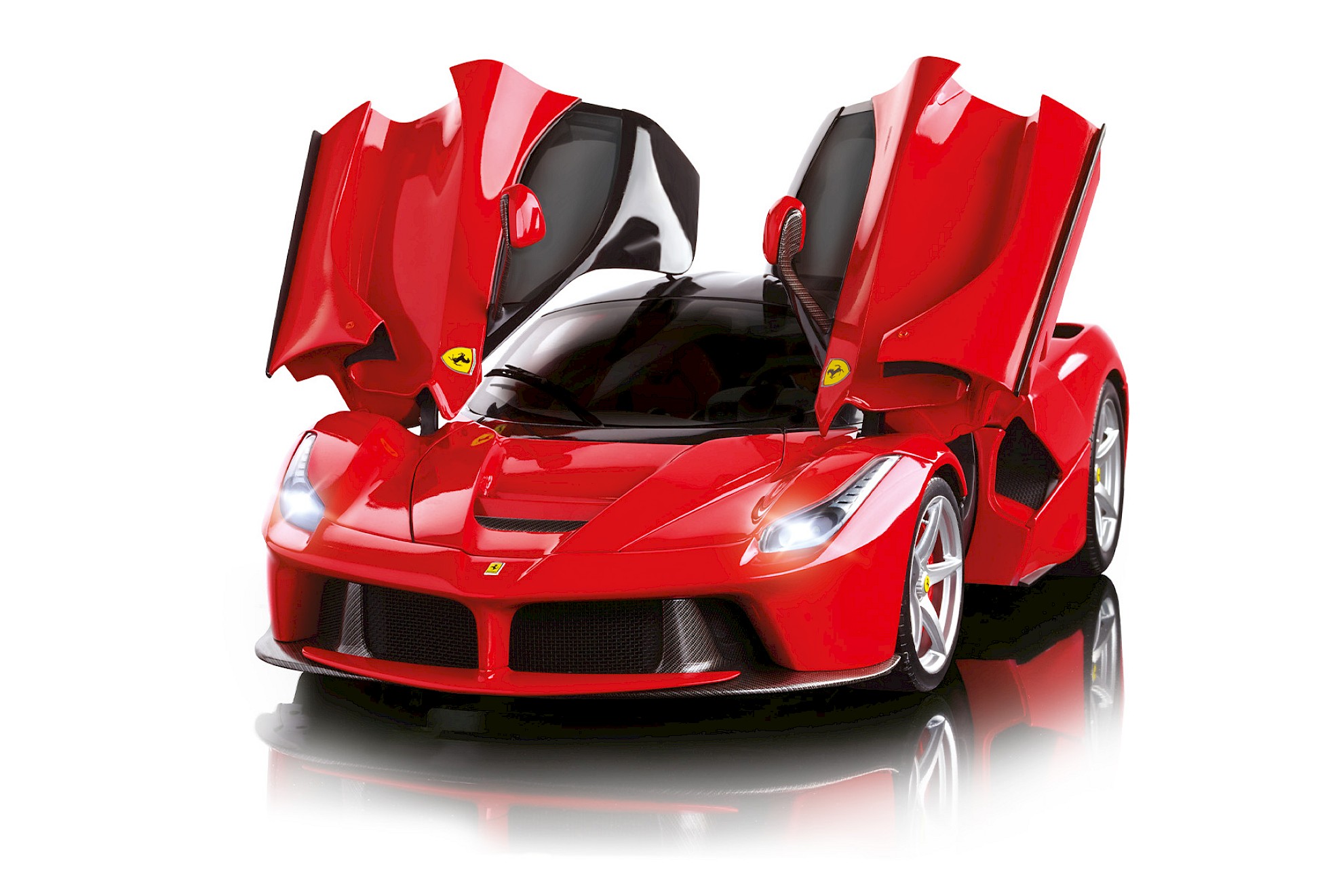 LaFerrari History
LaFerrari was designed to replace the Enzo and become the fastest Ferrari production car ever. With only 499 units produced – at a price tag of more than 1 million Euro – it is a Ferrari collector's dream. Focusing on high performance without compromising style, it was given the same dedication in design and testing as one of Ferrari's F1 cars but developed to be a road-legal Grand Tourer.
This was the first Ferrari fully created in their own design studio, with the team led by Flavio Manzoni. The engineers were given the task of making a car no larger than the Enzo, with improved aerodynamic efficiency and an ideal weight distribution, which integrated the new hybrid system. To achieve this, many of the components were fitted in a way that kept the space compact while maintaining balance between the front and rear.
The engine features HY-KERS (HYbrid Kinetic Energy Recovery System), combining the power of the V12 engine with a 120kW electric motor to ensure maximum and instantaneous performance. The electric motor gives immediate power to start then keeps the revs of the V12 up for high speeds out of corners, with the batteries being recharged whenever the brakes are applied or when the V12 produces excess torque.
The chassis was designed with carbon fibre to increase rigidity while lowering the overall weight. Four different types of carbon fibre were used across the car as each area of the body had different functional requirements. The underside, for example, used a Kevlar composite to protect the undercarriage from road debris. To further reduce weight and maintain rigidity, the seats were fixed in place with their structure being part of the chassis – to adjust the driving position, the pedals move back and forth instead.
Multiple electronic control systems (powered by 21 onboard computers) monitor while driving and adjust to ensure maximum performance: Electronic Stability Control, Anti-lock Braking System/Electronic Brake Distribution, EF1-Trac F1 Traction Control, E-Diff 3 electronic differential, and SCM-E Frs magnetorheological damping. The car also features active aerodynamics – the front and rear diffusers can move to increase air expansion and downforce, while the rear spoiler emerges only when required so as not to "impede the sleek design of the tail".
After two years of development to produce the ultimate road-legal Ferrari, LaFerrari sold out to preferred customers before its release in 2014. The 500th unit was produced in 2016 and sold at auction, raising over US$7 million to benefit the people of Italy affected by the August 2016 Earthquake.
HY-KERS V12 MOTOR
Ferraris erstes Hybrid-Straßenfahrzeug nutzt die technologischen Möglichkeiten der GT- und der F1-Technik. Das HY-KERS-System des LaFerraris verbindet nahtlos einen V12-Motor mit 6262 cm³ Hubraum, der 800 CV (790 PS) erzeugt, mit den 163 CV (160 PS) des Elektromotors, was insgesamt 963 CV (950 PS) ergibt.
Damit ist eine hohe Motorleistung bei maximaler Effizienz gewährleistet – mit einem Rückgang des Kraftstoffverbrauchs um sage und schreibe 40 %. Das hohe Drehmoment, das der Elektromotor bei niedrigen Drehzahlen bereitstellt, optimiert den Verbrennungsmotor, wenn er zu höheren Drehzahlen übergeht. Dies verleiht dem LaFerrari eine sofortige Leistung über den gesamten Drehzahlbereich und ein maximales Drehmoment von über 900 Nm. Die Batterien, die von der Scuderia-Rennabteilung intern zusammengebaut wurden, werden auf zwei Arten aufgeladen: beim Bremsen (auch wenn das ABS anspricht) und jedes Mal, wenn der V12 ein übermäßiges Drehmoment erzeugt (z. B. bei Kurvenfahrten).
Der LaFerrari wurde den gleichen strengen Tests unterzogen wie die Wagen des Scuderia-Teams. Das Ergebnis ist eine Leistung, die mit der eines F1-Wagens vergleichbar ist, aber gleichzeitig den Komfort und die Zugänglichkeit im Innenraum bietet, die für ein GT-Auto erforderlich sind. Das Flaggschiff LaFerrari macht seinem Namen alle Ehre, mit einer atemberaubenden Leistung und einem stromlinienförmigen Look.
Technical Specification
Car type: Two-seater coupé sports car
Kerb weight: 1298 kg (2,862 lbs)
Dimensions: 4702 mm (185 1/8 in) long, 1992 mm (78 7/16 in) wide, 1116 mm (43 15/16 in) high
Wheelbase: 2650 mm (104 5/16 in)
Weight Distribution: 41% front, 59% rear
Power: 950 bhp (total)
Engine: Ferrari F140 direct fuel injected 65° V12 with 120kW HY-KERS unit
Displacement: 6262 cc
Transmission: 7-speed dual-clutch
Layout: rear mid-engine, rear-wheel drive
Top speed: more than 350 km/h (217 mph)
0-100 km/h (62 mph): under 3 seconds
0-300 km/h (186 mph): 15 seconds
LaFerrari Review by James May (Top Gear, Series 22, BBC)
Point of View Drive through Mountainside Roads (Romain Monti, YouTube)