Well, we said – we must do both, and let you choose!

And so a precedent was set to provide customisable options where possible for our models.

Our limited release Ferrari 312 T4 was also made available with 2 sets of wheels, this time sets of slicks & wet tires. Slick tires have no tread pattern on them in order to provide optimal contact between the rubber and the road. When it rains, wet tires, whose tread patterns resemble the tires we use on the road every day, are required to find the grip. If you're interested in the technical details of how slicks and wets work, this is a great short article: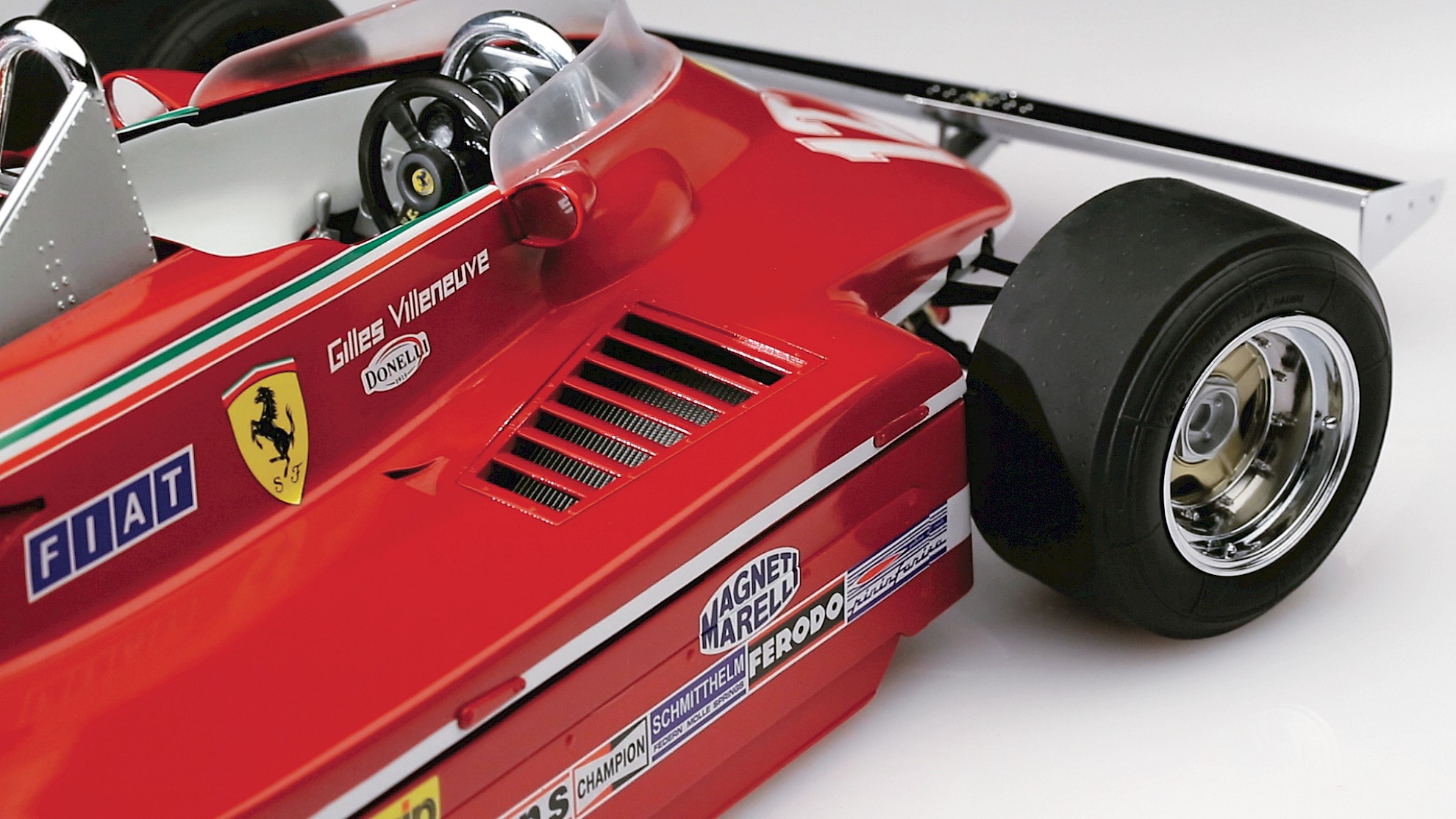 If you have a particular race in mind, you'll have an idea about which tires will best suit your model. The same can be said for the choice of decals. We offered both "hollow" and "filled" No.12 decals which appeared on the nose of Gilles Villeneuve's 312 T4 in different styles for different Grand Prix races throughout 1979.

For example, in the French Grand Prix, 1 July, Villeneuve raced with the "hollow" version on both the left and right sides:
This official car is now in the Ferrari Museum, Maranello. The cars that actually raced have two "filled" numbers.
The 2 sets of wheels offered with the 1963 Corvette Sting Ray are accompanied by a little more controversy. According to Corvette experts, finned aluminium wheels were only used on 15 vehicles in 1963, and most, if not all were installed on the special assignment pre-production cars. Although those wheels were technically introduced in 1963, production problems were not worked out until about March 1964 model year – long after 1963 production. In short, for all practicality, they were never sold or seen on original 1963 Corvettes.

For our 1:8 scale '63 Corvette, you can choose to showcase your model with either the iconic '64 knock offs (below, left) or the authentic '63 originals (below, right). We give you both sets to choose from.
If you have built the beautifully stylish Jaguar E-type, you will no doubt have patted yourself on the back for accomplishing the intricate wire wheels. Some revel in the challenge, but for others, the prospect of wire spokes turns a challenge into a wheelbuilding catastrophe.

For this reason, our Mercedes W196R 1:8 model, which also sports wire-spoked wheels, is available with a Regular-build or an Easy-build wheel option. Simply put, there are no individual spokes in the Easy-build assembly and each kit comes with both sets of wheels so you can choose in the moment which route you prefer to take.

Click here for an excellent brief history of the wire wheel if you missed it in an earlier newsletter.